Bunun: the journey home 布農的回家之路
The Bunun people of Takmazuan Village in Nantou County's Xinyi Township say that to enter the Danda Forest Area, aborigines are not only required to register in advance and provide details such as purpose of entry, but also have to present automobile license numbers and complete passenger registration if they go by car. Moreover, they are also required to fill out registration documents at the Danda station. All they want is to visit an area where their ancestors lived freely, but instead they are met with a string of administrative procedures, unlike other Taiwanese, who can go home and sweep their ancestors' tombs whenever they want. They are finding this long-term control unbearable.
The Bunun people also say that their cars have to be searched when they leave the mountains, as if they were thieves or criminals. If they bring pots, bowls and other cookware or sheets to spend the night in the mountains, they will be treated like illegal tree loggers when they leave. They say, with a sense of sarcasm, "If we had bad intentions, we would not be so stupid as to leave the mountains through the control center." They have demolished the gates of the control center to declare their determination to enter the mountains freely, they say.
(Liberty Times, Translated By Ethan Zhan)
南投信義鄉達瑪巒部落布農族人指出,原住民進入丹大林區,不僅要事先登記,還會被問東問西,比如入山目的等,若是開車上山那就更麻煩了,除了車號、人員登記等瑣碎程序外,還得到丹大工作站做文書申請。他們只是想單純、自由的回到祖居地探望,卻必須面對一連串行政程序,不像平地人回家掃墓「說走就走」。長期管制讓他們難以接受。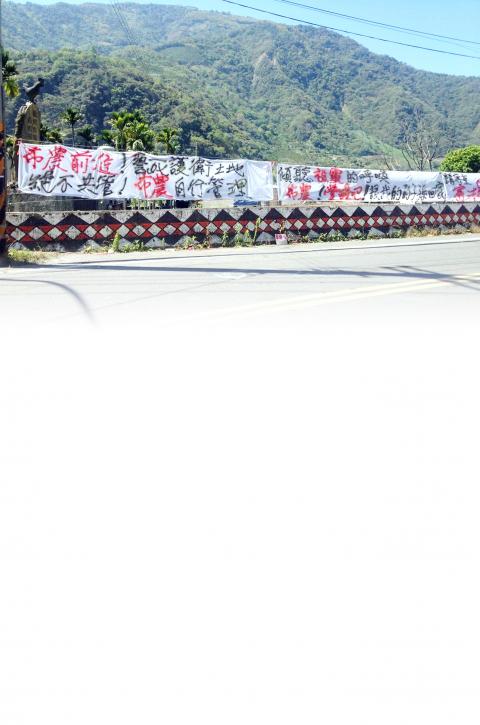 Banners written by Bunun people and calling for autonomy and access to ancestral land are displayed in the Danda Forest Area in Nantou County on April 5. 布農族人四月五日於丹大林區高掛布條,如「誓死護衛土地」、「布農自行管理」,等。
Photo provided by a member of the public
照片由民眾提供
布農族人也說,下山還得面對「搜車」檢查,簡直是把他們當小偷、犯人。若是帶著鍋碗瓢盆、棉被入山住一晚,下山就被當作山老鼠。他們以嘲諷口吻說:「若真的做壞事,也不會笨到從管制站下山。」他們拆除管制站柵門的行動,是要宣示爭取自由入山的決心。
(記者劉濱銓/南投報導)
Bunun people perform a pasibutbut eight-part polyphony in Tainan on Oct. 25 last year. 布農族人於二零一四年十月二十五日在台南誦吟八部合音。
Photo: Hung Jui-chin, Liberty Times
照片:自由時報記者洪瑞琴攝
Publication Notes
TODAY'S WORDS
今日單字
1. aborigine n.
原住民 (yuan2 zhu4 min2)
例: Aborigines know very well how to live in peace and harmony with nature.
(原住民深知如何與大自然和平和諧的共處。)
2. unbearable adj.
難以接受 (nan2 yi3 jie1 shou4)
例: I like your music, though it is unbearable to many people.
(雖然你的音樂對很多人來說是難以接受的,但我喜歡。)
3. sarcasm adj.
嘲諷,諷刺 (chao2 feng4, feng4 ci4)
例: Sarcasm can be wisdom, sometimes.
(有時,嘲諷可以是一種智慧。)
Comments will be moderated. Keep comments relevant to the article. Remarks containing abusive and obscene language, personal attacks of any kind or promotion will be removed and the user banned. Final decision will be at the discretion of the Taipei Times.