Joint operation nabs illegal logging suspect 警方破獲盜伐案 查扣市價逾五十萬紅檜
Following the exposure of a case that occurred in a mountainous part of Taipei's Neihu District, in which valuable forest lumber such as Taiwan cypress and Taiwan red cypress was being passed off as driftwood, police and forestry departments have been especially vigilant about valuable forest wood. On Wednesday last week, the National Highway Police Bureau's Eighth Division, in conjunction with the Chiayi County Branch of the Seventh Special Police Corps' Seventh Division and the Chiayi Forest District Office, detected a suspicious private pickup truck on a stretch of the Formosa Freeway near the border of Yunlin County's Gukeng Township and Chiayi County's Meishan Township. Upon close inspection, they uncovered a case of illegal logging of valuable forest lumber.
The police found six Taiwan red cypress stumps on the truck's pickup bed, weighing more than 1,400 kilograms in total and with a market value of NT$500,000, and they arrested the 44-year-old driver surnamed Huang, who has previous convictions for violating the Forestry Act, on the spot. When being questioned by the police, suspect Huang answered in evasive terms and was unable to provide a verifiable explanation of where the red cypress stumps came from. Since there were fresh cut faces on the red cypress stumps, providing clear evidence of illegal logging, the police, after questioning Huang, indicted him on charges of illegal logging in violation of the Forestry Act.
(Liberty Times, translated by Julian Clegg)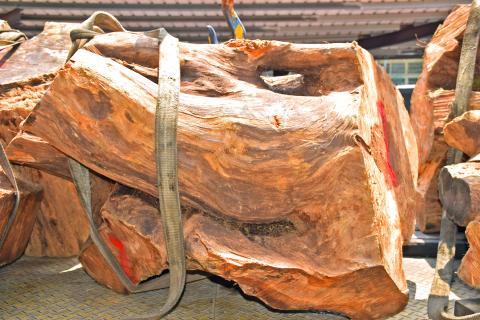 Fresh cut faces are seen on Taiwan red cypress stumps on a truck impounded by police on the Formosa Freeway on Wednesday last week. 警方上週三在福爾摩莎高查扣一台貨車上的紅檜樹頭材,新切面看得很清楚。
Photo: Hsieh Yin-chung, Liberty Times
照片:自由時報記者謝銀仲
台北市內湖山區爆發扁柏及紅檜等珍貴林木假冒為漂流木的案件後,警方及林政單位對珍貴林木異常敏感,國道公路警察局第八警察大隊古坑分隊上週三,會同保七總隊第七大隊嘉義分隊暨嘉義林管處在福爾摩莎高速公路,雲林縣古坑鄉及嘉義縣梅山鄉交界路段,發現一輛可疑自小貨車,經深入查後,破獲珍貴林木盜伐案。
警方在該部自小貨車的後車斗,查扣六塊、總重一千四百餘公斤、市價逾五十萬元的紅檜樹頭材,當場逮獲四十四歲有違反森林法前科的黃姓車手。警訊時,黃嫌對木材來源,避重就輕,始終無法提出紅檜樹頭材証明來源。因紅檜樹頭材有新的切面,盜伐事証明確,警訊後,依違反森林法及竊盜罪嫌把黃嫌移送法辦。
(自由時報記者謝銀仲)
Publication Notes
TODAY'S WORDS
今日單字
1. lumber n.
木材 (mu4 cai2)
例: The trucks are carrying lumber to the sawmill.
(貨車將木材送往鋸木廠。)
2. in conjunction with phr.
會同,連同 (hui4 tong2, lian2 tong2)
例: We are working in conjunction with Interpol to catch the fugitive.
(我們連同國際刑警組織一起追捕逃犯。)
3. on the spot phr.
當場 (dang1 chang3)
例: If you pay the fine on the spot, you will not be arrested.
(如果你當場繳付罰金,就可以不用被捕。)
Comments will be moderated. Keep comments relevant to the article. Remarks containing abusive and obscene language, personal attacks of any kind or promotion will be removed and the user banned. Final decision will be at the discretion of the Taipei Times.