All about the girls' uniforms 高中女制服之美
Illustrator Chiyou is publishing a series of cartoon albums called Collection of Taiwan High School Girl Uniforms. He says that fans on the Internet always support the uniforms of their alma mater schools, and this shows that, as well as representing adolescence, uniforms are a repository for many people's nostalgic sentiments.
Chiyou, who has so far published volumes one and two of the album, was invited to give a combined talk and book-signing event at Tung Der Home Economics and Commercial Vocational High School in Nantou County's Caotun Township on Monday last week. Second-year Tung Der students eagerly attended the talk, sitting on the floor to listen through the nearly two-hour lecture.
In his talk, Chiyou stressed that because Taiwan was colonized by Japan in the past, and because Japan's uniform culture took form long ago, Taiwanese high-school girls' uniforms are largely influenced by Japanese uniform culture, and that is why many schools have sailor suits as their uniforms. However, because there is not so much variation between seasons in Taiwan, Taiwanese high-school uniforms are more brightly colored and the designs are more freestyle, giving expression to Taiwan's own characteristics.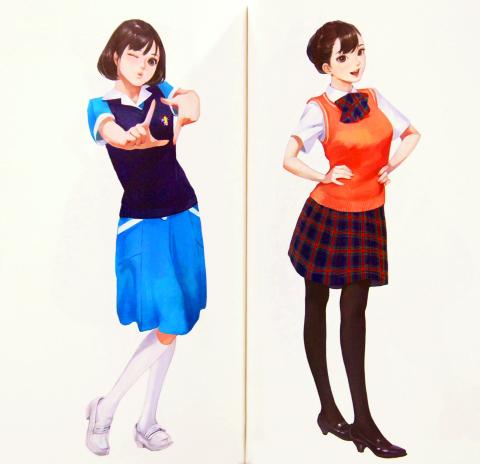 Two styles of high-school uniform are shown on the pages of an album by illustrator Chiyou at a book-signing event at Tung Der Home Economics and Commercial Vocational High School in Caotun Township, Nantou County on March 23. 插畫家蚩尤三月二十三日在南投草屯的同德家商舉行簽書會,並展示繪本中兩種款式的高中制服。
Photo: Chen Feng-li, Liberty Times
照片:自由時報記者陳鳳麗
In Japan, there are some people with a "uniform complex" who like to collect high-school uniforms. Chiyou thinks that Taiwan may have people with a "uniform complex," but he says his motive for publishing his uniform albums is that this theme is "quite sweet" and easy to get into. Moreover, high-school uniforms are a symbol of short-lived adolescence, and the interesting thing is that netizens generally favor the schools they attended by supporting their alma mater school uniforms.
(Liberty Times, translated by Julian Clegg)
插畫家蚩尤以全台高中女生制服出版「制服至上」漫畫集,他說,網友最支持的都是母校制服,表示制服除了代表青春,更是很多人懷舊情感的寄託。
相繼出版「制服至上」第一、二集漫畫繪本的插畫家蚩尤,上週一應南投縣草屯鎮同德家商之邀到該校演講,並舉行簽書會。同德家商二年級的學生參加踴躍,席地而坐聽完近兩個小時的演講。
蚩尤在演講中強調,因台灣曾受日本殖民,且日本制服文化形成已久,台灣高中女生制服也多受日本制服文化的影響,因此有很多學校以水手服當制服,不過台灣因季節變化不大,因此台灣高中制服的顏色較鮮艷,樣式也比較隨性,展現台灣自己的特色。
日本已發展出喜愛收藏高中制服的「制服控」,蚩尤認為,台灣或許也有「制服控」,但之所以繪製並出版「制服至上」繪本,是因該主題「甜度高」,容易切入,更重要的是高中制服代表短暫的青春,而有趣的是,網友支持的高中制服,往往以自己母校為優先。
(自由時報記者陳鳳麗)
Publication Notes
TODAY'S WORDS
今日單字
1. nostalgic adj.
懷舊,緬懷 (huai2 jiu4, mian3 huai2)
例: Elderly people are often nostalgic about their schooldays.
(老人家常會緬懷起他們的學生時代。)
2. take form v. phr.
形成 (xing2 cheng2)
例: A spirit of community is slowly but surely taking form.
(一體感慢慢地,但也確定地,開始形成了。)
3. short-lived v. phr.
短暫的 (duan3 zhan4 de5)
例: His passion for that girl was short-lived—only one night.
(他對那個女孩的熱情是短暫的—僅只一夜。)
Comments will be moderated. Keep comments relevant to the article. Remarks containing abusive and obscene language, personal attacks of any kind or promotion will be removed and the user banned. Final decision will be at the discretion of the Taipei Times.