Helping Daddy quit betel nuts in a sweet way 老爸長年檳榔癮 全靠女兒「愛的融化糖」戒掉
Baoye binged on betel nuts regularly, but whenever he saw his daughters eating fudge, he would want to join them and eat some pieces himself. His daughters, who were still in elementary school, came up with an idea to help their father quit betel nuts. They made a pact with him: "Daddy, these packets of fudge are all for you. Whenever you feel the desire to eat betel nuts, you can eat the fudge instead. And when you finish them all, we will supply you with new ones."
Baoye did not cut down his betel nut consumption because of that, but whenever he chewed them, the image of his daughters' faces when they offered him the suggestion would temporarily come to his mind. Once in the not-so-distant past, the whole family was preparing for a trip to Korea, and Baoye was going to purchase some betel nuts from the betel nut stands as he customarily did for trips, but when he reached into his pockets for his wallet, he found a pack of fudge.
As it turned out, several days before the trip, his daughters discovered that their daddy was not very keen on quitting betel nuts at all. So they thoughtfully split the fudge into several small packets for their father and put them in his jacket pockets. "Splitting them up into small packets makes it more convenient, so there is no excuse now, is there? Next time you go out to buy betel nuts, remember to eat the fudge instead."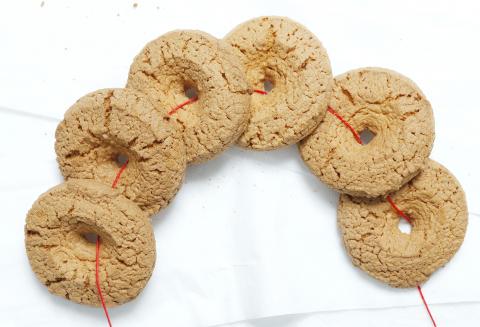 A string of candies is pictured on Feb. 14 last year in Taipei. 一串糖果。攝於去年二月十四日,台北。
Photo: Tai Ta-hsiang, Liberty Times
照片:自由時報記者臺大翔
At that time, Baoye still chewed betel nuts, but a thought came to him: "There will be no place to buy betel nuts in Korea anyway. I might as well just quit chewing them." Five days of travelling in Korea went by and he did not even chew one betel nut. After he returned to Taiwan, he successfully resisted the betel nut lady's allure as well. That was when a revelation came to him. For all those years, he had thought betel nuts were unquittable for him, but in reality they were not as important as he imagined.
After publishing his experience online, Baoye's article swiftly drew heated discussions among netizens. One netizen even shared his version of the story: "When I was a kid, I also used to pester my grandfather to quit smoking by saying I would only come to him and let him hug me if he did not smell of smoke, and in the end he managed to quit smoking."
(Liberty Times, translated by Ethan Zhan)
檳榔吃得很兇的寶爺,每當看到女兒在吃「融化糖」時總會湊過去想吃幾顆,兩個就讀小學的女兒便想出讓爸爸戒檳榔的方法。她們和他立了「約定」,「把鼻,這些融化糖全部給你。當你想吃檳榔的時候,你就可以吃融化糖代替檳榔。等你吃完,我再補新的給你。」
寶爺並未因為這樣少吃檳榔,只是每次在吃檳榔時女兒叮嚀的臉孔總是短暫出現在腦海中。直到不久前,全家準備去韓國遊玩,寶爺本想「按照慣例」地去檳榔攤「存糧」,往口袋想找皮包時,卻摸到了一包融化糖。
原來女兒在前幾天發現爸爸根本就沒有努力戒檳榔,於是貼心地幫爸爸把一串的融化糖拆成一小包,塞在外套口袋裡,「拆成一小包一小包更方便了,你總沒理由了吧。下次要買檳榔時,記得吃糖!」
當下寶爺仍吃著檳榔,不過心裡卻想著,反正接下來幾天在韓國也買不到檳榔,乾脆趁機戒掉。韓國行五天過去,他也成功地「一顆未碰」。回到台灣後,也沒有受到檳榔攤老闆娘的「誘惑」。這才發現,多年來一直以為戒不掉的吃檳榔習慣,在心中的分量其實並沒有他以為的那麼重。
此篇文章PO上網後隨即引發網友熱議,還有網友分享「我小時候也是常在爺爺旁邊撒嬌要他戒菸,他沒有菸味我才會湊過去給他抱抱....結果他戒菸成功了!」
(自由時報)
Publication Notes
TODAY'S WORDS
今日單字
1. binge v.
吃得很兇,狂吃 (chi1 de5 hen3 xiong1, kuang2 chi1)
例: Bob binges on ice cream whenever he gets annoyed at work.
(每當鮑勃工作煩躁,他就會狂吃冰淇淋。)
2. temporarily adv.
短暫的,暫時的 (duan3 zhan4 de5, zhan4 shi2 de5)
例: You have to learn to relax, even just temporarily.
(你必須學會放輕鬆,即使只是暫時的也好。)
3. allure n.
誘惑 (you4 huo4)
例: How can you resist the allure of Japanese Ramen?
(你如何能抗拒日本拉麵的誘惑?)
Comments will be moderated. Keep comments relevant to the article. Remarks containing abusive and obscene language, personal attacks of any kind or promotion will be removed and the user banned. Final decision will be at the discretion of the Taipei Times.