Drought causes temporary park closures 鬧水荒 雪見遊憩區休園
With no end to the drought in sight, the ground that is normally the source of water for the Shyuejian Recreation Area and the Erbensong (Two Pines) Guide Station in Shei-Pa National Park has run dry. With no water available, these two spots were closed temporarily on Thursday last week and will not be declared open again until the water shortage is relieved. Similarly, if the water surface level at Sun Moon Lake falls by another five meters, all jetties around the lake will be closed and pleasure boats services will come to a complete halt.
"This is the first time that we have ever been forced to close the park just because there is not enough water available," says Chung Ming-shan, deputy superintendent of the Shei-Pa National Park Headquarters. It is not as though the Shyuejian Recreation Area and Erbensong Guide Station had never been temporarily closed, but past shutdowns have always been caused by road closures following typhoons. On this occasion, however, it is because water sources have run dry, with the stones in what used to be the beds of streams now lying exposed, so that there is no option but to close these spots down for the time being.
The water level in Sun Moon Lake also keeps falling, and this will soon have an impact on trips on the lake. With the average height of the lake's surface currently down to 745 meters above sea level, the Sun Moon Lake National Scenic Area Administration is going to put up low-water warning notices at the four main publicly-owned jetties, reminding tourists to watch out for their safety when embarking and disembarking.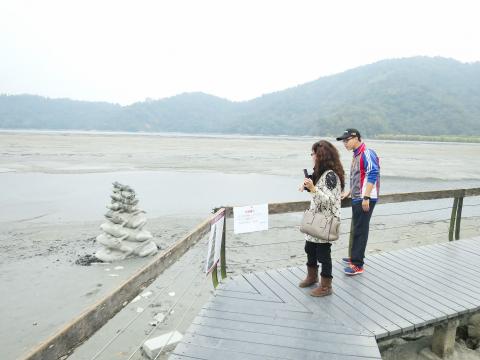 A warden and a woman visiting the sculpture of nine frogs in Sun Moon Lake in Yuchih Township, Nantou County on Monday last week stand near a sign warning people not to climb onto the mud bank. 管理員和女遊客上星期一在南投縣魚池鄉的日月潭觀看「九隻疊蛙」雕像,旁邊還有告示警告人們別爬上沙洲。
Photo: Liu Pin-chuan, Liberty Times
照片:自由時報記者劉濱銓
A sculpture of a pile of nine frogs on a mud bank in Sun Moon Lake that is used to observe how full or empty the lake is has become a favorite spot for visitors lately. On Sunday last week a tourist carrying a camera went to get a close-up shot of the sculpture, but when he stepped onto the mud he sank into it, and the administration had to send a warden with a bamboo pole to get him out. It then hurriedly put up a sign forbidding people to step onto the mud and sent someone to stand guard. In the space of one day, the warden dissuaded 10 groups of tourists who wanted to step off the path to have their photos taken with the nine frogs.
(Liberty Times, Translated by Julian Clegg)
旱象未解,雪霸國家公園的雪見遊憩區與二本松解說站因水源地乾涸、無水可用,三月五日起休園,直至水情紓解後再行公告開放。同樣地,日月潭水位只要再降五公尺,將封閉所有潭區碼頭、遊艇全面停駛。
「因為沒水可用,只能休園,這還是史上頭一遭!」雪霸國家公園管理處副處長鍾銘山說,雪見遊憩區與二本松解說站啟用八年來不是不曾休園,但都是因為颱風過後、道路封閉所造成。這次則因水源地乾涸,原本的溪流都露出溪底石頭,不得不暫時休園。
日月潭水位也持續下降,很快就會影響遊湖活動。目前平均值為七四五公尺,日管處將在四大公有碼頭設置低水位警告牌示,提醒遊客注意進出安全。
日月潭沙洲上觀察水情榮枯的水蛙頭「九隻疊蛙」近日成為熱門景點,三月一號有遊客背著相機就近取鏡,一腳踩進泥淖,結果陷入其中,日管處人員拿著竹竿才將他救出。日管處趕緊設置禁止標示,並派人駐點管制,一整天下來勸阻十組想越過步道與九蛙合照的遊客。
(自由時報記者劉濱銓、周敏鴻)
Publication Notes
TODAY'S WORDS
今日單字
1. jetty n.
碼頭 (ma3 tou2)
例: Linda's lakeside home has a jetty instead of a garage.
(琳達在湖畔的房屋有個小碼頭,而不是車庫。)
2. for the time being phr.
暫時 (zhan4 shi2)
例: I want to be a manager, but I'll have to be a clerk for the time being.
(我想當經理,但只能暫時先當個店員。)
3. dissuade v.
勸阻 (quan4 zu3)
例: I am glad you dissuaded me from buying those shares; they are worthless now.
(很高興你勸阻我買那些股票,他們現在一文不值。)
Comments will be moderated. Keep comments relevant to the article. Remarks containing abusive and obscene language, personal attacks of any kind or promotion will be removed and the user banned. Final decision will be at the discretion of the Taipei Times.