Heads up, people! 抬頭吧,低頭族!
Due to the popularity of smartphones and tablets, more and more teenagers have become members of the "heads down," or phubbers, group. To safeguard the physical and psychological development of the youth, the National Communications Commission (NCC) has instructed manufacturers of these devices to add warnings on the devices, packages and manuals of smartphones and tablets, reminding people that they should not spend a long period of time staring at the screens.
The amendment of the Protection of Children and Youths Welfare and Rights Act was passed by the legislature on the third reading on Jan. 23, stipulating that children and youths may not spend a long period of time using electronic devices.
In addition to reminding people that overusing electronic devices can harm visual acuity, the NCC also urged people should take a 10-minute break after using smartphones or tablets for 30 minutes; children younger than 2 years of age should not stare at screens; children older than 2 years of age should not stare at screens for longer than 1 hour per day.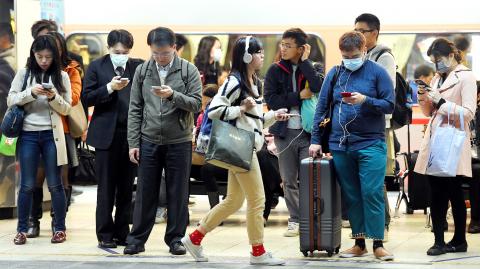 Many travelers are "phubbers," staring at their smartphones while waiting on the platform in Taipei on Feb. 17 this year. 今年二月十七日,許多乘客在月台等車時都成了低頭族,埋頭看手機。
Photo: Liao Chen-huei, Liberty Times
照片:自由時報記者廖振輝
(Liberty times, translated by Ethan Zhan)
智慧型手機、平板滿街跑,愈來愈多青少年加入「低頭」一族。為保障兒少身心發展,國家通訊傳播委員會(NCC)輔導業者在手機、平板的機身、外包裝及說明書上加註警語,提醒民眾勿長時間看螢幕。
立法院在今年一月二十三日三讀通過兒童及少年福利與權益保障法(簡稱兒少法)修正案,明定兒童及少年不得長時間使用電子類產品。
除了提醒3C產品使用過度恐傷害視力,NCC也呼籲,國人使用三十分鐘手機、平板請休息十分鐘;二歲以下幼兒不看螢幕,二歲以上每天看螢幕不要超過一小時。
(自由時報記者蔡穎)
Publication Notes
TODAY'S WORDS
今日單字
1. manual n.
說明書 (shuo1 ming2 shu1)
例: I've never read such an interesting manual before.
(我從沒讀過這麼有趣的說明書。)
2. legislature n.
立法院 (li4 fa3 yuan4)
例: Laws are made by the legislature, but legislators are elected by the people.
(法律是立法院制定的,但立法委員是人民選出來的。)
3. visual acuity phr.
視力 (shi4 li4)
例: If you want to grow up to be a pilot, you must have good visual acuity.
(如果你長大後想當機長,視力一定要好。)
Comments will be moderated. Keep comments relevant to the article. Remarks containing abusive and obscene language, personal attacks of any kind or promotion will be removed and the user banned. Final decision will be at the discretion of the Taipei Times.