Alishan swathed in cherry blossoms 阿里山區櫻花漸開
The cherry blossom season in the mountains around Alishan in Chiayi County will arrive around the middle of March. Taiwan and Japanese cherry trees and plum trees are now starting to blossom one after another, giving the area a warm-up for the coming cherry blossom season.
Yeh Chiu-yuan, former chairman of the Alishan Township Council, says that Taiwan cherry trees are starting to blossom in the Dinghu area and are expected to be at their most spectacular around the time of the Lunar New Year. At the moment, however, the place with the most beautiful blossoming scenery, covering about a hectare, is the plum tourist farm at Kezihlin in Rueili in Meishan Township. Chiu Fang-chuan, who runs the farm, says that Japanese plum trees are in full blossom at the moment, and red-fleshed plum trees will come into flower within a few days. If it does not rain, the trees may go on flowering for two to three weeks, he says.
(Liberty Times, Translated by Julian Clegg)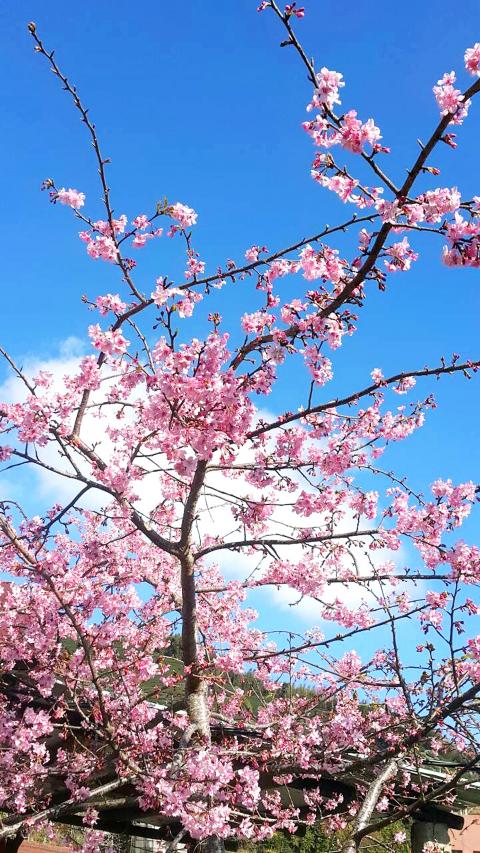 Japanese cherry trees are seen in blossom beside County Road 169 near Jhangshu Lake in Taihe Village in Chiayi County's Meishan Township on Jan. 25. 嘉義縣梅山鄉太和村樟樹湖169縣道旁的河津櫻已開始吐芳。
Photo: Yu Hsueh-lan, Liberty Times
照片:自由時報記者余雪蘭
嘉義縣阿里山櫻花季將在三月中旬登場,目前山櫻花、河津櫻、李花等正陸續盛開,為櫻花季暖身。
前阿里山鄉代會主席葉秋源說,頂湖地區山櫻花陸續開花中,預估農曆春節前後最盛。目前花況最美的則屬梅山鄉瑞里科仔林的李子觀光果園,面積約一甲餘。經營果農邱芳全說,目前盛開「黃柑李」,「紅肉李」也將在這幾天登場,若沒下雨,花期可持續二至三週。
(自由時報記者余雪蘭)
Publication Notes
TODAY'S WORDS
今日單字
1. one after another phr.
陸續 (lu4 xu4)
例: The players entered the field one after another.
球員陸續進場。
2. blossom n., v.
花 (hua1)
例: Apple blossom petals littered the ground
蘋果花瓣掉落滿地。
3. warm-up n.
暖身 (nuan3 shen)
例: A warm-up before swimming helps prevent cramps.
游泳前熱身能幫助預防抽筋。
Comments will be moderated. Keep comments relevant to the article. Remarks containing abusive and obscene language, personal attacks of any kind or promotion will be removed and the user banned. Final decision will be at the discretion of the Taipei Times.