Independence Day arrives for Yuan Zai 圓仔獨立生活 Day 1
Last Wednesday, Yuan Zai the panda officially began independent life. As soon as she entered her enclosure she started clambering up and down her perches and crunching on the bamboo with her teeth, but she was also searching everywhere as if looking for her mother to feed her. According to the zoo, Yuan Zai is being weaned off her mother's milk, much like human babies are, and this searching behavior is expected to be seen over the next three to five days.
The zoo estimates that after Yuan Zai was officially presented for public viewing on Jan. 6 last year, 2,909,201 visits to the Giant Panda House, using the "panda-visiting tickets," have been made.
(Liberty Times, translated by Paul Cooper)
大貓熊「圓仔」周三正式展開獨立生活,一進展場就大顯身手,在棲木爬上爬下,還大嗑竹筍,但隨即四處探索,似乎想找媽媽討奶喝。動物園說,圓仔就像人類小孩斷奶,類似探索行為估計在未來三到五天仍有機會出現。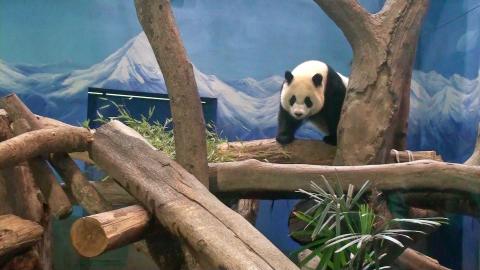 Yuan Zai climbs around in her zoo enclosure on Wednesday, her first official day of independence. 圓仔星期三正式展開獨立生活,一進展場就爬上爬下。
Photo courtesy of Taipei Zoo
圖為台北市立動物園提供
動物園統計,自去年一月六日圓仔正式見客以來,一年來動物園吸引兩百九十萬九千兩百零一人次,透過參觀券造訪貓熊館。
(自由時報記者謝佳君)
Publication Notes
TODAY'S WORDS
今日單字
1. clamber v.
攀;爬 (pan1; pa2)
例: I prefer clambering up rocks than walking up steps.
(我寧願攀岩,也不要走階梯。)
2. crunch v.
嗑; 咬嚼 (ke4; yao3 jiao2)
例: I was crunching on this candy and broke my tooth.
(我咬嚼糖果咬斷牙齒。)
3. wean v.
斷奶;戒 (duan4 nai3; jie4)
例: I've been trying to wean myself off cigarettes, but it's not working.
(我一直努力要把菸癮戒掉,但成效不彰。)
Comments will be moderated. Keep comments relevant to the article. Remarks containing abusive and obscene language, personal attacks of any kind or promotion will be removed and the user banned. Final decision will be at the discretion of the Taipei Times.