Pingtung population fall 13 years in a row 屏東縣人口 連續13年負成長
At the end of last year the total population for Pingtung County stood at around 847,000, making it a record 13 years running of negative population growth.
According to population figures announced by the Pingtung County government, the total population at the end of 2014 was 847,917, of which 434,587 were male and 413,330 were female, with the population down 4,369 compared to the end of 2013.
The population of Pingtung County peaked in 1997 at 913,746, after which it fluctuated around the 900,000 mark, and from the year 2002 on a trend of negative growth commenced. In 2005 it fell below the 900,000 mark, and there have been 13 years of negative growth since that time, falling below 850,000 at the end of last year.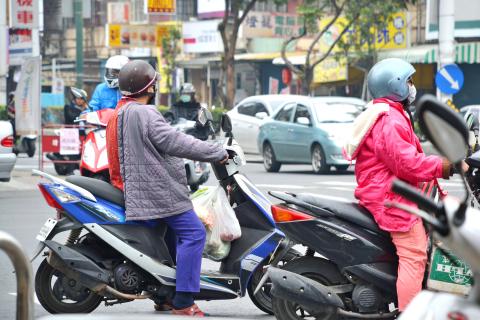 The population of Pingtung County continues to drop, falling a record 13 years in a row. 屏東縣人口直直落,創下連續十三年負成長的紀錄。
Photo: Hou Cheng-hsu, Liberty Times
照片:自由時報記者侯承旭
It is not only the birth rate, which is lower than the national average, it is also that people are moving out of the area that has caused this continuous decline in the population.
(Liberty Times, translated by Paul Cooper)
屏東縣去年底的人口總數為八十四萬七千人,創下連續十三年人口負成長的紀錄。
根據屏東縣政府公布的人口統計,二○一四年底人口總數為八十四萬七千九百十七人,其中男性四十三萬四千五百八十七人、女性四十一萬三千三百三十人,比二○一三年底的人口減少四千三百六十九人。
屏東縣人口最高峰是一九九七年的九十一萬三千七百四十六人,隨後即在九十萬人上下起伏,從二○○二年起則開始出現負成長趨勢,二○○五年跌破九十萬人大關,至去年底進一步跌破八十五萬人,連續十三年負成長。
不只嬰兒出生率低於全國平均值,人口也持續外移,造成總人口一路下探。
(自由時報記者侯承旭)
Publication Notes
TODAY'S WORDS
今日單字
1. fluctuate v.
起伏 (qi3 fu2)
例:The price of oil has been fluctuating wildly lately.
(近期油價起伏甚劇。)
2. trend n.
趨勢 (qu1 shi4)
例:The trend is for the price of oil to rise, not to fall.
(油價趨勢看漲,而非走跌。)
3. birth rate n. phr.
出生率 (chu1 sheng1 lu4)
例:Taiwan has one of the world's lowest birth rates.
(台灣的出生率在世界排名中敬陪末座。)
Comments will be moderated. Keep comments relevant to the article. Remarks containing abusive and obscene language, personal attacks of any kind or promotion will be removed and the user banned. Final decision will be at the discretion of the Taipei Times.