Rabies-affected ferret-badgers in Hengchun 白鼻心染狂犬病 恆春各單位展開防疫
Following reports of confirmed rabies infections among ferret-badgers in Oluanpi Pingtung County's Hengchun Township, the Pingtung County Animal Disease Control Center provided free rabies vaccinations for cats and dogs on Tuersday last week. As many worried pet owners brought their pets for vaccination, the Hengchun Township Government and the Kenting National Park Headquarters stressed that the official alert level had not been raised, and that detailed field studies would have to be carried out to clarify the situation. They also said that hospitals in the area under their jurisdiction currently have sufficient rabies vaccine in store and that all that members of the public need do is tighten control over their pets while the authorities increase their efforts to catch stray dogs and cats, adding that there is no need to be too concerned that the disease will spread further.
Wang Man-ti, an animal protection activist in Hengchun, said that thanks to Heart of Taiwan Animal Care, most adopted stray dogs and cats have been neutered or spayed, vaccinated against rabies and earmarked. Wang also said that although not all of those animals wear a collar, they are safe, and added a wish that as the authorities catch strays, they should pay close attention so that they don't kill innocent animals.
(Liberty Times, translated by Perry Svensson)
鵝鑾鼻傳出白鼻心確診染狂犬病,屏東家畜疾病防治所十二月三十日到恆春鎮免費幫犬貓施打疫苗,不少擔心的飼主帶寵物注射,恆春鎮公所及墾管處則強調官方防疫等級未提昇,仍須做詳細田野調查釐清疫情,目前轄區內醫院都有充足的狂犬病疫苗,民眾只須嚴加看管家中寵物,衛生單位會加強捕捉無主流浪貓狗,不必過度擔心疫情擴散。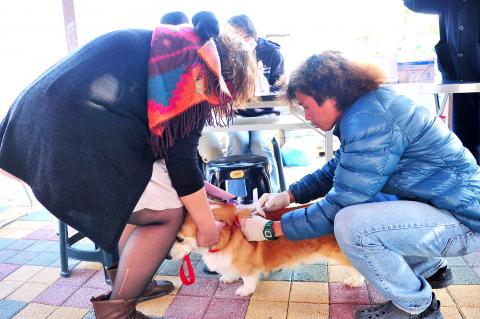 Pet owners bring their cats and dogs to the Hengchun Township Government to get a rabies shot on Tuesday last week. 飼主上週二帶貓狗恆春鎮公所注射狂犬疫苗。
Photo: Tsai Tsung-hsien, Liberty Times
照片: 自由時報記者蔡宗憲攝
恆春動保人士王滿地指出,在台灣之心協會協助下,多數被認養的流浪貓狗都已結紮並施打狂犬疫苗,並進行「剪耳」標記,雖未全數戴上項圈,已是安全無虞的個體,希望各單位捕捉時能詳加確認,別誤殺這些無辜的動物生命。
(自由時報)
Publication Notes
TODAY'S WORDS
今日單字
1. rabies n.
狂犬病 (kuang2 quan3 bing4)
例: Pets should be vaccinated against rabies once every year or once every three years.
(寵物每年或每三年應施打一次狂犬病疫苗。)
2. stress v.
強調 (qiang2 diao4)
例: The driving instruction manual stressed the importance of sticking to the speed limits.
(駕駛手冊上強調遵守速限駕駛的重要性。)
3. jurisdiction n.
轄區 (xia2 qu1)
例: Hengchun Township falls under the jurisdiction of Pingtung County.
(恆春是屏東縣的轄區。)
Comments will be moderated. Keep comments relevant to the article. Remarks containing abusive and obscene language, personal attacks of any kind or promotion will be removed and the user banned. Final decision will be at the discretion of the Taipei Times.