Don't mangle these social app names 五大社群軟體的唸法 你都唸對了嗎?
Maybe you often use social applications and Web sites like Skype, YouTube, Instagram, Line, or other apps, but do you know how to pronounce them in a way that foreigners will understand?
A few days ago, Stop Kiddin' Studio posted a video on YouTube under the title Five major social apps that Taiwanese people often mispronounce, aiming to teach everyone how to pronounce them correctly. In the video US expatriate Mitchell Horwood talks about how Taiwanese people often mispronounce the names of certain mobile phone apps and Web sites. For example, they pronounce Skype as "sky pee" or "sky bee," Youtube as "U2B," Instagram as "Instagwan" or just "IG," and Line as "lie" as in "lie down," which sounds like the Chinese surname Lai. A lot of Taiwanese also pronounce "app" — an abbreviated form of "application" — letter by letter as A-P-P. Horwood says that foreigners might not understand you if you say it that way.
Horwood demonstrates how these applications and Web sites are supposed to be pronounced. However, he says that if you pronounce them wrong it is no big deal, because he often mispronounces Chinese words too.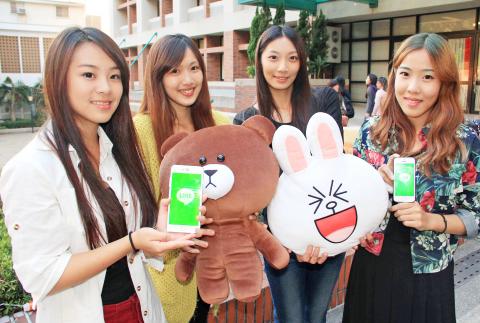 Students at Hungkuang University in Greater Taichung's Shalu District on Nov. 7 hold Line instant messaging application mascots to advertise the launch of the university's Line account. 台中市沙鹿區弘光科技大學十一月七日推出官方Line帳號,特別請來女學生和Line的商品共同宣傳!
Photo: Ou Su-mei, Liberty Times
照片:自由時報記者歐素美
Just three days after the video was uploaded, it had already been viewed by more than 100,000 people. Some viewers commented that the video was very interesting, but others said that it was just a matter of pronunciation, and someone said, "English is not our mother tongue, so as long as Taiwanese people understand, that is good enough."
(LIBERTY TIMES, TRANSLATED BY JULIAN CLEGG)
常用的社群軟體和網站「Skype」、「YouTube」、「Instagram」、「Line」或其他「app」,你知道怎麼唸老外才聽得懂嗎?
「不要鬧工作室」日前在YouTube上推出「台灣人常唸錯的五大社群軟體」,教大家正確發音,美國人陳元昊在影片中提到台灣人常將某些手機軟體和網站念錯了,包括像是Skype被唸成「使該屁」或「使該筆」;YouTube被唸成「U兔逼」、「U吐B」;Instagram被唸成「陰斯特館」、「IG」;Line被唸成「賴」、「Lai」;以及手機應用程式的縮寫app被分開唸成「A、P、P」,陳元昊說,分開唸成「A、P、P」,有時候外國人會聽不懂。
陳元昊同時也示範了這些軟體和網站的發音。但他也表示,如果將這些軟體的發音念錯了也沒關係,因為他也常把中文唸錯。
影片上傳短短三天,便吸引逾十萬人點閱,有網友表示影片很有趣,但也有人認為只是口音的問題,另也有人說「英文不是我們自己的母語,台灣人聽得懂就好了」。
(自由時報)
Publication Notes
TODAY'S WORDS
今日單字
1. app n.
應用軟體 (ying4 yong4 ruan2 ti3)
例:This app tells me the best way to commute to work.
(這個應用軟體告訴我通勤到公司上班最好的方式。)
2. expatriate n.
外僑 (wai4 qiao2)
例:The consulate provides a range of services for expatriates.
(這個領事館為外僑提供了多元的服務。)
3. abbreviate v.
縮寫 (suo1 xie3)
例: You can abbreviate "laughing out loud" as "LOL."
(你可以將英文的大笑(laughing out loud)縮寫成「LOL」。)
Comments will be moderated. Keep comments relevant to the article. Remarks containing abusive and obscene language, personal attacks of any kind or promotion will be removed and the user banned. Final decision will be at the discretion of the Taipei Times.