New Taipei City's Silent Night set to spread good news 新北平安夜 百人唱詩班報佳音
The Christmas Land in New Taipei City event is coming to a climax. This afternoon there will be a Silent Night fair held at the New Taipei City Plaza, and 20 churches from throughout the city will be getting together this evening for a carol service.
According to Randy Chiang, head of the city's Civil Affairs Bureau, the fair starting at 3pm will include many food stands serving delicious snacks and a flea marketwhere people can hunt for treasure.
Starting at 7pm there will be an evening event jointly hosted by entertainer Sung Yi-min and presenter Chang Pei-shan, and there will also be 12 strapping city government employees dressed up as Santa Claus distri-buting candy to the public.
(Liberty Times, translated by Paul Cooper)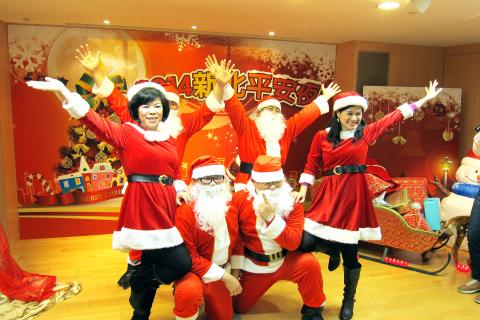 The New Taipei City Silent Night event will take place from 3pm this afternoon with a fair, followed this evening with a concert and a chance to have your photo taken with Santa Claus, together with a gift exchange. 新北平安夜活動將從今天下午3點的愛心園遊會展開,晚上還有音樂會,以及與耶誕老人合照換限量禮活動。
Photo: Ho Yu-hua, Liberty Times
照片:自由時報記者何玉華
新北歡樂耶誕城活動進入高潮,今天下午起將在市民廣場舉辦平安夜園遊會活動,晚上還有全市二十個教會共同組成的唱詩班。
民政局長江俊霆表示,下午三點起進行園遊會,有許多好吃好玩的攤位,還有跳蚤市場讓大家尋寶。
晚上七點開始,由藝人宋逸民、主播張珮珊聯手主持晚會,另外現場還有十二名體型壯碩的市府員工扮演聖誕老人,在現場發糖果給民眾。
(自由時報記者何玉華)
Publication Notes
TODAY'S WORDS
今日單字
1. flea market n. phr.
跳蚤市場 (tiao4 zao3 shi4 chang3)
例: I bought this tray in a flea market. It's quite old, but still in good condition.
這個托盤是在跳蚤市場裡買的。雖然蠻舊的,但看起來還是相當不錯。
2. strapping adj.
壯碩 (zhuang4 shuo4)
例: This magazine always uses strapping men for its cover photos.
這本雜誌常常找壯碩的男子作為它們的封面。
3. Santa Claus pron.
聖誕老人 (sheng4 dan4 lao3 ren2)
例: My sociology teacher told us that all the world's problems can be attributed to the fact Santa Claus doesn't exist.
我的社會學老師告訴我們,世界上所有的問題都可歸咎於聖誕老人不存在的事實。
Comments will be moderated. Keep comments relevant to the article. Remarks containing abusive and obscene language, personal attacks of any kind or promotion will be removed and the user banned. Final decision will be at the discretion of the Taipei Times.