1,000 Suao rocks snapped up in half hour 千顆蘇花改貫通石 半小時搶光
It is said that tunnel rocks can serve as a blessing for having children. On Dec. 7 the Directorate General of Highways' Suhua Highway Improvement Project Exhibition Center distributed 1,000 tunnel rocks from the project, and they were all gone before half an hour was up. The family of six-year-old Little Tsai from Taoyuan had been queueing since 2pm the previous day, waiting for 18 hours to be first. Little Tsai said that he was hoping for a baby sister. There was also a man from Luzhou in New Taipei City who made the trip to Yilan County's Suao Township to pick up his tunnel rock, hoping that his childless son, who has been married for ten years, will be able to continue the family line without any problems.
Chen Shu-fen, the girlfriend of Chen Hao-chih, who was there handing out the tunnel rocks, also came to line up. The shy Shu-fen was heckled to say "I love you" to her boyfriend. Hao-chih said that they did not want children, and wanted the rock to bring them luck, and that it was more important that their love lasted forever.
(Liberty Times, translated by Paul Cooper)
貫通石據說可保佑生子,公路總局蘇花公路工程展示館十二月七日發放千顆蘇花改工程貫通石,不到半小時號碼牌就搶光一空。住桃園的六歲蔡小弟弟一家人六日下午兩點就開始排隊,苦等十八個小時搶得「頭香」,蔡小弟弟說,希望有個妹妹。另有男子從台北蘆洲專程到宜蘭蘇澳鎮索取貫通石,希望結婚十年仍膝下無子的兒子順利有後。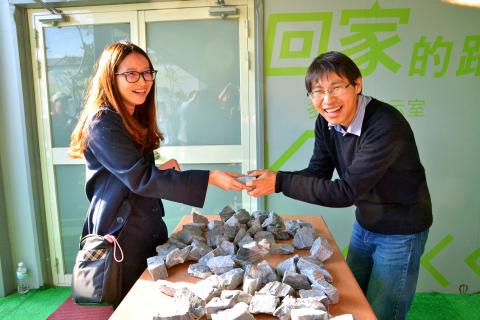 Chen Hao-chih, right, responsible for handing out rocks from the Suhua Highway Improvement Project, gives a rock to girlfriend Chen Shu-fen, left, who also had to queue, on Dec. 7 in Yilan County. People around called for him to propose. 發放貫通石工作人員陳浩智(右)的女朋友陳淑芬(左)十二月七日在宜蘭縣也來排隊領貫通石,被眾人起鬨喊「求婚!」
Photo: Chu Tse-wei, Liberty Times
(照片:自由時報記者朱則瑋)
發放貫通石工作人員陳浩智女友陳淑芬也來排隊,在眾人起鬨下,女方害羞對男方說:「我愛你!」陳浩智表示,沒有要求子,想帶來好運,兩人感情長長久久比較重要。
(自由時報記者朱則瑋)
Publication Notes
TODAY'S WORDS
今日單字
1. blessing n.
保佑 (bao3 you4)
例:Many people get talismans from temples as blessings to keep them safe.
許多人從廟裡獲得護身符作為祈求平安的保佑。
2. childless adj.
膝下無子 (xi1 xia4 wu2 zi3)
例:He died childless and without an heir.
他死時膝下無子, 沒有繼承人。
3. heckle adj.
起鬨 (qi3 hong4)
例:The comedian has prepared some funny responses for when she is heckled by the audience.
當觀眾起鬨時,喜劇演員已準備許多有趣的回應。
Comments will be moderated. Keep comments relevant to the article. Remarks containing abusive and obscene language, personal attacks of any kind or promotion will be removed and the user banned. Final decision will be at the discretion of the Taipei Times.