Deep travel experience on Taitung's Ligavon trail 台東利嘉林道結合部落 推深度遊程
Visiting an Aboriginal village is a great way of exploring indigenous culture and the natural environment. Taitung County's Beinan Township welcomes tourists to visit the Ligavon forest trail with activities that offer an experience of local life, production and ecology. Besides picking roselle flowers at the home of the village chief and observing nature as they stroll along the forest path, visitors can also have a go at making things like tree-stick pencils. Program promoter Hsu Jui-ming would like to see more people making in-depth visits to the village while respecting its culture and natural environment.
Hsu, who runs a guesthouse, says that although ordinary tourists add to the village's tourism earnings when they visit, sometimes they do not respect the local culture, and this can be annoying for the villagers. Now visitors can go deep into the mountains in the company of a local guide. First Chen Shih-chi, head of Tamalakau Village, offers a prayer for everyone's good fortune, after which they go to the chief's home to pick wild vegetables and make indigenous food such as millet dumplings. Now is the season for harvesting roselle flowers, so travelers can have a go at decoring roselle calyxes and making them into candied preserves.
Chen says that there is no potential for developing industries in mountainous areas, but that if tourists are attracted to the area they can increase consumption and stabilize local farm production.
(Liberty Times, translated by Julian Clegg)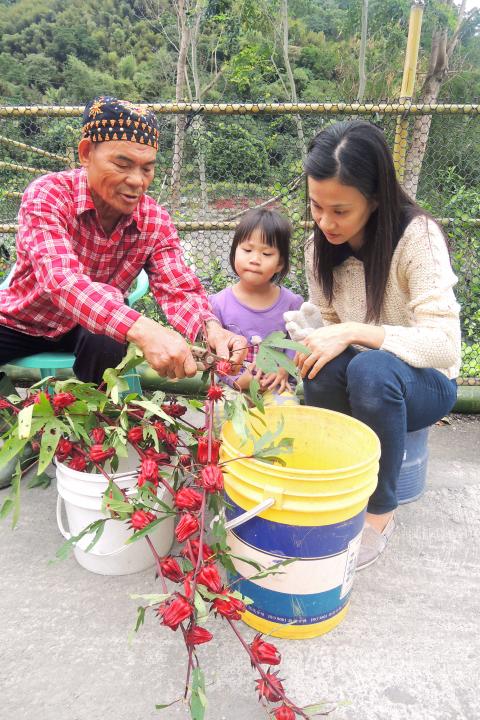 Chen Shih-chi, left, chief of Tamalakau (Taian) Village in Taitung County's Beinan Township, shows visitors how to decore roselle calyxes on Wednesday last week. 大巴六九(泰安村)頭目陳世計(左)與遊客一起處理洛神。
Photo: Chang Tsun-Wei, Liberty Times
照片:自由時報記者張存薇
走入部落,探訪人文與自然!台東縣卑南鄉利嘉林道推出「三生有幸認識你」體驗活動,包括到頭目的家採洛神、漫步林道訪自然、樹枝鉛筆DIY等,推動者許瑞明表示,希望更多遊客深入部落、也能尊重人文與自然。
民宿業者許瑞明指出,一般遊客進入部落雖增加觀光產值,但有時未尊重在地文化而造成部落困擾,透過在地人帶路,進入山區時,先由大巴六九部落頭目陳世計為大家祈福,再到頭目家採野菜、做阿粺等,而目前正是洛神採收季節,遊客可以體驗捅洛神、做蜜餞的經驗。
陳世計說,山區沒有什麼產業可以發展,如果能引進遊客、促進在地消費,也能穩定在地農業。
(自由時報記者張存薇)
Publication Notes
TODAY'S WORDS
今日單字
1. have a go v. phr.
嘗試﹔體驗 (chang2 shi4; ti3 yan4)
例: I'd like to find an ice rink and have a go at ice-skating.
(我想找個溜冰場體驗一下溜冰。)
2. in-depth compound adj.
深度 (shen1du4)
I will vote for a candidate who has an in-depth knowledge of this district.
(我會把票投給對選區有深度瞭解的候選人。)
3. annoying adj.
討厭 (tao3 yan4)
例: Some people find the sound of metal cutlery on glass tableware very annoying.
(許多人討厭聽到金屬物劃過玻璃的聲音。)
Comments will be moderated. Keep comments relevant to the article. Remarks containing abusive and obscene language, personal attacks of any kind or promotion will be removed and the user banned. Final decision will be at the discretion of the Taipei Times.