Oral cancer risk rockets with combined use of betel nut, tobacco and alcohol 檳榔、菸、酒不忌 口腔癌風險高123倍
According to Health Promotion Administration figures, about 2,300 people die of oral cancer in Taiwan every year, and last year it was ranked as fifth in the top 10 most fatal cancers. As many as 90 percent of patients habitually chew betel nut. Doctors say that the "red lip brigade" of betel nut chewers are 28 times more likely to get oral cancer than non-chewers, and if they combine this with drinking alcohol and smoking, the cancer risk increases to 123 times, which should not be taken lightly.
Truck driver Yu You-peng first started chewing betel nut when he was 13 years old, and since then needs it to keep him awake when driving long distance, chewing around 200 nuts every day. As a result, he was diagnosed as having third-stage oral cancer, and has had many operations since then. He now has scars all over his face, and regrets chewing the betel nuts.
Eda Hospital resident family physician Huang Chi-hsien says that chewing betel nut will stimulate the oral membrane and cause a mutation in the cells, leading to oral cancer. If you chew 10 betel nuts every day, and continue to do so for over 10 years, even if you later quit, the risk of developing oral cancer will remain for over 10 years. Huang recommends having an oral inspection for cancer once every two years, so that it can be found and treated in good time.
(Liberty Times, translated by Paul Cooper)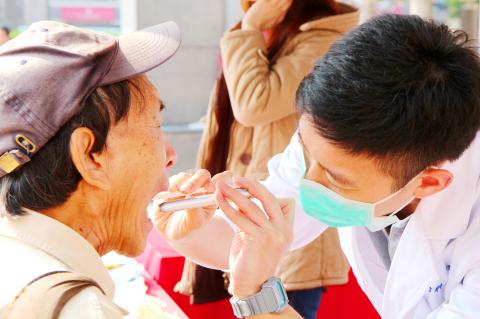 A doctor performs an oral inspection on a man in Taipei in this undated photo. 在這張未標示日期的照片中,醫生在台北幫病人撿查口腔。
Photo courtesy of the Health Promotion Administration
照片:國民健康署提供
根據國民健康署統計,台灣每年有兩千三百人死於口腔癌,去年為癌症十大死因第五位,高達九成患者均有嚼檳榔習慣。醫師提醒,嚼檳榔的紅唇族,相對於不嚼檳榔族群,罹患口腔癌機率為二十八倍。若是合併喝酒、抽菸習慣,癌變風險更提高至一百二十三倍,不可掉以輕心!
擔任聯結車駕駛的余宥朋,從十三歲開始吃檳榔,後來因為長途駕駛需要提神,每天狂吃兩百顆左右檳榔,結果數年前確診第三期口腔癌,前後接受多次手術,臉部疤痕明顯,悔不當初。
義大醫院家醫科主治醫師黃繼賢指出,嚼檳榔會刺激口腔黏膜造成細胞病變,罹患口腔癌。若每天嚼十顆檳榔、持續十年以上,即使日後戒掉,罹患口腔癌風險仍持續十年以上,建議每兩年接受一次口腔黏膜檢查,早期發現及時治療。
(自由時報記者林惠琴)
Publication Notes
TODAY'S WORDS
今日單字
1. take lightly v.
掉以輕心 (diao4 yi3 qing1 xin1)
例: I don't know why you're taking this so lightly. It is a serious matter.
(我不知道為何你會掉以輕心,這可是件嚴重的事。)
2. diagnose v.
診斷 (zhen3 duan4)
例: He was diagnosed with leukemia three months ago.(他三個月前被診斷出白血病。)
3. mutation n.
病變 (bing4 bian4)
例: Cancer is essentially a mutation of cells.
(癌症基本上是種細胞的突變。)
Comments will be moderated. Keep comments relevant to the article. Remarks containing abusive and obscene language, personal attacks of any kind or promotion will be removed and the user banned. Final decision will be at the discretion of the Taipei Times.