Orchid Island pick of bunch for earliest sunrise 追明年最早日出 蘭嶼搶頭香
Now that 2014 is about to draw to a close, have you made preparations for how you are going to see in the new year, and arranged your long New Year weekend? According to the Central Weather Bureau's (CWB) Astronomical Observatory, the earliest sunrise on the first day of the new year anywhere on Taiwan for low-lying areas will be on Orchid Island, at 6:32 in the morning, the second earliest being on Green Island, at 6:34 am. On Taiwan proper, the earliest sunrise can be seen from Kenting's Lungpan Park in Pingtung County and Sansiantai in Taitung at 6:35 am.
For the latest sunset of the year, this can be seen on Taiwan proper from Anping in Greater Tainan and Cijin in Greater Kaohsiung, where it will happen at 5:25 on the afternoon of Dec. 31. The latest sunrise of the year anywhere in the country can be seen at 6:35 pm from Taiping Island.
The CWB says that because mountainous areas are of higher elevation, the time of sunrise will be earlier than in low-lying areas, and sunrise can be seen from on Jade Mountain, Siouguluan Mountain and Sinkang Mountain at 6:27 am. These three areas are the places where the sunrise can be seen earliest throughout Taiwan. However, these areas are not easily accessible, and are often closed during the snow season, so they are not suitable for the general public to head for.
(Liberty Times, translated by Paul Cooper)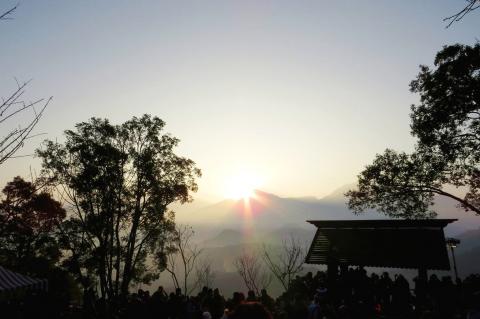 Visitors watch the first sunrise of the new year at an event organized by the Sun Moon Lake National Scenic Area Administration and Yuchih Township Office in Nantou County on Jan. 1. 遊客們觀賞新年第一個日出,該元旦活動是由日月潭國家風景區管理處和南投縣魚池鄉公所舉辦。
Photo: Chen Hsin-jen, Liberty Times
照片:自由時報記者陳信仁
二O一四年即將步入尾聲,是否已準備好迎接最早日出,以及安排好跨年連假行程?中央氣象局天文站公布明年元旦全國平地最早日出為蘭嶼的六時三十二分,其次則是綠島的六時三十四分;而台灣本島最早日出則是出現在屏東墾丁龍磐公園及台東三仙台,時間為六時三十五分。
至於今年的最晚日沒,台灣本島出現在台南安平及高雄旗津,日沒時間為三十一日下午五時二十五分;全國最晚日沒則是太平島的晚上六時十一分。
氣象局表示,高山部分因位置較高,日出時刻會比平地早,玉山、秀姑巒山及新康山三處的日出時刻為六時二十七分,是全國最早見到日出的地方。不過這三處的交通極為不便,且常因雪季封山,不適合一般民眾前往。
(自由時報)
Publication Notes
TODAY'S WORDS
今日單字
1. draw to a close v. phr.
步入尾聲 (bu4 ru4 wei3 sheng1)
例: The evening is drawing to a close, but thank you all for coming.
(今晚的活動已進入尾聲,感謝大家的光臨。)
2. see in v. phr.
迎接 (ying2 jie1)
例: We will be seeing in the new year by watching the Taipei 101 fireworks display.
(為了迎接新年,我們要去台北101看煙火施放。)
3. head for v. phr.
前往 (qian2 wang3)
例: It's getting late, I think I'll head for home.
(很晚了,我想該回家了。)
Comments will be moderated. Keep comments relevant to the article. Remarks containing abusive and obscene language, personal attacks of any kind or promotion will be removed and the user banned. Final decision will be at the discretion of the Taipei Times.