Plan to exterminate mosquitoes using seawater initially successful 海水滅蚊計畫初步見效 兩百隻孓孑剩三隻存活
When inspecting the effects of Greater Kaohsiung's plan to use seawater to exterminate mosquitoes at 9am on the morning of Nov. 11, it was found that in 10 bags containing a total of 200 Aedes aegypti mosquito larvae, all larvae in eight of the bags had died. In each of the remaining two bags, one and two larvae had survived, respectively. According to the Department of Health's preliminary evaluation, the effects were quite good, and during the afternoon of the same day, they were going to inspect the survival rate after 24 hours.
According to the department, it takes about four days for larvae to transform into a mosquito, and the plan for the program was therefore to continue observations for four days. If all the larvae were to die within four days, the department would quickly expand the experiment and it had preliminarily selected 400m of a ditch along an epidemic hotspot in part of the Sanmin District to be filled with seawater.
(Liberty Times, Translated by Perry Svensson)
高市海水滅蚊計畫十一月十一日上午九點檢視成果,十袋共兩百隻斑蚊的「孓孑」裡,有八袋全數被海水鹹死,另兩袋各存活兩隻、一隻,衛生局初步評估成效不差,下午將繼續觀察二十四小時存活情況。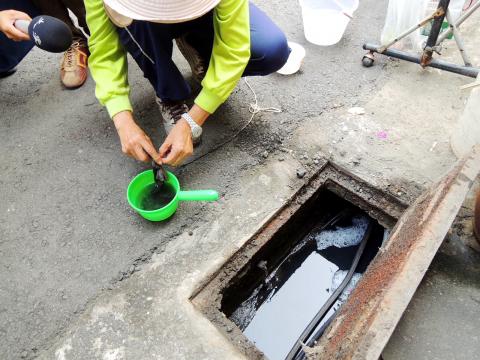 Staff from Greater Kaohsiung's Department of Health inspect the effects of the plan to exterminate mosquitoes using seawater on Nov. 11. 高市衛生局人員十一月十一日上午在高雄市檢視海水滅蚊計畫成效。
Photo: Wang Jung-hsiang, Liberty Times
照片:自由時報記者王榮祥
衛生局說明,孓孑羽化成蚊時間約四天,海水滅蚊計畫據此設計最長觀察日為四天,若四天內孓孑全部陣亡,將積極規劃擴大實驗範圍,初步會選定三民區部分疫情熱區周遭四百公尺水溝灌注海水。
(自由時報記者王榮祥)
Publication Notes
TODAY'S WORDS
今日單字
1. inspect v.
檢視 (jian3 shi4)
例: The hunters inspect their traps once a day to see if they have caught something.
(獵人每天檢視一次陷阱,看看有沒有捕捉到什麼?)
2. exterminate v.
滅絕 (mie4 jue2)
例: Why would people want to exterminate ants and other vermin?
(為何人類要滅絕螞蟻及其他害蟲?)
3. observation n.
觀察 (guan1 cha2)
例: He had stay in the hospital for observation for three days.
(他留院觀察三天。)
Comments will be moderated. Keep comments relevant to the article. Remarks containing abusive and obscene language, personal attacks of any kind or promotion will be removed and the user banned. Final decision will be at the discretion of the Taipei Times.