University knocks down tweet that Ebola airborne 大學駁斥伊波拉可藉空氣傳播的推文
University of Minnesota officials are knocking down a tweet claiming its researchers say Ebola is airborne.
University spokeswoman Caroline Marin told the Star Tribune in Minneapolis that the university never made such a claim.
In fact, the tweet refers to a commentary posted a month ago on a university Web site that was written by Chicago-based researchers who were debating Ebola's "potential to be transmitted" to health workers by aerosolized virus particles, and thus what protective gear they should wear.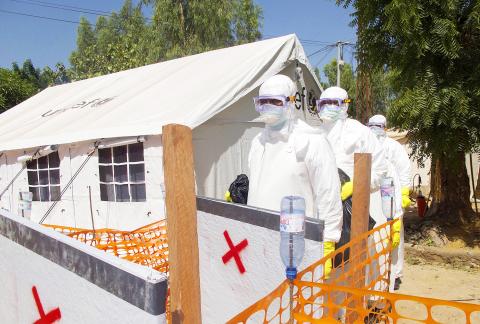 Health workers work at an Ebola isolation center in Bamako, Mali on Nov. 11. 醫療人員十一月十一日在馬利巴馬科的一處伊波拉隔離中心工作。
Photo: EPA
照片:歐新社
World health authorities have been clear that Ebola is transmitted through direct contact with bodily fluids, and that blood, vomit and feces carry the most virus.
What if a sick person's wet sneeze hits your hand and then you absentmindedly rub your eyes? Asked about such scenarios recently, Tom Frieden, director of the Centers for Disease Control and Prevention, allowed that, theoretically, "it would not be impossible" to catch the virus that way. But it is considered highly unlikely. No such case has been documented.
(Courtesy of Liberty times)
明尼蘇達大學官員駁斥據稱是該校研究人員所發、指伊波拉可靠空氣傳播的推文。
大學發言人卡洛琳‧馬林告訴明尼亞波里斯的《星論壇報》,該校從未做過這樣的聲明。
事實上,推文提及一個月前由位於芝加哥的研究人員所撰、並發表於一處大學網站的一則評論,內容辯論伊波拉透過氣膠化病毒粒子對衛生工作人員有「傳播潛力」,以及因此他們該穿戴何種防護裝置。
全球衛生有關當局早已明白伊波拉透過直接接觸體液傳播,以及血液、嘔吐物和排泄物帶有最多病毒。
如果有一個生病者濕答答的噴嚏噴到你的手上,然後你又不小心摩擦到你的眼睛,會怎麼樣?最近疾病管制與預防中心主任湯姆‧佛萊登被問到這類情況時,同意理論上像這樣感染病毒「並非不可能」,但它被視為高度不可能,目前沒有文獻記載這樣的案例。
(自由時報提供/翻譯:周虹汶)
Publication Notes
TODAY'S WORDS
今日單字
1. knock down v. phr.
駁斥;降價 (bo2 chi4; jiang4 jia4)
例: He tried to persuade her to knock down the price of the apartment.
(他嘗試說服她降低公寓的價格。)
2. airborne adj.
空中傳播的 (kong1 zhong1 chuan2 bo4 de5)
例: She is allergic to airborne pollen.
(她對空氣中的花粉過敏。)
3. unlikely adv.
不太可能地 (bu2 tai4 ke3 neng2 de5)
例: It is unlikely for him to have empathy for others.
(他不太可能對他人有同理心。)
Comments will be moderated. Keep comments relevant to the article. Remarks containing abusive and obscene language, personal attacks of any kind or promotion will be removed and the user banned. Final decision will be at the discretion of the Taipei Times.