Puli Car-Free Day: A day of bikes and butterflies 埔里無車日 宣示打造單車、蝴蝶「雙B城鎮」
This year's Puli Car-Free Day opened at the National Puli Vocational High School on Nov 1, the theme being "Ride Bikes for the Trees, Run to your Heart's Content." The bike ride and jogging events, together with visits to old trees in the community and a butterfly ecology restoration event, attracted over 500 participants.
This year's event was divided into the bike ride and the jogging groups. The bike ride group included a trip to search out old trees, using the bike ride to visit nine trees spread around the town, to find out about the life stories of trees such as the banyan tree, the black pine, the Chinese crapemyrtle and the podocarpus. The jogging group, meanwhile, went around roads in the community, visiting many community-run butterfly habitats and appreciating the flowers and butterflies along the route, spending a relaxing weekend.
(Liberty Times, translated by Paul Cooper)
今年埔里無車日十一月一日上午在國立埔里高工登場,今年以「單車愛老樹,慢跑心自在」為主題,將單車、路跑活動,結合社區老樹探訪、蝴蝶生態復育,吸引五百多名民眾參與。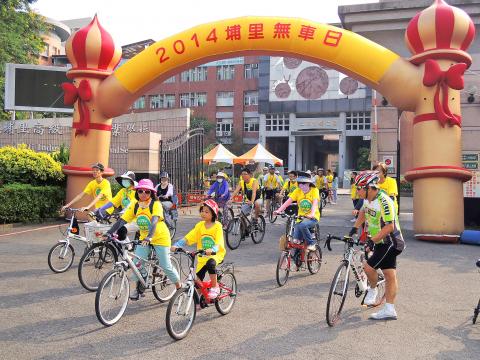 People attend this year's Car Free-Day event in Nantou County's Puli Township on Nov 1. 民眾十一月一日於南投縣埔里鎮參加無車日活動。
Photo: Tung Chen-kuo, Liberty Times
照片:自由時報記者佟振國
今年活動分為單車組與路跑組,其中單車組納入尋訪老樹遊程,透過單車休閒運動,探訪分布鎮內的九株老樹,了解榕樹、黑松、九芎、桃實百日青等老樹的生命故事;路跑組則繞行社區道路,探訪許多社區自行營造的蝴蝶棲地,路跑也能賞花、賞蝶,度過輕鬆悠閒的週休假日。
(自由時報記者佟振國)
Publication Notes
TODAY'S WORDS
今日單字
1. (do something) to your heart's content phr.
恣意 (zi4 yi4)
例: Finish your work first, then you can chat with your friends to your heart's content.
(先把工作做完,再與朋友恣意聊天。)
2. habitat n.
棲地 (qi1 di4)
例: Urban expansion is eating away at some creatures' natural habitats.
(都市擴展正吞噬一些生物的自然棲地。)
3. appreciate v.
鑑賞;欣賞 (jian4 shang3; xin1 shang3)
例: We will learn about the history of jazz, and also how to appreciate it.
(我們將學習關於爵士歷史,以及如何欣賞它。)
Comments will be moderated. Keep comments relevant to the article. Remarks containing abusive and obscene language, personal attacks of any kind or promotion will be removed and the user banned. Final decision will be at the discretion of the Taipei Times.