Maryland ban on grain alcohol hurts violin makers 馬里蘭州禁售穀物酒 殃及小提琴製造商
Binge drinkers and frat boys are not the only ones despairing over US state Maryland's new ban on grain alcohol: Violin makers who used the liquor to make varnish are also affected.
Silver Spring violin maker Howard Needham tells The Washington Post that nothing works better than Everclear grain alcohol for making the varnishes he uses to repair chipped or broken musical instruments. He's been hoarding whatever grain alcohol he can get his hands on since the ban took effect last month.
Other violin makers report similar concerns.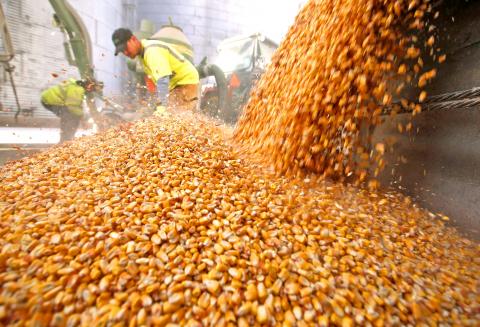 Workers empty corn kernels from a grain bin in Minooka, Illinois on Sept. 24. 工人們九月二十四日在伊利諾州Minooka從箱內倒出玉米粒。
Photo: Reuters
照片:路透
Maryland became one of several states to ban sales of alcohol at 190 proof or higher. Leaders at Maryland's colleges and universities supported the ban, saying students abused grain alcohol as a cheap way to get drunk.
(AP)
狂熱酒客與愛喝酒胡鬧的大學兄弟會男生們,不會是唯一對馬里蘭州最新穀物酒禁售令感到絕望的人:使用穀物酒來製造亮光漆的小提琴製造商,也受到影響。
「銀春」小提琴製造商霍華德‧尼德漢告訴華盛頓郵報,製作用來修補有缺口或破損小提琴的亮光漆,沒有比Everclear穀物酒更好的了。打從此一禁令上月生效以來,他就一直囤積他能弄到手的穀物酒。
其他小提琴製造商也有類似困擾。
馬里蘭州成為美國禁止販售酒精濃度九十五度或以上酒類的幾個州之一。馬里蘭州的大專院校領導階層支持此一禁令,認為學生將穀物酒視為買醉的廉價管道。
(美聯社/翻譯:張沛元)
Publication Notes
TODAY'S WORDS
今日單字
1. affect v.
影響 (ying2 xiang3)
例: The amount of rain affects the growth of crops.
(雨量影響作物的生長。)
2. get ones hands on something idiom
取得某物 (qu3 de2 mou3 wu4)
例: I can never get my hands on a pair of scissors in this office.
(我在這個辦公室裡永遠拿不到剪刀。)
3. take effect v. phr.
生效 (sheng1 xiao4)
例: The new laws took effect last year.
(新法去年生效。)
Comments will be moderated. Keep comments relevant to the article. Remarks containing abusive and obscene language, personal attacks of any kind or promotion will be removed and the user banned. Final decision will be at the discretion of the Taipei Times.