Pope accepts 'unfaithful' British bishop's resignation 教宗接受英國「不忠」主教的辭呈
Pope Francis has accepted the resignation of a British bishop who stood down after admitting to an affair with a woman, the Vatican said on Oct. 6.
"The Holy Father Francis has accepted the resignation of Bishop Kieran Conry from the dioceses of Arundel and Brighton," a statement said.
Conry, 64, apologized in a letter to parishioners to being "unfaithful to my promises as a Catholic priest" but underscored his actions were not illegal and did not involve minors.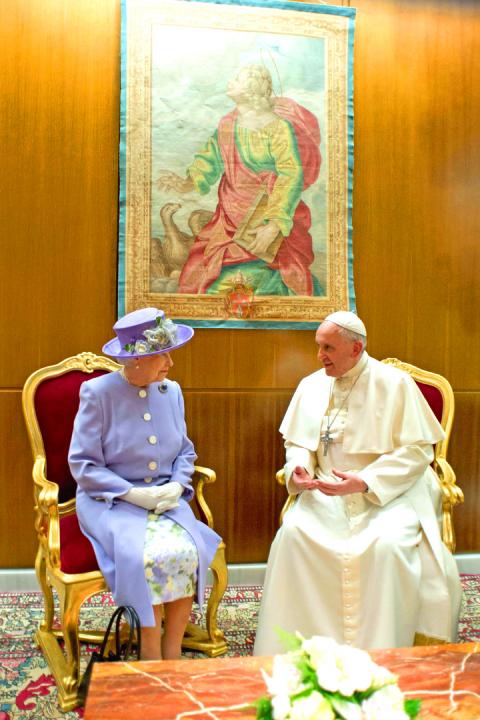 Britain's Queen Elizabeth II,87, talks to 77-year-old Pope Francis during a meeting at the Vatican on April 3. 八十七歲的英國女王伊莉莎白二世四月三日在梵蒂岡與七十七歲教宗方濟各會面。
Photo: EPA
照片:歐新社
The Catholic Church has come under pressure to reconsider the tradition of clerical celibacy, which is not an unchangeable doctrine but has been practiced for hundreds of years.
Proponents argue a change could slow a sharp decline in ordinations in Europe.
Conry, who was appointed by Pope John Paul II in 2001 as bishop of Arundel and Brighton in southeast England, has admitted to having a sexual relationship with a woman six years ago.
He resigned after a British press report that the estranged husband of another woman hired a private detective to follow his wife, who had slept at the bishop's house.
The bishop has said that the latter relationship was merely a close friendship. He told The Sunday Times that he hopes to retain a role in the Church.
(AFP)
梵蒂岡十月六日表示,在一位英國主教坦承與一名女子有染後,教宗方濟各已接受該名主教的請辭。
聲明中指出:「聖父方濟各已經接受基蘭‧科尼主教辭去阿倫德爾暨布萊頓教區的辭呈。」
六十四歲的科尼在一封信中,針對其「未忠於身為天主教司鐸的承諾」向其教區教友致歉,但他強調其行為並未違法,且未涉及未成年人。
此個案讓天主教被迫重新審視其神職人員獨身制的傳統。此教條雖非絕對不可改變者(獨身制為教會法),但該傳統已承襲有數百年之久。
支持修法者提出的論點是,改變此傳統有望緩和歐洲授品典禮領受者銳減的問題。
科尼二00一年獲教宗若望保祿二世任命為英格蘭東南部阿倫德爾暨布萊頓教區主教。科尼坦承在六年前與一名女性有性關係。
英國媒體爆料說,還有另一名女性的分居丈夫,雇用私家偵探跟蹤妻子,發現妻子睡在柯尼家中。在此爆料後,科尼即遞出辭呈。
這位主教已表明,第二名女性僅好友關係。他告訴《星期日泰晤士報》表示,他希望能在教會保有一職。
(法新社/翻譯:林亞蒂)
Publication Notes
TODAY'S WORDS
今日單字
1. underscore v.
強調 (qiang2 diao4)
例: Her gesture underscored her words.
(她的手勢加強了其文字表達的力度。)
2. estranged adj.
分居的 (fen1 ju1 de5)
例: He has not spoken to his estranged wife for years.
(他已多年沒與其分居的妻子說話了。)
3. retain v.
保留;保持 (bao3 liu2; bao3 chi2)
例: A ballerina should retain her physical balance when pirouetting.
(芭蕾舞者做旋轉動作時,應保持身體平衡。)
Comments will be moderated. Keep comments relevant to the article. Remarks containing abusive and obscene language, personal attacks of any kind or promotion will be removed and the user banned. Final decision will be at the discretion of the Taipei Times.