Guanmiao noodle exports: quality control pays off 好天氣趕製關廟麵 外銷香港
Despite the recent tainted oil scandal in the country, quite a few Taiwanese food products have built up, over a long period of time, a reputation for quality and the trust of their customers. Exports to Hong Kong of Guanmiao noodles, which are mostly sun-dried, have continued. On the morning of Sept. 18 the sun was out in Greater Tainan, and noodle-makers were busy making noodles, making use of the good weather to get their product out.
Many merchants have recently been actively promoting exports of domestic quality products. They say that as long as the quality accreditation is there the orders keep pouring in, and that they still have their channel partners and overseas customers. They also say how important it is for everyone in Taiwan to club together and get through this food safety controversy together.
Guanmiao noodles do not require oil in the production process, and so there are no doubts over safety. Exports to Hong Kong and even Southeast Asia are continuing, and merchants are busy getting the products out. They are maintaining strict quality control, as the Made in Taiwan (MIT) brand absolutely needs people to rest assured. On Sept. 18, to fill an order from Hong Kong, the Changan Noodle Factory was busy from early in the morning. According to Chen Hsing-lung, who is in charge of the factory, quality is crucial to being successful in the export business, and trust in the reputation cultivated over the long term means that the product enjoys the continued support of channel partners and consumers.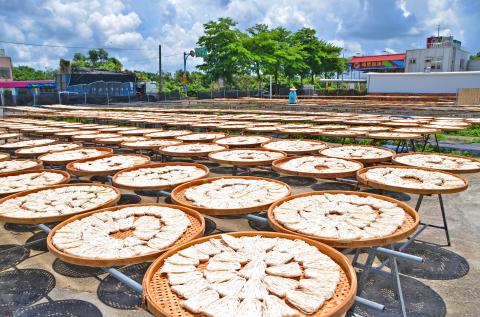 Guanmiao Noodle manufacturers dry noodles in the sun in Greater Tainan on Sept 18. 關廟麵廠商九月十八日在台南市曬製關廟麵。
Photo: Wu Chun-feng, Taipei Times
照片:自由時報記者吳俊鋒
Chen says that Guanmiao noodles are dried naturally in the sun, and not only are no additives used in the process, but the ingredients used have all been accredited. These quality requirements are the reason for maintaining the business over the long term.
(Liberty Times, Translated by Paul Cooper)
儘管國內爆發黑心油事件,但不少台灣食品長期建立的優質市場口碑,仍獲得客戶信任,以日曬為主的關廟麵,還是能穩健地外銷香港,九月十八日上午台南出太陽,業者利用好天氣趕製,忙著供貨。
連日來,很多貿易商仍積極將國內優質的產品出口到世界各地,他們說:只要檢驗合格的,訂單仍不斷湧進,國外通路、客戶都沒放棄,台灣更應該上下一心,攜手挺過食安風暴才對。
製程中不摻油的關廟麵,沒有食安疑慮,外銷香港,甚至東南亞等地的作業持續,貿易商忙著出貨,更嚴格把關品質,「MIT絕對要讓人放心」。
供應香港訂單需求,長安製麵廠九月十八日一早就開工趕貨,負責人陳興隆表示,外銷市場的成功經營,優質產品為重要關鍵,這是長期口碑所建立的信賴感,能夠獲得通路客戶、消費者的繼續支持。
陳興隆強調,關廟麵以天然曬製為主,過程中除了無化學添加,原料端的檢驗,也都有合格證明,品質的要求,才是永續經營之道。
(自由時報記者吳俊鋒)
Publication Notes
TODAY'S WORDS
今日單字
1. taint v.
沾染 (zhan1 ran3)
例: The plastic of this bottle has deteriorated and tainted the flavor of the drink inside.
(該瓶子的塑膠已變質,並且沾染瓶內飲品的味道。)
2. pour in v. phr.
湧入 (yong3 ru4)
例: Complaints began to pour in after the comedian made a particularly tasteless joke on TV.
(在該位喜劇演員公開在電視上一開了一個沒品的玩笑後,抱怨聲浪隨即開始湧入。)
3. club together v. phr.
上下一心 (shang4 xia4 yi1 xin1)
例: We can't do this separately. We should club together.
(我們不能各做各的,必須上下一心。)
Comments will be moderated. Keep comments relevant to the article. Remarks containing abusive and obscene language, personal attacks of any kind or promotion will be removed and the user banned. Final decision will be at the discretion of the Taipei Times.