New Thai PM uses holy water, feng shui to ward off occult 泰國新總理用聖水、風水擋巫術
As he was preparing to move in to Bangkok's Government House a few weeks ago, Thai Prime Minister Prayuth Chan-ocha went through great lengths to sweep away any occult problems.
Prayuth has left nothing to chance since leading a military coup to topple a democratically elected government on May 22. After a meticulously planned power grab, he has systematically snuffed out dissent.
Like many politicians and generals before him, Prayuth believes in spiritualism and divination, and on Sept. 8 members of his entourage were seen carrying Buddha statues and religious idols, thought to bring luck, in to Government House.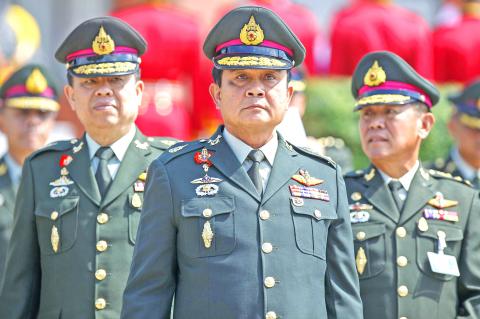 Thailand's Prime Minister Prayuth Chan-ocha, center, looks on during a military parade in Thailand on Sept. 29. 泰國總理帕拉育(中)九月二十九日在泰國閱兵。
Photo: Reuters
照片:路透
Furniture in Prayuth's designated office has been arranged according to the principles of feng shui.
"Prayuth's work table has been placed in the east of the work room as this is thought to aid quick solutions," a prime ministerial aide told Reuters.
"The tones in the building will mostly be green, as this is the army's color and Prayuth, as army chief, is compatible with green," the aide said.
(Reuters)
在他準備於幾週前搬進曼谷總理府之際,泰國總理帕拉育大費周章地掃除任何巫術威脅。
帕拉育自從五月二十二日帶頭發動軍事政變、推翻經民主選舉產生的政府後,就步步為營。經過精心策劃的奪權行動後,他便有系統地剷除異己。
就像在他之前的許多政治人物和軍事將領一樣,帕拉育深信神靈之說,他的隨從九月八日就被目擊將據信可帶來好運的佛像和宗教偶像帶進總理府。
帕拉育專用辦公室內的家具依照風水原則擺設。
一名總理助理告訴路透:「帕拉育的辦公桌放在辦公室的東邊,因為這個方位被認為有助於迅速解決問題。」
「辦公室的色調將以綠色為主,因為這是陸軍的代表色,也與身為陸軍總司令的帕拉育很合,」這名助理說。
(路透/翻譯:管淑平)
Publication Notes
TODAY'S WORDS
今日單字
1. ward off v. phr.
擊退;抵擋 (ji2 tui4; di2 dang3)
例: I have taken vitamin C in the hope of warding off colds.
(我吃了維他命C,希望能預防感冒。)
2. leave something/nothing to chance v. phr.
(不)靠運氣 ((bu2) kao4 yun4 qi4)
例: Greg always makes plans for everything. He doesn't leave anything to chance.
(葛瑞格向來計畫好每件事情。他對任何事都不心存僥倖。)
3. snuff out v. phr.
扼殺 (e4 sha1)
例: The country's hope for democracy has been snuffed out.
(該國對民主的期待被扼殺了。)
Comments will be moderated. Keep comments relevant to the article. Remarks containing abusive and obscene language, personal attacks of any kind or promotion will be removed and the user banned. Final decision will be at the discretion of the Taipei Times.