Action films most likely to make you fat, says study 研究:動作片最可能讓你發胖
Watching action films may make you more likely to pile on the pounds, according to US researchers.
Previous studies have suggested a link between television and obesity but the team at Cornell University tried to establish which genres of television were worst. The findings, published in JAMA Internal Medicine, showed that people snacked far more during action films. The authors said people should avoid snacking while watching television.
TV is linked to obesity because of junk-food advertising, sedentary behavior and distracting people so they do not realize how much they are eating.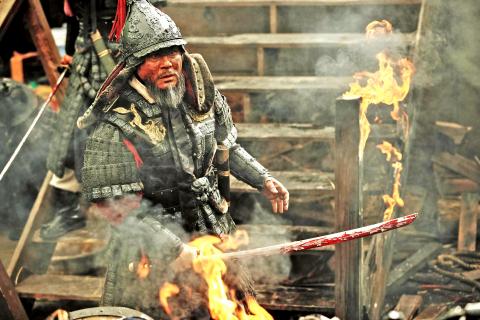 This handout picture released in Seoul on Aug. 16 shows a movie still of the South Korean action blockbuster film Myeongryang (Roaring Currents). 八月十六日提供的南韓院線動作片《鳴梁》劇照。
Photo: AFP
照片:法新社
The study followed 94 students who were given bowls of chocolate, biscuits, carrots or grapes while watching television. The scientists then compared how much food was consumed during the 2005 action movie, The Island, with a show based on one-to-one interviews.
They demonstrated that people had had nearly twice the amount of food by weight and consumed 65 percent more calories during the film.
(Courtesy of liberty times)
根據美國研究人員,看動作片可能讓你更容易堆積脂肪。
先前的研究顯示,電視與肥胖之間有關聯,但美國康乃爾大學團隊試著了解哪種類型電視節目最可怕。這項刊登在美國醫學會內科醫學期刊的發現顯示,人們在看動作片時,吃的零食多更多。作者說,人們應該避免看電視時吃零食。
電視與肥胖相關,是因為垃圾食物的廣告、一直坐著,還有看電視時會分心,所以沒意識到自己吃了多少。
研究追蹤九十四名學生,在他們看電視時,給他們桶裝巧克力、餅乾、胡蘿蔔或葡萄。接著科學家將學生們看二零零五年動作片《絕地再生》時,與看一對一訪談節目時吃的食物量相比。
他們證明說,人們看影片時,吃的食物重量幾乎多了一倍,吃下的卡路里也多百分之六十五。
(自由時報提供/翻譯:自由時報國際新聞中心)
Publication Notes
TODAY'S WORDS
今日單字
1. establish v.
查明;發現 (cha2 ming2; fa1 xian4)
例: Before we take any action we must establish the facts.
(我們採取行動前,必須查明事情真相。)
2. genre n.
類型 (lei4 xing2)
例: What genre does the book fall into - comedy or tragedy?
(這本書屬於哪類?喜劇還是悲劇?)
3. sedentary adj.
久坐的 (jiu3 zuo4 de5)
例: My doctor says I should start playing sport because my lifestyle is too sedentary.
(我的醫師說,我應該開始做點運動,因為我的生活型態太缺乏運動了。)
Comments will be moderated. Keep comments relevant to the article. Remarks containing abusive and obscene language, personal attacks of any kind or promotion will be removed and the user banned. Final decision will be at the discretion of the Taipei Times.