Plane returns to Seattle with chanting passenger 飛機載著吟唱乘客回航西雅圖
Officials say a man who was loudly chanting on an Alaska Airlines flight from Seattle to Hawaii made the other passengers uncomfortable and prompted the crew to return and drop him off with law enforcement at Seattle-Tacoma International Airport.
Airlines spokeswoman Nancy Trott says the captain made the right decision for safety on the night on July 2.
Trott says the man was removed without incident about 9:30pm. Flight 877 resumed with 178 passengers and landed at Kona at 1:16am local time on July 3.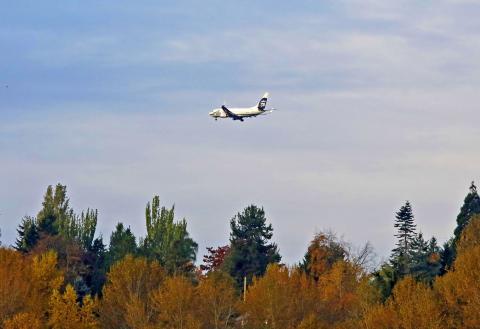 An Alaska Airlines plane approaches Seattle-Tacoma International Airport in Washington State Oct. 30 last year. 一架阿拉斯加航空班機去年十月三十日準備抵達華盛頓州西雅圖—塔科馬國際機場。
Photo: Reuters
照片:路透社
Trott did not know what the man was chanting or why. She says the crew tried to reason with him without success.
Sea-Tac spokesman Perry Cooper says the man was not arrested. He was taken back to the terminal with the suggestion he rebook his travels on another carrier.
(AP)
官員表示,一名在一班從西雅圖飛往夏威夷的阿拉斯加航空公司班機上大聲吟唱的男子,讓其他乘客感到不舒服,並促使機組人員返航,讓他下機交給西雅圖—塔科馬國際機場的執法人員處置。
航空公司女發言人南西.托特說,機長在七月二日晚間基於安全考量做出正確決定。
托特說,該名男子在沒有發生什麼意外的情況下,於晚間九時三十分被請下機。這架編號八七七、搭載一百七十八名乘客的班機重拾航程,並於當地時間七月三日凌晨一時十六分降落柯納。
托特並不清楚該名男子究竟在吟唱些什麼或為何吟唱。她說,機組人員企圖跟他講道理,但並未成功。
西雅圖—塔科馬機場發言人裴瑞.庫柏說,該名男子並未被捕。他被帶回航站大廈,被建議重新訂另一家航空公司的班機。
(美聯社/翻譯:張沛元)
Publication Notes
TODAY'S WORDS
今日單字
1. drop off idiom
送某人到某處 (song4 mou3 ren2 dao4 mou3 chu4)
例: Could you drop me off somewhere in town?
(你能否讓我在城裡某處下車呢?)
2. incident n.
事件 (shi4 jian4)
例: Despite fears of violence, the demonstration passed off without incident.
(儘管有發生暴力之虞,這場示威行動最後還是順利落幕。)
3. reason v.
講道理 (jiang3 dao4 li3)
例: You cannot reason with someone who is so narrow-minded.
(你沒辦法跟心胸狹窄的人講道理。)
Comments will be moderated. Keep comments relevant to the article. Remarks containing abusive and obscene language, personal attacks of any kind or promotion will be removed and the user banned. Final decision will be at the discretion of the Taipei Times.