Salzburg Festival opens with cheers on eve of 1914 anniversary 一戰百年紀念 薩爾茲堡音樂節歡喜開場
The Salzburg Festival, despite looming financial worries, got off to a thundering start Sunday with an opera by the city's favorite son Mozart, kicking off a month-long program of culture and glamour.
Don Giovanni, directed by the festival's theater director Sven-Eric Bechtolf, met with rousing applause for its sleek production set in 1920s pre-fascist Spain.
The festival's opening was attended by Austrian President Heinz Fischer, who recalled that Sunday marked the eve of the day 100 years ago, when Austria-Hungary signed its declaration of war against Serbia, setting off the train of events that led to World War I.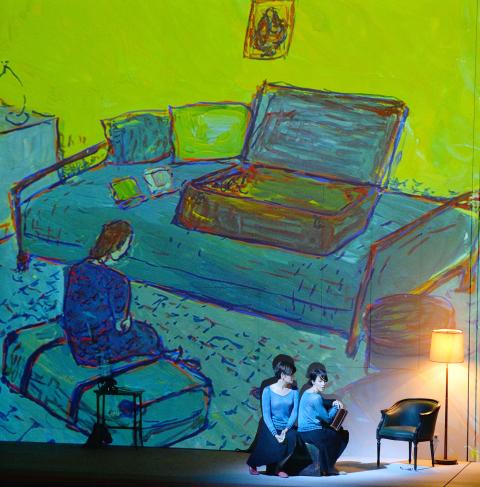 Singers Marianne Crebassa, left, as Charlotte Kann and Johanna Wokalek as Charlotte Salomon perform on stage during a dress rehearsal of Marc-Andre Dalbavie's opera Charlotte Salomon in Salzburg, Austria on July 24. 飾演夏綠蒂‧康的瑪莉安‧克蕾芭薩(左)與飾演夏綠地‧所羅門的喬漢娜‧沃卡萊克七月二十四日在奧地利薩爾茲堡彩排由馬可—安德烈‧達爾巴維譜曲的歌劇《夏綠地‧所羅門》。
Photo: AFP
照片:法新社
In honor of this anniversary, the festival's organizers put together a war-themed program this year, with operas and plays paying tribute to soldiers, frontline nurses and Holocaust victims.
Despite looming budget problems and well-publicized management disputes, the festival remains a highlight of the cultural calendar, with celebrities, politicians and opera-lovers jostling every year to see performances by some of the world's top artists.
Among the big names on the program for this 94th Salzburg Festival are singers Anna Netrebko, Cecilia Bartoli and Placido Domingo, and conductors Riccardo Muti, Daniel Barenboim and Nikolaus Harnoncourt.
Singer Ildebrando D'Arcangelo, center, as Don Giovanni performs on stage during a dress rehearsal of Mozart's opera Don Giovanni in Salzburg, Austria on July 24. 飾演唐‧喬望尼的男中音伊爾代布蘭多‧達爾堪傑羅(中)七月二十四日在奧地利薩爾茲堡彩排莫札特歌劇《唐‧喬望尼》。
Photo: Reuters
照片:路透社
In total, 270 performances are planned until Aug. 31, including five new opera productions.
One eagerly awaited creation is Charlotte Salomon by French composer Marc-Andre Dalbavie, which retells the story of a young German artist deported and killed in Auschwitz in 1943.
The opera, directed by acclaimed Swiss director Luc Bondy, premiered on Monday.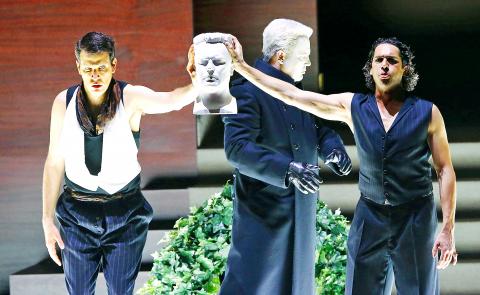 Singers Ildebrando D'Arcangelo as Don Giovanni, right, Tomasz Konieczny as Il Commendatore, center, and Luca Pisaroni as Leporello perform on stage during a dress rehearsal of Mozart's opera Don Giovanni in Salzburg, Austria on July 24. 飾演唐‧喬望尼的男中音伊爾代布蘭多‧達爾堪傑羅(右)、飾演騎士長的男低音湯瑪斯‧高烈斯尼(中)與飾演雷波烈羅的男低音路卡‧皮沙隆尼七月二十四日在奧地利薩爾茲堡彩排莫札特歌劇《唐‧喬望尼》。
Photo: Reuters
照片:路透社
Plays on the war theme include a new creation by British playwright Duncan Macmillan The Forbidden Zone, and Karl Kraus's The Last Days of Mankind, conceived by the director Katie Mitchell
"In commemoration of a horrible war, the First World War, we want to show that people, mankind, have other things to offer than war," Christoph Eschenbach — music director of the National Symphony Orchestra in Washington, who also directed Sunday's Don Giovanni — told AFP ahead of opening night.
"Art and especially music wants to abolish war, abolish the confrontation of people, the killing of people. It wants to bring people together," Eschenbach said.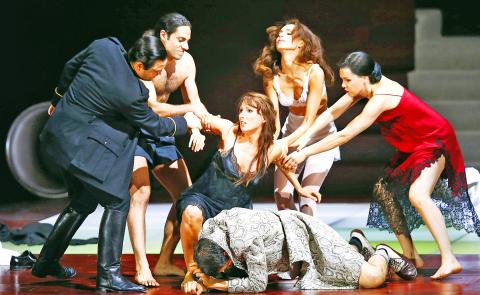 Singers Anett Fritsch as Donna Elvira, center, Valentina Nafornita as Zerlina, second right, Alessio Arduini as Masetto, second left, Luca Pisaroni as Leporello, bottom, Andrew Staples as Don Ottavio, left, and Lenneke Ruiten as Donna Anna, right, perform on stage during a dress rehearsal of Mozart's opera Don Giovanni in Salzburg, Austria on July 24. 飾演愛薇拉的女高音阿內特‧弗里奇(中)、飾演崔林娜的女高音瓦倫蒂娜.納福爾尼塔(右二)、飾演馬賽特的男低音阿雷西歐‧阿爾杜伊尼(左二)、飾演雷波烈羅的男低音路卡‧皮沙隆尼(下方)、飾演奧塔維歐的男高音安德魯.史泰普斯(左)與飾演安娜的女高音蘭妮克‧魯坦(右)七月二十四日在奧地利薩爾茲堡彩排莫札特歌劇《唐‧喬望尼》。
Photo: Reuters
照片:路透社
Not just opera and theatre but close to 100 concert performances, from Ludwig van Beethoven and Anton Bruckner to more modern creations are on the program for the next month.
Under artistic director Alexander Pereira, who leaves this year, the festival sought to bring in new life, including Buddhist, Jewish or Muslim music, alongside the more classical fare.
"The festival is open to new music, it's not a crusty thing," Eschenbach insisted.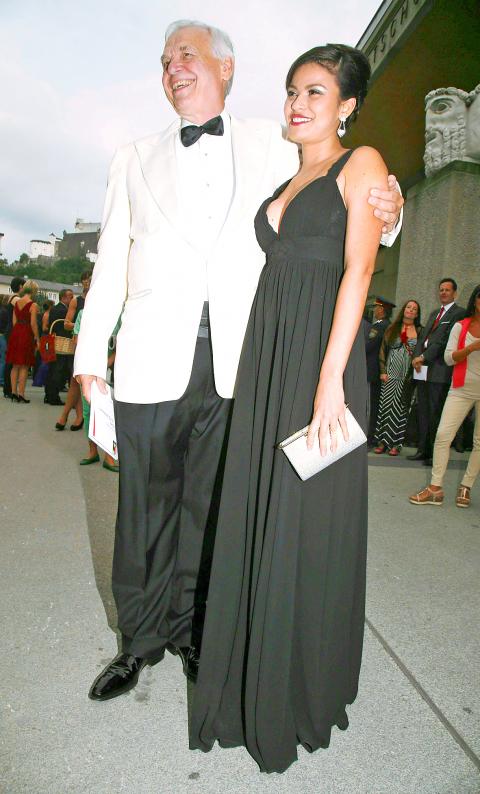 Salzburg Festival Artistic Director Alexander Pereira and his girlfriend Daniela de Souza, right, arrive for the opera premiere of Don Giovanni at the Salzburg Festival 2014 in Salzburg, Austria on July 27. 薩爾茲堡音樂總監 亞歷山大‧佩芮拉偕同女友丹妮拉.德.索薩(右)七月二十七日現身奧地利薩爾茲堡,準備觀賞二0一四年薩爾茲堡藝術節的開幕歌劇《唐‧喬望尼》。
Photo: EPA
照片:歐新社
Last year, over 287,000 people attended the festival — a new record.
(AFP)
在經費吃緊的情況下,薩爾茲堡音樂節還是如期於週日盛大開幕,以該市之子莫札特的歌劇作品《唐‧喬望尼》為未來一個月涵蓋文化魅力節目的藝術節揭幕。
由劇場導演史文—艾瑞克‧貝赫托夫所執導的《唐‧喬望尼》,以二零年代西班牙前法西斯時期的優美舞台呈現獲得滿堂彩。
奧地利總統漢斯‧費雪也出席音樂節週日開幕音樂會,這讓他回想到百年前的當晚,正是奧匈帝國向塞爾維亞宣戰之日,最終引爆第一次世界大戰。
為這個百年紀念,音樂節主辦單位特意在今年安排以戰爭為題的歌劇與戲劇節目,以表達對士兵、前線護士與大屠殺犧牲者的敬意。
儘管經費問題迫在眉睫與媒體炒熱的經營爭議,該音樂節依然是當地文化活動的亮點,每年眾星雲集,包括藝人、政治人物與歌劇愛好者爭相親臨現場觀賞由世界頂尖藝術家所帶來的演出。
第九十四屆薩爾茲堡藝術節請到許多大咖,包括安娜‧聶翠科、切奇莉亞‧巴托莉、普拉西多‧多明哥與指揮家里卡多‧慕提、丹尼爾‧巴倫波因與尼古拉斯‧哈農庫特。
一直到八月三十一日,音樂節共推出兩百七十檔節目,其中包括五場全新歌劇製作。
其中眾所期待的節目之一當屬由法國作曲家馬可—安德烈‧達爾巴維譜曲的歌劇《夏綠地‧所羅門》,劇情描述一位年輕德國藝術家於一九四三年被放逐到奧斯威辛集中營並被屠殺的故事。
這齣由瑞士導演呂克‧邦迪執導的歌劇於週一首演。
以戰爭為題的戲劇演出,包括英國劇作家鄧肯‧麥克米倫所創作的《禁區》(暫譯)與卡爾‧克勞斯所寫的《人類的末日》。後者是由導演凱特‧米切爾所構思執導。
華盛頓國家交響樂團音樂總監同時也是週日歌劇《唐‧喬望尼》指揮克里斯多福.艾森巴哈告訴法新社表示:「為紀念第一次世界大戰這場可怕的戰爭,我們要表達人民人類是有戰爭以外的善意表現。」
艾森巴哈說:「藝術,特別是音樂,是要廢止戰爭、停止民眾衝突與人間殺戮。他要讓人民團結在一起。」
音樂節不僅只有歌劇與戲劇,還包括近百場音樂會演出,從路德維希‧范‧貝多芬與安東‧布魯克納的作品,以至於更現代的創作作品,都將出現在未來一個月音樂節的節目上。
在今年就要退位的薩爾茲堡音樂節藝術總監亞歷山大‧佩芮拉的策畫下,除了古典標準曲目外,他也試圖為音樂節注入新樂風,包括佛教、猶太教與伊斯蘭教的樂曲演出。
艾森巴哈堅稱:「該音樂節對新的音樂類型抱持開放態度,而非墨守成規。」
去年音樂節吸引二十八萬七千人到訪,創下歷年新紀錄。
(法新社/翻譯:林亞蒂)
Comments will be moderated. Keep comments relevant to the article. Remarks containing abusive and obscene language, personal attacks of any kind or promotion will be removed and the user banned. Final decision will be at the discretion of the Taipei Times.