Volunteers keen on cleaning up Wanhua's image 凝聚社區向心力 青年志工艋舺掃街
The West Jing Danshui River Culture and Art Development Organization, formed by local residents in Taipei's Wanhua District, has initiated the "Guiyang St sunshine project." The group held a commencement ceremony at Wanhua's Chingshan Temple on July 20. The project's principal aim is to revive the local culture and history of the Wanhua area, bringing back its long-obsolete sense of community by cleaning up the streets, providing culture-oriented tour guides and engaging in community volunteer work.
With brooms in hand, a group of young volunteers from West Jing quietly swept from one end of Guiyang St to the other. Inconspicuous actions like this signify that something quite substantial is occurring culturally. The organization's founder Huang Shih-shang said that he hopes these street-sweeping events can invoke shared historical memories and make people care about the community again.
A veteran in the media industry, Huang became a full-time cultural volunteer in 2007, striving to preserve the history and culture of Wanhua. He believes that restoring to Wanhua the prosperity that it once enjoyed is the responsibility of residents living along Guiyang St and also the mission of all Taipei residents. Taipei's birthplace must not simply become a vestige of the past, Huang said.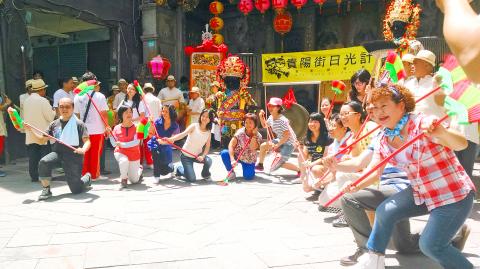 Volunteers from the West Jing Danshui River Cutlure and Art Development Organization currently involved in the "Guiyang St sunshine project" pose for a group photo in Taipei's Wanhua District on July 20. 參與「貴陽街日光計畫」的西京淡水河文化藝術發展組織志工,七月二十日在台北市萬華區合影。
Photo: Chen Yen-chun, Liberty Times
照片:自由時報記者陳彥鈞
Taipei Wanhua Rotary Club president Martin Chang says that, "When people think of Wanhua, they usually think of the three H's: harlots, hoodlums and hobos." The thriving and booming area that was once Wanhua, is now a sluggish, downfallen and disorderly area, Chang says, adding that hopefully the Guiyang St project's street-sweeping events will bring people in the area together and create a new image for Wanhua.
The project, now in its second year, will have professional culture tour guides and community service events daily at 9:30am and 4pm until Aug. 17. Local residents are encouraged to participate in the project.
(Liberty Times, Translated by Kyle Jeffcoat)
由萬華在地人組成的「西京淡水河文化藝術發展組織」發起「貴陽街日光計畫」,七月二十日上午在萬華青山宮舉行開幕儀式,活動以復興艋舺地區歷史文化為宗旨,透過清掃街頭、文化導覽、社區服務,凝聚消逝已久的社區向心力。
一群西京青年志工拿起掃把,默默從貴陽街頭掃到街尾,不起眼的動作其實背負著重大的文化意義。發起人黃適上表示,希望能透過掃街活動,喚起當地居民的共同歷史記憶,讓人們再次關心自己的社區。
長期從事媒體工作的黃適上,二○○七年起擔任全職的萬華文化志工,致力於萬華歷史文化的保存,他認為,復興昔日艋舺的繁榮,不只是貴陽街居民的責任,更是台北人的使命,台北市的起源地不應沒落於歷史洪流中。
台北艋舺扶輪社社長張瑞端說:「人們對艋舺的印象都還停留在『三流』,流鶯、流氓、流浪漢。」艋舺曾擁有繁華榮景,如今卻陷入蕭條沒落、髒亂不堪的困境,期許能透過日光計畫掃街活動,凝聚在地的向心力,打造艋舺地區的嶄新風貌。
「貴陽街日光計畫」已邁入第二個年頭,即日起至八月十七日,每天上午九點半與下午四點,都有專人文化導覽與社區服務活動,歡迎當地民眾踴躍參與。
(自由時報記者陳彥鈞)
Publication Notes
TODAY'S WORDS
今日單字
1. engage v.
從事;忙於 (cong2 shi4; mang2 yu2)
例: Bob has been busily engaged in painting the house all weekend.
(鮑勃整個週末忙於漆房子。)
2. founder n.
發起人;創立者 (fa1 qi3 ren2; chuang4 li4 zhe3)
例: Ray Kroc is the founder of the McDonald's Corporation, which was founded in 1955.
(雷‧克羅克是麥當勞公司的發起人,該公司創立於一九五五年。)
3. inconspicuous adj.
不顯眼的;不引人注目的 (bu4 xian2 yan3 de5; bu4 yin3 ren2 zhu4 mu4 de5)
例: Betty hid the jewels in an inconspicuous spot where the robbers would never find them.
(貝蒂把珠寶藏在不顯眼的地方,讓小偷永遠找不到它。)
Comments will be moderated. Keep comments relevant to the article. Remarks containing abusive and obscene language, personal attacks of any kind or promotion will be removed and the user banned. Final decision will be at the discretion of the Taipei Times.