Cash blasts Wimbledon's 'ridiculous' underwear rule 凱許砲轟溫布頓「荒謬的」內衣規定
Former Wimbledon champion Pat Cash blasted the All England Club, saying they were being over-zealous with the all-white dress code which he claims has forced some women players to even change their bras. "It has absolutely gone ridiculous," the Australian said.
The 1987 champion claimed some players have been ordered to change their underwear if it was not entirely white. Some women have been sent back to "change their bras and tops because they had slight color on them," he told BBC radio.
The 49-year-old said he thought some players did not have sports bras that would pass muster and had to go without them. He also claimed one player was hauled into the referees' office because his blue underwear "showed through when he got sweaty."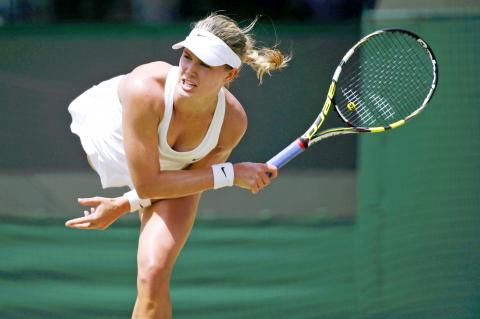 Eugenie Bouchard of Canada is pictured at the Wimbledon Tennis Championships in London on July 2. 這張七月二日攝於倫敦的照片,呈現加拿大女網選手尤金妮‧布夏爾。
Photo: Reuters
照片:路透社
A Wimbledon spokeswoman said all competitors had been given written notice of the Championships' clothing rules. Caps, headbands, bandanas, wristbands and socks must be totally white.
(Liberty Times)
前溫布頓冠軍派特‧凱許砲轟全英俱樂部說,他們太過於執著全白的衣著守則,一些女性球員甚至被迫要更換內衣。這位澳洲人說:「絕對到了荒謬的地步。」
這位一九八七年冠軍宣稱,部分球員如果不是全身上下都白,會被要求更換內衣。他告訴英國廣播公司電台,部分女性被送回去「換胸罩與上衣,因為它們有一丁點顏色」。
四十九歲的凱許說,他認為,一些球員沒有合乎標準的運動內衣,得不穿內衣就上場。他也宣稱,一名球員被拖進裁判辦公室,因為「他流汗時,會透出」藍色內褲的顏色。
溫布頓一位女發言人說,所有參賽者都拿到註明這項錦標賽衣著規定的書面通知單。帽子、頭帶、頭巾、護腕與襪子都必須全白。
(自由時報/翻譯:自由時報國際新聞中心)
Publication Notes
TODAY'S WORDS
今日單字
1. blast v.
抨擊 (peng1 ji2)
例: The government was blasted by the opposition for failing to reduce inflation.
(反對派抨擊政府未能降低通貨膨脹。)
2. pass muster phr.
達到要求 (da2 dao4 yao1 qiu2)
例: New teams won't be admitted to the league if their stadiums don't pass muster.
(新球隊的體育館如果未達標準,不得獲准進入聯盟。)
3. haul v.
用力拖拉 (yong4 li4 tuo1 la1)
例: She hauled herself up into the tree.
(她使勁爬上樹。)
Comments will be moderated. Keep comments relevant to the article. Remarks containing abusive and obscene language, personal attacks of any kind or promotion will be removed and the user banned. Final decision will be at the discretion of the Taipei Times.