Oil painting certified as early work by Dali 油畫證實是達利早期作品
An oil painting sold at a Spanish antique shop over two decades ago for around 150 euros has been certified as Salvador Dali's first surrealist work which he painted as a teenager, art experts said on May 22.
Tomeu L'Amo, a painter and art historian, found the canvas at a store in Girona in northeastern Spain in 1988.
It was dismissed for years as the work of an unknown artist because the signature includes the date 1896 — eight years before Dali was born.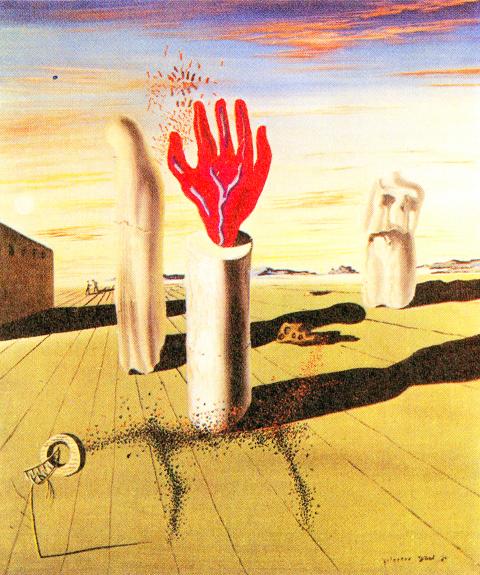 A newly identified painting by Spanish artist Salvador Dali titled Simulacre de la nit (Simulation of the Night). 一幅新發現的達利作品Simulacre de la nit。
Photo: AFP
照片:法新社
After subjecting the painting to the latest high-tech tests — including infrared photography, X-rays and ultraviolet radiation — between 2004 and 2013, art experts have concluded that it is indeed the work of Dali and was made around 1921 when he was 17 years old.
L'Amo said he sold the work earlier this month, for an amount which he refused to reveal, to a collector who wishes to remain anonymous.
"The painting can be considered the first surrealist work of Dali," said a leading Dali expert who has studied the painting.
(Liberty Times)
西班牙古董店二十年前以約一百五十歐元售出的一幅油畫,經證實為達利在青少年繪製的第一幅超現實主義作品,專家五月二十二日表示。
畫家兼藝術史家拉莫表示,他在一九八八年於西班牙東北部的吉諾納一家商店找到這幅畫。
這幅畫有數年都被認為是無名藝術家的作品,因為簽名中包含一八九六日期,早於達利誕生年八年。
但經過二零零四年到二零一三年最新科技測試後,包括紅外線攝影、X光與紫外線照射,藝術專家們做出結論認為,該畫確定是達利在一九二一年、十七歲時的作品。
拉莫說本月稍早他把這幅畫賣了,跟收藏家說好不對外透露價錢。
該畫可視為達利的第一幅超現實作品,研究過該畫的頂尖達利專家說。
(自由時報/翻譯:詹立群)
Publication Notes
TODAY'S WORDS
今日單字
1. certify v. 證實 (zheng4 shi2)
例: Ask the manager to certify this check.
(請銀行經理來確認這張支票。)
2. canvas n. 畫布 (hua4 bu4)
例: He penciled the title across the back of the canvas.
(他用鉛筆在畫布的背後題名。)
3. subject to v. 讓...經歷 (rang4 … jing1 li4)
例: Employers often subject applicants to rigorous interviews.
(雇主通常會讓應徵者經歷縝密的面談。)
Comments will be moderated. Keep comments relevant to the article. Remarks containing abusive and obscene language, personal attacks of any kind or promotion will be removed and the user banned. Final decision will be at the discretion of the Taipei Times.