French minister in the soup over 'disgusting' food remark 法國部長為「噁心」食評惹議
France's trade minister had to eat humble pie after she was caught on film saying that food served at a state dinner for China's President Xi Jinping was "disgusting."
French President Francois Hollande and Xi were all smiles at the dinner at the Elysee presidential palace. But Foreign Trade Minister Nicole Bricq, however, was unimpressed by the fare that included foie gras, roasted poultry with mushrooms, and a chocolate and caramel dessert.
Television cameras caught her telling Prime Minister Jean-Marc Ayrault that the food at the Elysee did not compare with that served at Matignon, the prime minister's office, where she had attended a lunch for Xi.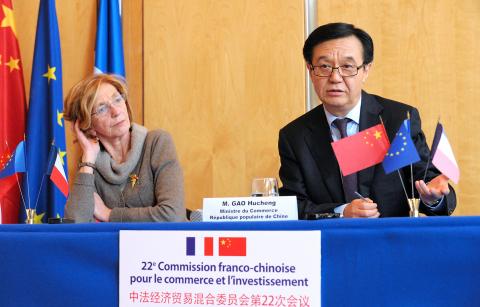 French Foreign Trade Minister Nicole Bricq, left, listens as China's Trade Minister Gao Hucheng talks during a press conference in Paris, France on Feb. 24. 法國貿易部長妮可‧布里克(左)二月二十四日在法國巴黎聆聽中國商務部部長高虎城講話。
Photo: AFP
照片:法新社
"Frankly, at Matignon, there's no comparison. It wasn't that way at all at the Elysee. No, it was disgusting," she could be heard whispering.
Bricq later called the Elysee's head chef, Guillaume Gomez, to apologize, her spokeswoman said. Guillaume Gomez downplayed the remarks. "We'll continue to do our work, with the same passion and dedication," Gomez tweeted.
(Liberty Times)
在法國貿易部長抱怨接待中國國家主席習近平的國宴食物「很噁心」的評語,經電視播出後,她只好低頭道歉。
法國總統法蘭索瓦‧歐蘭德和習近平在總統府愛麗榭宮的晚宴上堆滿笑容。但這頓包括鵝肝醬、烤禽肉配蘑菇,以及巧克力和焦糖甜點的美食盛宴卻沒能打動貿易部長妮可‧布里克的心。
電視攝影機無意間拍到她告訴總理艾候,愛麗榭宮的食物跟總理府馬提尼翁宮根本不能比,布里克先前才在總理府與習近平共進午餐。
從影片裡可聽到她低聲說:「坦白說,在馬提尼翁宮,食物好得沒話說。在愛麗榭宮卻根本不是這麼回事。不,這裡的東西難吃死了。」
葛梅茲在推特上寫道,布里克稍後致電給愛麗榭宮的主廚葛梅茲道歉,她的發言人表示。葛梅茲則對布里克的評語低調以對,「我們會用同樣的熱情與奉獻精神繼續工作。」
(自由時報/翻譯:俞智敏)
Comments will be moderated. Keep comments relevant to the article. Remarks containing abusive and obscene language, personal attacks of any kind or promotion will be removed and the user banned. Final decision will be at the discretion of the Taipei Times.