Teenager uses Facebook to save Romania's stray dogs 少女用臉書救羅馬尼亞的流浪狗
When French film actress Brigitte Bardot began a campaign to spare the thousands of stray dogs in Romania's capital from being put down, she did it with a US$150,000 donation scheme.
A similar campaign is being waged by Ana-Maria Ciulcu, a 13-year-old schoolgirl with braces on her teeth who uses Facebook to appeal to dog lovers all over Europe — and to make sure the dogs go to the right homes.
Ciulcu was a baby when Bardot started her sterilization campaign in 2001. Now she speaks fluent German and has a grasp of the Internet, and she has used both to rescue 150 strays and ship them to Germany, Austria and Belgium since September last year.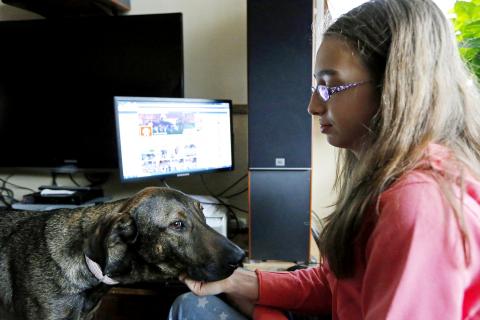 Ana-Maria Ciulcu pets Pedro, a dog rescued from a shelter, while observing her Facebook page in Bucharest, Romania on April 12. 安娜─瑪莉亞‧丘爾庫四月十二日在羅馬尼亞布加勒斯特,一邊看著自己的臉書,一邊撫摸著從動物之家救出的狗狗佩卓。
Photo: Reuters
照片:路透社
Bucharest's state-funded wards, however, now hold 2,800 dogs, and 2,000 dogs have been euthanized in the past two months, according to Romania's Authority for Animal Surveillance and Protection. About 60,000 strays roam Bucharest.
Ciulcu collects strays on the street. They go to a temporary private shelter, or to the backyard of her home. She has a veterinarian vaccinate them and give them microchip identification tags and eventually gets international passports for them.
All costs, from medicines, vaccines and neutering to identification chips and passports, are covered by Ana-Maria's family — about 150 euros (US$209) per dog. Transporting the animals to their destinations is covered by the new owner.
(Reuters)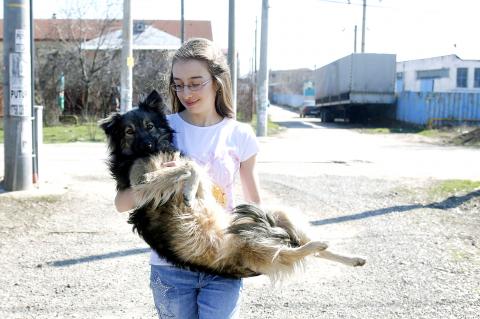 Ana-Maria Ciulcu takes a dog from a street in Bucharest, Romania on March 15. 安娜─瑪莉亞‧丘爾庫三月十五日在羅馬尼亞布加勒斯特,從一條街上抱起一隻狗狗。
Photo: Reuters
照片:路透社
當法國女影星碧姬.芭杜展開一場讓羅馬尼亞首都數以千計的流浪狗免遭撲殺的運動時,她的經費來自於一項十五萬美元的捐款計畫。
安娜─瑪莉亞‧丘爾庫正進行類似的行動,這位戴著牙套的十三歲女學生利用臉書,求助於全歐洲的愛狗人士,並確定狗狗被送到適當的家庭。
當芭杜於二零零一年展開她的流浪狗絕育行動時,丘爾庫還是個嬰兒。現在她說得一口流利的德語,並熟諳網路,她利用這兩項優勢從去年九月起,搭救了一百五十隻流浪狗,將牠們送到德國、奧地利與比利時收養。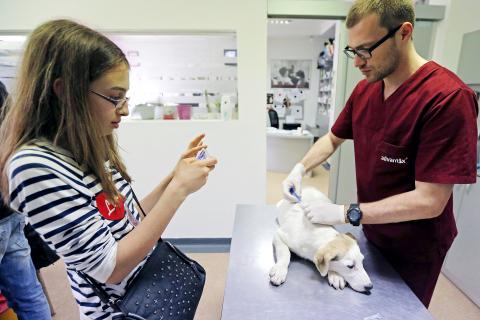 Ana-Maria Ciulcu takes pictures of a dog she rescued from the streets of Bucharest while a veterinary doctor gives him a vaccine in Bucharest, Romania on March 28. 安娜─瑪莉亞‧丘爾庫三月二十八日在羅馬尼亞布加勒斯特,用手機捕捉獸醫師為其救出狗狗注射預防針時的模樣。
Photo: Reuters
照片:路透社
然而,據羅馬尼亞動物監控與保護管理局統計,布加勒斯特的國營收容所現在有兩千八百隻流浪狗,而過去兩個月有兩千隻被安樂死。約有六萬隻狗在布加勒斯特流浪。
丘爾庫接走街上的流浪狗。牠們被安置在臨時的私人收容所,或她家後院。她讓一名獸醫師給牠們打疫苗,植入識別晶片,最後為牠們取得國際護照。
所有的費用,從醫療、疫苗、結紮到識別晶片與護照,皆由安娜–瑪莉亞的家人支付—每隻狗約一百五十歐元(兩百零九美元)。運送這些動物到目的地的費用則由新飼主負擔。
(路透/翻譯:魏國金)
Publication Notes
TODAY'S WORDS
今日單字
1. put down v. phr.
撲殺;使安樂死 (pu1 sha1; shi3 an1 le4 si3)
例: The dog was seriously ill, so its owner had it put down.
(這隻狗病得很嚴重,所以牠的飼主讓牠安樂死。)
2. wage v.
從事;進行;開始 (cong2 shi4; jin4 xing2; kai1 shi3)
例: The people are waging a campaign against the construction of a nuclear power plant.
(人民發動反核電廠運動。)
3. have a grasp of v. phr.
領會;理解;掌握 (ling3 hui4; li2 jie3; zhang3 wo4)
例: She has a good grasp of the issue.
(她對該議題知之甚詳。)
Comments will be moderated. Keep comments relevant to the article. Remarks containing abusive and obscene language, personal attacks of any kind or promotion will be removed and the user banned. Final decision will be at the discretion of the Taipei Times.