Flu risk cut by vigorous exercise 劇烈運動減少感冒風險
Doing at least two and a half hours of vigorous exercise each week cuts the chance of developing flu, new data suggests.
Around 4,800 people took part in this year's online Flu Survey, run by the London School of Hygiene and Tropical Medicine.
Moderate exercise did not appear to have a protective effect, the researchers said.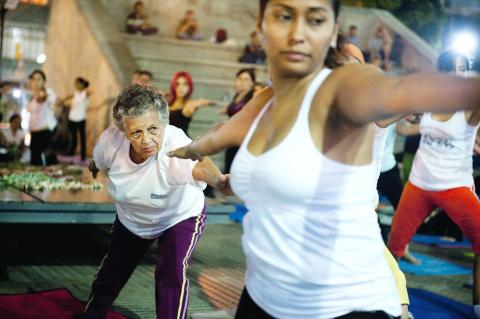 People do yoga in Caracas, Venezuela on May 21, 2012. 民眾二0一二年五月二十一日在委內瑞拉的卡拉卡斯練瑜珈。
Photo: AFP
照片:法新社
One of the questions people must answer when they register, as well as their age, if they are around children and if they have been vaccinated, is how many hours of "vigorous exercise" they do each week, such as running, fast cycling or competitive sports, ranging from none to more than five hours.
They are then asked to log in each week and note how they are feeling, and whether or not they have any flu-like symptoms.
The researchers say their findings suggest 100 cases of flu per 1,000 people could be prevented just by engaging in vigorous exercise.
(Liberty Times)
新數據顯示,每週至少劇烈運動兩個半小時,可降低感冒機率。
約四千八百人參加倫敦衛生與熱帶醫學院今年在線上進行的「感冒調查」。
研究人員說,溫和的運動似乎不會帶來保護效果。
除了年齡、身邊是不是有小孩、是不是有接種疫苗,人們登記調查時必須回答的其中一個問題是,每週「劇烈運動」多少小時,例如跑步、快速踩腳踏車,或是有競爭性的運動,從完全沒有到五小時以上。
接著他們被要求每週上線一次,登記自己感覺如何,有沒有類感冒症狀。
研究人員說,他們的發現顯示,每一千人中,有一百例感冒透過劇烈運動即可預防。
(自由時報/翻譯:自由時報國際新聞中心)
Publication Notes
TODAY'S WORDS
今日單字
1. vigorous adj.
強有力的 (qiang2 you3 li4 de5)
例: There has been vigorous opposition to the proposals for a new road.
(新路提案遭到強力反對。)
2. vaccinate v.
接種疫苗 (jie1 zhong3 yi4 miao2)
例: The children were vaccinated against major childhood diseases.
(孩子們接受預防接種,防止兒童重大疾病。)
3. range v.
(在範圍內)變動 ((zai4 fan4 wei2 nei4) bian4 dong4)
例: Prices range from US$50 to US$250.
(價格從五十美元到兩百五十美元不等。)
Comments will be moderated. Keep comments relevant to the article. Remarks containing abusive and obscene language, personal attacks of any kind or promotion will be removed and the user banned. Final decision will be at the discretion of the Taipei Times.