New residents in Hualien County hot for farming 新移民務農熱 花蓮農民學院夯
Farming has been gaining increasing popularity in the Hualien area over the past three years. The Hualien District Agricultural Research and Extension Station's school for farmers provides specialized agricultural classes, with a significant number of people drawn to register for classes at the school. The rate of matriculation this year for classes is only between approximately 20 and 30 percent, giving many people the impression that it is actually harder than getting accepted by a college.
Station director Huang Peng says that Hualien County is an agriculture-oriented county. In recent years there has been an influx of people moving to Hualien from big cities, Huang says, adding that many of them are quite interested in farming and planting. The station opened the farming school to help nurture these fledgling farmers' skills when it comes to horticulture and simple field operations. People from cities have unexpectedly shown a greater demand for the classes than people in rural areas. Most of the students sign up on the Internet, with classes usually filling up almost immediately after enrollment begins.
Many people living in rural areas along the east coast are not that familiar with the Internet, which Huang says is why enrollment deadlines are often missed. For this reason and out of consideration for local farmers or young people who sincerely want to return to their hometown to take up farming, the station is willing to provide special enrollment privileges, giving professional farmers the opportunity to participate in these classes. A lottery system will be used if too many people enroll for classes.
Students from Hualien District Agricultural Research and Extension Station's farming school measure soil and use hoes in Hualien County on April 12. 花蓮農改場「農民學院」學生四月十二日在花蓮縣測量土壤與使用鋤頭。
Photo: Yu Tai-lang, Taipei Times
照片:自由時報記者游太郎
Classes continually being offered this year include rudimentary horticulture and farming classes, and a beginner organic farming class. At the advanced level there are courses on the maintenance and testing of agricultural machinery, organic vegetable culture management, pests insects and smother crops in organic culture, applied fertilizing management, special organic agricultural processing management, and applied branding and marketing for agricultural products. Advanced courses also include a strategic marketing class for agriculture.
Besides offering classes at the station, they are also working with National Hualien Vocational High School of Agriculture, borrowing teachers and equipment, which gives an obvious boost to the overall quality of the professional knowledge and educational experience offered at the school, and increases people's incentive to enroll.
(Liberty Times, Translated by Kyle Jeffcoat)
花蓮地區近三年來掀起務農熱,花蓮農改場舉辦「農民學院」提供農業專門課程學習,吸引大批民眾報名,今年開課目前錄取率僅約二至三成,不少民眾認為比考大學還難。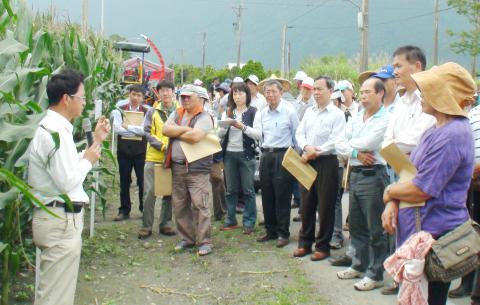 An instructor, left, from Hualien District Agricultural Research and Extension Station talks to students in Hualien County on April 22 last year. 一名花蓮農改場老師(左)去年四月二十二日在花蓮縣跟學生講話。
Photo: Yu Tai-lang, Liberty Times
照片:自由時報記者游太郎
花蓮農改場場長黃鵬指出,花蓮是個農業縣,近幾年來有不少原在都會區的新移民遷入,對於農作物栽種興趣高,為了養成新進農民的園藝產業、田間簡易等操作技能,特別開辦了「農民學院」,沒想到都會區遠比偏遠鄉鎮熱門,紛紛以網路方式報名,每次開放報名即迅速額滿。
他說,報名方式透過網路,對東部偏遠地區民眾來說,對網路並不熟悉,常錯過報名時間,因此考量到在地農民,或真正有心想要返鄉務農的年輕人,農改場願意提供「加分」優惠,讓專業農友有機會參與這些課程,若報名人數超出太多,將以抽籤方式辦理。
今年陸續開的課程包括入門班園藝班、農藝班;初階的有機農業班;進階有農業機械簡易保養檢修班、有機蔬菜栽培管理班、有機栽培病蟲草害、肥培管理應用班、特色有機農產品加工管理班、農產品品牌行銷實務班等;高級班則開設農業行銷策略規劃班等。
除了在農改場開班外,另與花蓮高農合作,借助師資與設備,讓專業知識及教學經驗獲顯著提升,也因此增加了民眾報名的誘因。
(自由時報記者游太郎)
Publication Notes
TODAY'S WORDS
今日單字
1. fledgling adj.
剛開始的;無經驗的 (gang1 kai1 shi3 de5; wu2 jing1 yan4 de5)
例: The fledgling startup went bankrupt in its second year.
(剛創立的公司到第二年就破產了。)
2. rudimentary adj.
基本的;初步的 (ji1 ben3 de5; chu1 bu4 de5)
例: The research team grew a rudimentary liver from stem cells.
(研究團體用幹細胞培育出粗具基本功能的肝臟。)
3. incentive n.
誘因;獎勵 (you4 yin1; jiang3 li4)
例: Most incentive program participants prefer cash to non-cash rewards.
(大部分獎勵計畫參與者寧願收到現金,也不要非現金獎勵。)
Comments will be moderated. Keep comments relevant to the article. Remarks containing abusive and obscene language, personal attacks of any kind or promotion will be removed and the user banned. Final decision will be at the discretion of the Taipei Times.