Post-tsunami deaths outnumber disaster toll in Fukushima 福島海嘯後遺症死者多過災難罹難人數
Health complications stemming from Japan's 2011 tsunami have killed more people in one Japanese region than the disaster itself, the local authority said.
Data compiled by officials and police show that almost three years after the huge waves smashed ashore, 1,656 people living in Fukushima prefecture have died from stress and other illnesses related to the disaster, compared with 1,607 who were killed in the initial calamity.
Along with the prefectures of Miyagi and Iwate, Fukushima was one of the worst hit parts of Japan when a huge 9.0 undersea earthquake sent a wall of water barreling into the coast.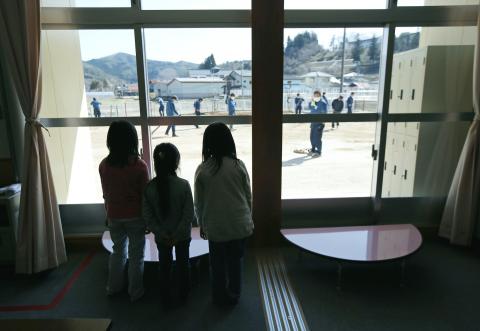 Children look through windows at a playground as volunteers from the tsunami-crippled Fukushima Daiichi nuclear power plant operator Tokyo Electric Power Co remove ice and snow and level dirt in the ground in Tamura, Fukushima prefecture, Japan on April 1. 孩童四月一日在日本福島縣田村市望向其窗外的遊樂場,而掌管遭海嘯侵襲的福島第一核電廠的東京電力公司志工們,則是剷除遊樂場的冰雪並平整髒汙。
Photo: Reuters
照片:路透
The waves swept more than 18,000 people to their deaths across the country, and destroyed entire communities.
Fukushima was also hit with the resulting nuclear disaster after cooling systems at the Daiichi nuclear plant were knocked out, sending reactors into meltdown and forcing the evacuation of tens of thousands of people.
Almost three years on, many people remain displaced, whether because their homes around the power plant have not been declared safe or because rebuilding along the coast has been slow.
(AFP)
日本二0一一年海嘯災難造成的健康併發症,在日本一個地區的致死人數已超過災難本身,地方當局指出。
官員與警方蒐集的數據顯示,在這起滔天巨浪猛擊上岸的災難發生近三年後,福島縣有一千六百五十六人死於與災難有關的壓力與其他疾病,相較之下死於災禍之初者為一千六百零七人。
當九點零海底大地震引發吞噬海岸的水牆時,除宮城縣與岩手縣外,福島是日本受創最嚴重的地區之一。
巨浪摧枯拉朽,造成全日本逾一萬八千人喪生,並摧毀整個社區。
福島也受到第一核電廠冷卻系統停擺後導致的核災衝擊,該事故造成反應爐熔解,數萬人被迫疏散。
近三年後,不論是因為在電廠附近的住家尚未被宣布安全,或者因沿岸重建進度緩慢,許多人仍然居無定所。
(法新社/翻譯:魏國金)
Publication Notes
TODAY'S WORDS
今日單字
1. resulting adj.
從而發生的 (cong2 er2 fa1 sheng1 de5)
例: After the flood, the resulting epidemics killed even more people.
(洪水過後的疫情造成更多人喪生。)
2. knock out v. phr.
使毀壞 (shi2 hui3 huai4)
例: Radars were knocked out and aircraft were shot down.
(雷達被摧毀,飛機被擊落。)
3. send into v. phr.
使進入(特定狀態) (shi3 jin4 ru4 (te4 ding4 zhuang4 tai4))
例: The remark sent him into a fit of laughter.
(這話使他大笑了一陣。)
Comments will be moderated. Keep comments relevant to the article. Remarks containing abusive and obscene language, personal attacks of any kind or promotion will be removed and the user banned. Final decision will be at the discretion of the Taipei Times.