South Africa's Zuma hits out at 'trigger-happy' police 南非的祖瑪抨擊「亂開槍的」警方
South African President Jacob Zuma hit out at "trigger-happy" police in an interview published on Feb. 8, following the deaths of at least nine people since January at the hands of police cracking down on protests.
Public anger has mounted against the hard-handed police force in the run-up to a May 7 general election as Africa's largest economy faces a wave of protests over wages and shoddy public services.
"No I am not happy, I don't think anyone can be with trigger-happy police. It's not good at all," Zuma said in an interview with the Independent Newspapers Group.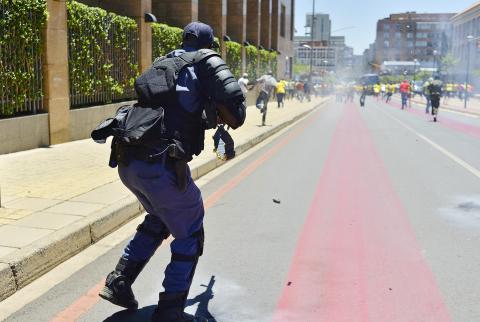 African National Congress supporters flee as police fire rubber bullets after they tried to confront members of the opposition Democratic Alliance party as they marched in central Johannesburg, South Africa on Feb. 12.
非洲民族議會支持者二月十二日在南非約翰尼斯堡市中心,躲避朝他們以橡皮子彈射擊的警方。
Photo: Reuters
照片:路透
"The police need to be trained, specifically trained, particularly dealing with a country that is prone to protest. You need to be ready for that."
Zuma's comments came as mining firm Anglo American Platinum confirmed one of its striking workers died in clashes with police at its operations in the northern province of Limpopo.
Zuma also raised concern about the violent nature of the protests.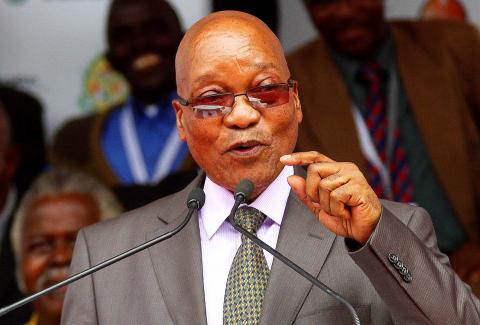 South African President Jacob Zuma speaks at the opening of the Mandela School of Science & Technology in Mvezo, South Africa, on Jan. 17. 南非總統雅各.祖瑪一月十七日在南非穆維佐曼德拉科技學院的創辦典禮上演說。
Photo: Bloomberg
照片:彭博社
"If we just criticize the police only and not talk about violent protest, I think we are missing the point," he said.
(AFP)
一月以來警方鎮壓抗議活動至少擊斃九人後,南非總統雅各.祖瑪在二月八日刊登的一篇訪問中,嚴詞指責「亂開槍的」警方。
在南非準備迎接五月七日大選之際,這個非洲最大經濟體正面臨一波不滿薪水和劣質公共服務的抗議潮,民眾對警方強硬措施的不滿怒火高漲。
「不,我不高興,我不認為有誰能對亂開槍的警察感到高興。這一點都不好」,祖瑪在接受「獨立報業集團」的訪問時說。
「警方需要受訓練,特別訓練,尤其是涉及一個易生抗議的國家。你需要做好準備。」
祖瑪發表這些評論正值礦業公司「英美白金公司」證實,該公司罷工員工在北部林波波省作業區與警方發生衝突時有一人喪生。
祖瑪也對這些抗議活動的暴力性質表達關切。
他說:「若我們只批評警方,而不談暴力抗議,我想我們就搞錯重點。」
(法新社/翻譯:管淑平)
Publication Notes
TODAY'S WORDS
今日單字
1. hit out v. phr.
猛烈批評 (meng3 lie4 pi1 ping2)
例: Leaders of the opposition hit out at the plans to build more nuclear power plants.
(反對派領袖抨擊興建更多核電廠計畫。)
2. trigger-happy adj. phr.
胡亂開槍的;好戰的 (hu2 luan4 kai1 qiang1 de5; hao4 zhan4 de5)
例: The notoriously trigger-happy police have become a threat to our society.
(以亂開槍惡名昭彰的警方已經成為我們社會的威脅。)
3. shoddy adj.
品質低劣的;虛有其表的 (pin3 zhi2 di1 lie4 de5; xu1 you3 qi2 biao3 de5)
例: Our company's reputation would be tarnished by shoddy goods.
(劣質商品有損我們公司的聲譽。)
Comments will be moderated. Keep comments relevant to the article. Remarks containing abusive and obscene language, personal attacks of any kind or promotion will be removed and the user banned. Final decision will be at the discretion of the Taipei Times.