Selling e-cigs on the Internet against the law 網路販售電子菸 全違法
Since July last year the Taipei City Government's Department of Health has received reports from the public for 86 Web sites selling 119 electronic cigarettes or digital vapor devices illegally on the Internet. Many people use the devices as smoking cessation tools, while the department says that none of the products on the market have been approved by the Ministry of Health and Welfare, adding that the products typically contain nicotine and can cause addiction or even cancer if used for an extended period.
Shen Mei-li, deputy director of the department's food and drug division, says that the ministry added e-cigarettes and digital vapor devices containing nicotine to the list of pharmaceutical products under its jurisdiction in March 2009. None of the products have been approved yet.
Among the 119 criminal reports received, Shen says that six cases in which sellers were in Taipei are being handled by the appropriate investigative authorities. The main reason is that the merchandise contains nicotine or that the advertisements for the products say they contain nicotine, which violates the Pharmaceutical Affairs Act. Any person who manufactures or imports counterfeit or prohibited drugs shall be subject to imprisonment for up to 10 years and fined up to NT$10 million (US$330,295). Other cases for sellers located outside Taipei have been transferred to the appropriate local government agencies to be investigated or are still being processed.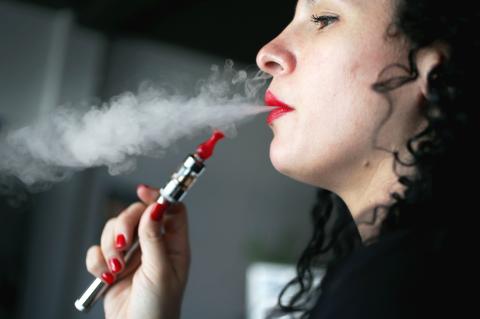 A woman smokes an electronic cigarette at a store in Miami, Florida on Feb. 20. 一位女士二月二十日在佛羅里達州邁阿密抽電子菸。
Warning: Smoking can damage your health.
Photo: AFP
照片:法新社
Lin Li-ju, head of the department's health promotion division, says that if an e-cigarette looks like a real cigarette it can easily become a tool for adolescents to pretend they are smoking, eventually allowing them to adopt the habit of smoking actual cigarettes. This violates the Tobacco Hazards Prevention Act, Lin says, adding that people manufacturing or exporting e-cigarettes can be fined between NT$10,000 and NT$50,000, while anyone selling such products can be fined between NT$1,000 and NT$3,000.
Lin says that 16 of the 119 cases reported for products that looked like cigarettes were being sold by retailers located in cities or counties outside Taipei, with 11 of them located in New Taipei City — or nearly 70 percent. The rest of the cases were for retailers in central and southern Taiwan. Eight of the 16 cases have already issued formal fines of NT$1,000 each, while the other eight cases are still being processed.
(Liberty Times, Translated by Kyle Jeffcoat)
台北市衛生局自去年七月迄今,共接獲民眾檢舉八十六個網頁違法販賣一百一十九件電子菸、電子霧化器等產品,不少民眾以此做為戒菸工具,但衛生局表示,市面上的流通品均未獲衛福部核准,而且通常含有尼古丁,長期使用恐上癮,甚至有致癌風險。
衛生局食品藥物管理處副處長沈美俐表示,二○○九年三月起,衛福部已將含有尼古丁成分的電子菸、電子霧化器等產品納入藥品管理,現階段尚未有核准商品。
沈美俐強調,一百一十九件檢舉中,已將六件賣家位於台北市的個案移送檢調單位處理,主要是商品檢出尼古丁或廣告宣傳標示含尼古丁,涉及違反藥事法規定,未經藥品查驗登記而擅自製造或輸入、販賣未經核准商品,一旦查證屬實,最高可處十年以下有期徒刑,得併科一千萬元以下罰金,至於其他案例,則轉交賣家所在地縣市政府調查或尚在處理階段。
衛生局健康管理處長林莉茹指出,若電子菸外型與菸品形狀相似,容易成為未成年人模仿吸菸情境的工具,進而養成吸菸習慣,涉及違反菸害防制法規定,製造或輸出業者可處一萬元至五萬元罰鍰,販賣業者可開罰一千元至三千元。
林莉茹強調,在一百一十九件檢舉案中,十六件因外型類似菸品的問題商品,賣家均位於外縣市,高達十一件來自新北市,占近七成,其餘為中南部。這十六件中,有八件已正式裁罰,各處一千元罰鍰,另八件處理中。
(自由時報記者林惠琴)
Warning: Smoking can damage your health.
Publication Notes
TODAY'S WORDS 今日單字
1. device /d??va?s/ n.
設備;裝置 (she4 bei4; zhuang1 zhi4)
例: The compass is a very useful navigational device.
(指南針是個很有用的導航設備。)
2. addiction n.
沉溺;上癮 (chen2 ni4; shang4 yin3)
例: Internet Addiction Disorder is most commonly linked with other mental illnesses such as depression.
(上網成癮症通常與憂鬱症等其他精神疾病相關。)
3. counterfeit adj.
偽造的;假冒的 (wei3 zao4 de5; jia3 mao4 de5)
例: This could be a counterfeit bill.
(這可能是假鈔。)
Comments will be moderated. Keep comments relevant to the article. Remarks containing abusive and obscene language, personal attacks of any kind or promotion will be removed and the user banned. Final decision will be at the discretion of the Taipei Times.