Researchers discover three new planets in Messier 67 研究員在梅西爾六十七星團 發現三顆新行星
There have been more than one thousand planets confirmed outside our Solar System, but only a few are within star clusters.
Using the European Southern Observatory's HARPS instrument, researchers have found three new planets in the star cluster Messier 67.
Of these three newly discovered planets, two have been found orbiting stars similar to the sun.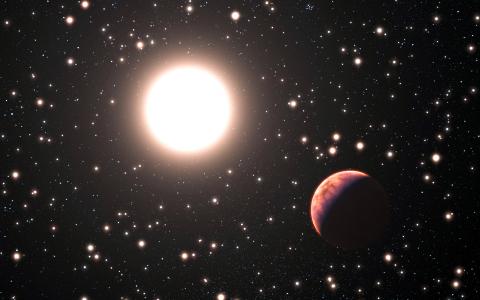 One of the three newly discovered planets in the star cluster Messier 67. 梅西爾六十七星團裡發現的三顆新行星之一。
Photo: AFP
照片:法新社
There are two main types of star clusters — open clusters and globular clusters.
An open cluster is a group of stars recently formed in a single cloud comprised of gas and dust.
Globular clusters are larger and older with the stars orbiting around the center of the galaxy.
Only six planets have been discovered in open clusters and none have been found in globular clusters.
Messier 67 is a star cluster located about 2,500 light-years from Earth in the constellation of Cancer. It contains around 500 stars.
In the Messier 67 star cluster the stars are all about the same age and composition as the Sun.
(Liberty Times)
在我們的太陽系之外確定有逾千顆行星,但很少位於星團。
利用歐洲南方天文台的HARPS儀器,研究人員發現梅西爾六十七星團裡有三顆新行星。
三個新發現的行星中,兩個被發現會繞著如同太陽一般的恆星運行。
星團的主要形式有兩種:開放星團與球狀星團。
開放星團是最近才在由瓦斯與微塵組成的單一星系中成形的恆星集團。
球狀星團是更大、更古老的恆星集團,在軌道上繞著星系核心運行。
歷來開放星團中僅發現六顆行星,球狀星團中則未曾發現。
梅西爾六十七是在巨蟹星座距離地球約兩千五百光年遠的星團。它包含約五百顆恆星。
梅西爾六十七星團中的恆星都跟太陽一樣老,也有類似的成分。
(自由時報/翻譯:詹立群)
Publication Notes
TODAY'S WORDS 今日單字
1. globular adj.
球狀的;由小球體構成的 (qiu2 zhuang4 de5; you2 xiao3 qiu2 ti3 gou4 cheng2 de5)
例: This study of globular clusters gives us yet another important bit of information.
(這個球狀星團研究給我們更多重要資訊。)
2. comprise v.
包含;由…構成 (bao1 han2; you2...gou4 cheng2)
例: The US is comprised of 50 states.
(美國包含五十個州。)
3. constellation n.
星座 (xing1 zuo4)
例: Orion is an easily recognized constellation.
(獵戶座是一個很容易辨識的星座。)
Comments will be moderated. Keep comments relevant to the article. Remarks containing abusive and obscene language, personal attacks of any kind or promotion will be removed and the user banned. Final decision will be at the discretion of the Taipei Times.