Thieves 'threw away' John Paul II relic 竊賊將若望保祿二世的聖髑「扔掉」
Thieves accused of stealing a religious relic stained with Polish pope John Paul II's blood threw it away thinking it worthless, Italian media said on Thursday, reporting the police had detained three people.
Police recovered the object's metal frame but could not find the cloth, believed to be part of the robe the pontiff was wearing when he was shot in an assassination attempt in St Peter's Square in 1981.
It was stolen on Saturday along with a cross, which has also been found, from the San Pietro della Ienca church in the mountainous Abruzzo region in central Italy where the late pope loved to go on skiing holidays.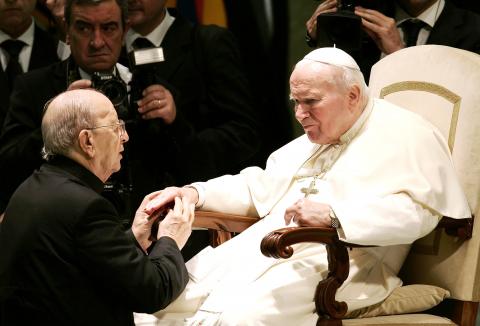 Pope John Paul II, right, blesses Father Marcial Maciel, founder of the Legionaries of Christ, at the Vatican on Nov. 30, 2004. 若望保祿二世(右)二00四年十一月三十日在梵蒂岡宮賜福「基督軍」創辦人神父馬歇爾‧馬西埃爾。
Photo: Reuters
照片:路透
The PrimaDaNoi.it Abruzzo news Web site said two of those arrested are 23 and 24 years old and are drug addicts known to the police for other petty crimes.
The relic is a framed, tiny square of cloth.
The relic was given to the small church in 2011 by Stanislaw Dziwisz, a cardinal who served as John Paul II's personal secretary until his death in 2005.
Local media said some 50 police officers and sniffer dogs were deployed in the search for the missing relic in an area famed for its weathered stone houses and the little church where the head of the Roman Catholic Church once reportedly took refuge in a storm.
(AFP)
被控竊取沾有波蘭籍教宗若望保祿二世血液聖髑的小偷,以為它毫無價值便將其扔掉,義大利媒體週四表示,並報導警方已拘捕三人。
警方發現竊物的金屬框,但沒有找到這塊布,據信它是一九八一年教宗在聖伯多祿廣場一起暗殺未遂行動中,中槍時所穿長袍的局部衣料。
它於週六連同一只現已尋獲的十字架,從義大利中部多山的阿布魯佐區聖彼得羅德拉延卡教會被竊,已故教宗生前喜愛到該處滑雪渡假。
PrimaDaNoi.it阿布魯佐新聞網站說,當中被捕的兩名竊賊分別為二十三、二十四歲,他們是因其他小犯行,而讓警察認識的吸毒者。
這件聖髑是一塊加框的小方布。
聖髑是擔任若望保祿二世私人秘書至其於二00五年辭世的樞機主教戴齊維茲,在二0一一年贈與這間小教會的。
當地媒體說,約五十名警察與嗅探犬出動,在以風化石屋聞名的區域以及這位天主教領袖據悉曾躲避風暴的這間小教堂內,搜尋失蹤的聖髑。
(法新社/翻譯:魏國金)
Publication Notes
TODAY'S WORDS 今日單字
1. late adj.
已故的;已不存在的 (yi3 gu4 de5; yi3 bu4 cun2 zai4 de5)
例: The late Lou Reed was an influential rock and roll singer and songwriter.
(已故的盧‧里德是一位頗有影響力的搖滾創作歌手。)
2. famed for adj. phr.
使聞名 (shi3 wen2 ming2)
例: He was famed for his generosity.
(他以慷慨聞名。)
3. take refuge v. phr.
避難;躲避 (bi4 nan4; duo3 bi4)
例: The frightened puppy took refuge under the chair.
(受到驚嚇的小狗躲到椅子下去了。)
Comments will be moderated. Keep comments relevant to the article. Remarks containing abusive and obscene language, personal attacks of any kind or promotion will be removed and the user banned. Final decision will be at the discretion of the Taipei Times.