E-cigarettes do not help smoking cessation: foundation 電子菸助戒菸? 董氏︰別上當!
Staff from the John Tung Foundation say that on the eve of Valentine's Day this year the foundation received nearly 100 phone calls from people asking if they should give their significant others e-cigarettes to help them quit smoking. E-cigarettes are useless, however, when it comes to smoking cessation, the foundation says, adding that e-cigarette smokers still inhale harmful chemicals and that the devices should definitely never be used.
Lin Ching-li, chief of the foundation's tobacco control division, says that the WHO has on several occasions issued warnings that e-cigarettes deliver a high dose of nicotine — six to 24mg, and that e-cigarette users still become addicted. The cigarettes also contain high levels of the chemical propylene glycol and many heavy metals. Smoking e-cigarettes is the same as inhaling any other harmful chemical stimulant in that it can be fatal to your health, Lin says.
The quality of e-cigarettes is also inconsistent, Lin says, adding that many cases of the cigarettes exploding during use and severely injuring people's mouths have been reported outside of Taiwan. If smokers believe that they can put their mind at ease about safely using e-cigarettes they are mistaken, she says, adding that you would be spending money to severely hurt your health. More is lost than gained by postponing the opportunity to quit smoking, Lin says.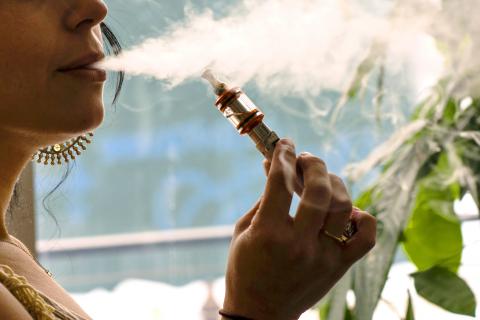 A woman smokes an e-cigarette in her shop in the Brooklyn borough of New York on Feb. 8. 一位女士二月八日在其於紐約市布魯克林區經營的店裡抽電子菸。 Warning: Excessive consumption of alcohol can damage your health.
Photo: Bloomberg
照片:彭博社
Lin says that people should not make the mistake of giving e-cigarettes as gifts anymore because they are tobacco products that are just as easy to become addicted to and run the risk of abuse with other drugs. The best gift you could give your sweetheart on Valentine's Day is taking them to a smoking cessation clinic to receive professional treatment, she says.
(Liberty Times, Translated by Kyle Jeffcoat)
董氏基金會人員表示,西洋情人節前夕,接獲近百通電話詢問:「是否應該送電子菸給情人戒菸?」事實上,電子菸不僅不能戒菸,還會吸入有害化學物質,民眾「麥擱問啦」!千萬別用電子菸。
董氏基金會菸害防制組主任林清麗表示,世界衛生組織已多次聲明,電子菸通常含有六到二十四毫克的高劑量尼古丁,使用者一樣會成癮。電子菸多數含有高濃度丙二醇及重金屬等,使用電子菸就等同是吸入刺激且有害的化學物,可能也有致命危險。
林清麗指出,電子菸製造品質良莠不齊,國外多起案例是使用中突然爆炸,結果造成嚴重的口腔傷害,如果吸菸者抱持「可以安心使用」的錯誤心理,不僅花錢,還讓健康受到嚴重傷害,延後戒菸時機,實在得不償失。
林清麗表示,民眾別再誤送電子菸當禮物,電子菸屬於菸品,使用不但一樣上癮,更有多重藥物濫用風險,情人節送給情人最好的禮物,就是陪伴另一半去門診戒菸接受專業治療。
(自由時報記者魏怡嘉)
Publication Notes
TODAY'S WORDS 今日單字
1. significant other n. phr.
配偶;另一半 (pei4 ou3; ling4 yi2 ban4)
例: Will you come to the party alone or bring your significant other?
(你一個人參加派對還是會帶另一半一起來?)
2. cessation n.
停止;中斷 (ting2 zhi3; zhong1 duan4)
例: A cessation of hostilities occurred only after the two nations had been at war for over a decade.
(兩國在打仗十多年後才停止敵對狀態。)
3. inhale v.
吸入 (xi1 ru4)
例: Hold your breath and try not to inhale the fumes.
(憋氣,不要吸進這煙霧。)
Comments will be moderated. Keep comments relevant to the article. Remarks containing abusive and obscene language, personal attacks of any kind or promotion will be removed and the user banned. Final decision will be at the discretion of the Taipei Times.