Obsolete Czech phone booths find new life as mini libraries 過時的捷克電話亭重生為迷你圖書館
Two Czechs have breathed new life into telephone booths made obsolete in the cellphone age, converting them into mini libraries with the first installed at a Prague hospital recently.
On the shelves of the red booth, patients of the IKEM hospital will find a plethora of genres, including works by US crime writer John Grisham, Czech and Russian titles and biographer Andrew Morton's Diana: Her True Story.
Library mastermind Monika Serbusova, 27, said she and a friend drew inspiration from a similar project in Britain.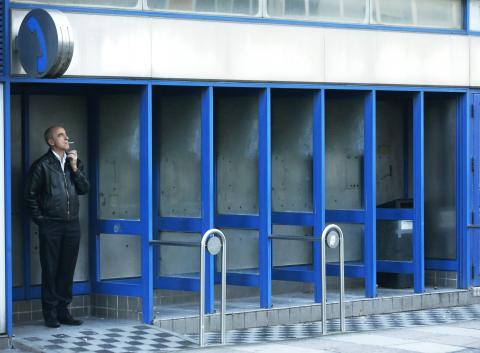 A row of empty telephone booths is pictured in this photo taken in London on Jan. 17. 這張一月十七日攝於倫敦的一排閒置電話亭。
Photo: Reuters
照片:路透
They won backing from a local phone operator, then built the libraries with the help of colleagues and friends, painting the booths and installing wooden shelves.
She said they intend to set up other libraries at a shopping centre and elsewhere. They currently have 700 books, but the selection will grow as people have promised to donate large collections.
(AFP)
兩名捷克人讓被手機時代所淘汰的電話亭重現生機,他們把電話亭改造為迷你圖書館,首座電話亭圖書館最近在布拉格一所醫院正式設立。
在這座紅色電話亭裡的書架上,IKEM醫院的病人可以找到各種類型的書,包括美國犯罪小說家葛里遜的作品、捷克和俄羅斯書籍,以及英國傳記作家莫頓的作品《黛安娜:她的真實故事》等。
圖書館幕後策劃者、現年二十七歲的塞布索娃說,她和另一個朋友的靈感是來自英國的一個類似計畫。
她們獲得當地電話公司的支持,並在同事與友人協助下把電話亭改造為圖書館、替電話亭上新漆並裝設木製書架。
她表示未來還打算在購物商場和其他地方設置其他圖書館。她們手上目前只有七百本書,但有人表示願意捐贈大批藏書,藏書量可望繼續增加。
(法新社/翻譯:俞智敏)
Publication Notes
TODAY'S WORDS 今日單字
1. obsolete adj.
廢棄的;淘汰的 (fei4 qi4 de5; tao2 tai4 de5)
例: Gas lamps became obsolete when electric lighting was invented.
(在電燈發明後,煤氣燈就遭到淘汰。)
2. breathe (new) life into idiom
使充滿熱忱與能量
(shi3 chong1 man3 re4 chen2 yu3 neng2 liang4)
例: City leaders hope the project will breathe vitality into the downtown.
(市政領袖希望這項計畫能為市中心區帶來嶄新活力。)
3. plethora n.
極多 (ji2 duo1)
例: He is a multi-talented musician who plays a plethora of instruments.
(他是一位多才多藝的音樂家,能夠演奏多種樂器。)
Comments will be moderated. Keep comments relevant to the article. Remarks containing abusive and obscene language, personal attacks of any kind or promotion will be removed and the user banned. Final decision will be at the discretion of the Taipei Times.