Japan's NHK sued over use of English words 日本NHK電視台因使用英語外來詞挨告
A disgruntled viewer is suing Japan's national broadcaster for mental distress caused by an excessive use of words borrowed from English.
Hoji Takahashi, 71, is seeking 1.4 million yen (US$13,700) in damages from NHK.
"The basis of his concern is that Japan is being too Americanized," his lawyer Mutsuo Miyata told the news agency AFP.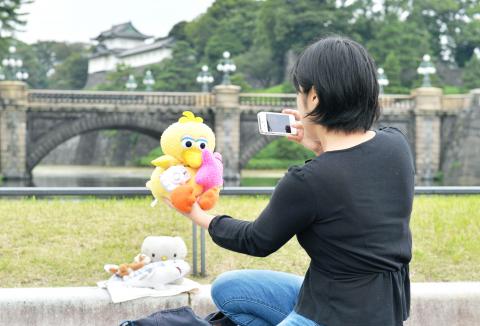 A tour operator, Sonoe Azuma, takes a picture of a stuffed toy during a visit to a tourist area in Tokyo, Japan on Oct. 4 last year. 一位名為Sonoe Azuma的導遊去年十月四日在日本東京一處觀光景點,為一個絨毛玩具拍照。
Photo: AFP
照片:法新社
English became more prevalent in Japan after World War II during the US-led occupation. This was followed by a growing interest in American pop culture.
The country's modern vocabulary is littered with borrowed words, many of which are changed to fit the Japanese phonic structure.
Takahashi, who is a member of a campaign group supporting the Japanese language, highlighted words such as "toraburu" (trouble), "risuku" (risk) and "shisutemu" (system) in NHK's news and entertainment programs.
He accused NHK of irresponsibility by refusing to use native Japanese equivalents.
(Liberty Times)
一位心有不滿的觀眾控告日本的國家電視台過度使用英語外來詞,令他精神飽受折磨。
現年七十一歲的高橋鵬二(譯音)尋求向NHK電視台索取一百四十萬日圓(一萬三千七百美元)損害賠償金。
他的代理律師宮田康弘(譯音)對法新社說:「他主要擔心日本過度美國化。」
二戰後,美國占領日本期間,英語在日本變得更普及。隨之而來的是日本民眾對美國流行文化日益高漲的興趣。
日本的現代詞彙中充斥著外來詞,其中大部分外語詞經過修改,以適應日語的語音結構。
高橋鵬二是支持日語活動團體的成員,特別指出NHK電視台的新聞節目和娛樂節目大量使用toraburu(trouble)、risuku(risk)和shisutemu(system)等外語單詞。
他指責NHK拒絕使用本土的日語同義語,很不負責任。
(自由時報/翻譯:陳成良)
Publication Notes
TODAY'S WORDS 今日單字
1. prevalent adj.
普遍的;盛行的 (pu3 bian4 de5; sheng4 xing2 de5)
例: The unknown disease is prevalent in some countries.
(這種不明疾病在一些國家流行。)
2. be littered with phr.
使充滿 (shi3 chong1 man3)
例: The fire-place was littered with cigarette butts.
(壁爐裡丟滿了菸蒂。)
3. equivalent n.
同義語 (tong2 yi4 yu3)
例: Some English words have no Chinese equivalents.
(有些英文字在中文裡沒有對應詞。)
Comments will be moderated. Keep comments relevant to the article. Remarks containing abusive and obscene language, personal attacks of any kind or promotion will be removed and the user banned. Final decision will be at the discretion of the Taipei Times.