Flu visits surpassed 100,000 mark two weeks ago 流感看診 兩週前破十萬人次
The influenza epidemic situation is heating up. The number of emergency room and outpatient visits for the flu surpassed the 100,000 mark two weeks ago, with 13,300 new outpatient visits in that week alone, which set a new record. Among them, 72 had severe flu-related complications and four died. The peak of the flu season is expected to occur over the Lunar New Year.
The Centers for Disease Control (CDC) released its "Spring Festival risk travel map" on Jan. 14, and reminded travelers to be wary and take necessary precautions to avoid bringing pathogens home from their pleasant trips abroad.
Data from the CDC shows that two weeks ago one in four people with cold-like symptoms had influenza. The number of emergency visits is still 15,000, while outpatient visits have reached 90,000. Three males and one female died from flu-related complications. The ages of the deceased ranged from 40 to 89. They were infected with the H1N1 and H3N2 flu strains, and most of them suffered from chronic diseases such as diabetes or cardiovascular disease and had not had a flu vaccine.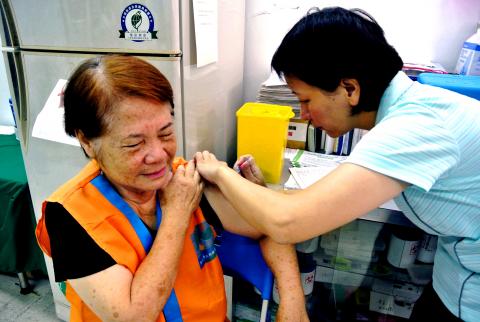 A health worker, right, administers a government-funded flu jab to a woman in Nantou County on Jan. 3. 一名醫護人員(右)一月三日在南投縣為一名女士注射公費流感疫苗。
Photo: Lin Ming-hung, Liberty Times
照片:自由時報記者林明宏
The government-funded influenza vaccine includes the virus strains that are most prevalent, says Centers for Disease Control (CDC) Deputy Director-General Chou Jih-haw. Children in the three-to-six age group are in close proximity at preschools and day cares, making it easy to transmit viruses, Chou says, adding that up to 72 percent of kids in this age group have not gotten vaccinated, which has kept the rate of prevalence exceedingly high.
Winter is the peak season for norovirus in Northeast Asian nations like Japan and North and South Korea. Over the past two months, a total of 25 Taiwanese tour groups that ate at a restaurant while visiting a well-known skiing resort in Korea were infected with norovirus, with as many as 370 people suffering from diarrhea. An investigation found that the virus was transmitted by two cooks working at the restaurant, which has been shut down.
Taiwan's emergency and outpatient visits for diarrhea-like symptoms reached 170,000 two weeks ago. Causes included bacteria, norovirus and rotavirus. Philip Yi-chun Lo, a doctor with the CDC, says that norovirus can only be killed in temperatures at or above 66 degrees Celsius, so people should avoid raw or cold foods and be careful to keep workers' hands clean.
The H7N9 avian influenza epidemic in China near the border of Jiangsu and Zhejiang provinces and Guangdong Province is out of control, and the number of healthy young people infected with the virus has recently been rapidly increasing. Chou says that the more active a virus is within a community the easier it is for it to mutate. Taiwanese businesspeople in China should be on high alert, Chou says, adding that people planning on traveling abroad during the Spring Festival should familiarize themselves with all of the common local viruses, visit travel clinics to get the necessary disease prevention info, evaluate their personal health and find out which vaccines are recommended.
(Liberty Times, Translated by Kyle Jeffcoat)
流感疫情越燒越烈,兩週前門急診類流感病例已衝破十萬人次,門診就增加一萬三千人次,再創新高,其中七十二人併發重症、四人死亡,預估人數將在春節攀上高峰。
疾病管制署一月十四日公布「春節旅遊風險地圖」,提醒度假民眾小心防範,以免快樂出遊,帶病回國。
疾病管制署的資料顯示,兩週前每四個感冒病人裡,就有一人是流感,目前急診病例持平在一萬五千人次,門診卻增加到九萬人次,還有三男一女死於併發症。死者橫跨四十到八十九歲,感染H1N1和H3N2病毒,多有糖尿病、心血管疾病等慢性病,卻都沒打流感疫苗。
副署長周志浩表示,公費疫苗吻合目前流行病毒株,三到六歲兒童在幼稚園、托育中心密集接觸,極易互相傳染,卻高達百分之七十二沒打公費疫苗,導致發生率偏高。
冬天是日、韓等東北亞國家諾羅病毒流行季,近二個月共二十五個赴韓旅行團在知名滑雪場某餐廳用餐後感染諾羅病毒,高達三百七十人腹瀉,經調查確認病毒來自二名廚工,目前該餐廳已歇業。
台灣兩週前門急診已有十七萬人次腹瀉,原因包括細菌、諾羅或輪狀病毒。疾病管制署醫師羅一鈞提醒,六十六度才能殺死諾羅病毒,民眾應避免生冷食物,並注意作業人員的手部清潔。
中國H7N9疫情在江、浙交界和廣東延燒,近來青壯年病危者劇增。副署長周志浩表示,病毒在社區中越活躍越容易突變,當地台商應提高警覺。此外,春節有意出國度假者,應認識當地流行疫病,出發兩週前到旅遊門診諮詢防疫須知、評估自身健康狀況和疫苗接種需求。
(自由時報記者邱宜君)
Publication Notes
TODAY'S WORDS 今日單字
1. precaution n.
預防措施 (yu4 fang2 cuo4 shi1)
例: The building inspector said we haven't taken the necessary precautions against fire.
(建築檢查員說我們沒有採取必要的防火措施。)
2. proximity n.
接近;鄰近;親近 (jie1 jin4; lin2 jin4; qin1 jin4)
例: When we were looking for a house, living in proximity to a good shopping center was very important to us.
(我們在找房子時,住在好的購物中心附近對我們很重要。)
3. diarrhea n.
腹瀉 (fu4 xie4)
例: Nine students were hospitalized yesterday with severe diarrhea.
(九名學生昨天因嚴重腹瀉送醫。)
Comments will be moderated. Keep comments relevant to the article. Remarks containing abusive and obscene language, personal attacks of any kind or promotion will be removed and the user banned. Final decision will be at the discretion of the Taipei Times.