Survey shows growth still not helping poor Africans 調查指經濟成長仍無助貧窮的非洲人
Poor Africans say they are still not benefiting from the continent's economic rise, according to a landmark survey of citizens across 34 countries released on Oct. 1.
Despite some of the world's highest economic growth rates, many Africans still report shortages of water, food, healthcare and cash according to an Afrobarometer survey of over 50,000 people.
"Meeting their basic daily needs remains a major challenge for a majority of Africans, even at a time when their countries are reporting impressive economic gains," the survey found.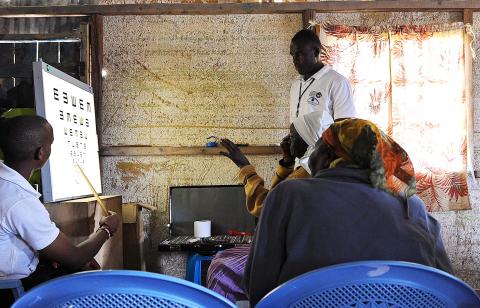 A woman reading from a board as she takes part in an ophthalmological study and examination in a village near Kenya's lakeside town of Naivasha on Aug. 28. 一名婦女八月二十八日在臨近肯亞湖城奈瓦夏的一處村莊,接受視力檢查。
Photo: AFP
照片:法新社
The continent's economy is expected to grow by almost five percent this year.
Half of survey respondents, however, said they occasionally lacked food, clean water, and medicine. One in five said they face frequent shortages.
People were poorer in areas where government spending on basic infrastructure lagged, the survey found.
"The data show significant correlations between access to electrical grids, piped water, and other basic services in communities and lower levels of lived poverty."
Low education levels also had a big influence on poverty.
(AFP)
根據十月一日公佈,針對三十四國民眾的一項指標性研究指出,貧困的非洲人說,他們依舊沒有受益於該地區的經濟成長。
根據「非洲民意調查」針對超過五萬人的調查報告指出,儘管有些國家享有全球最高經濟成長率,但很多非洲人仍反映在水、食物、醫療照護與現金上短缺。
這份研究發現,「儘管在他們的國家出現驚人經濟成長的時候,滿足每日基本所需仍是非洲多數人的主要挑戰。」
今年非洲大陸的經濟預計會成長將近百分之五。
但有一半的研究受訪者說,他們有時候會缺食物、乾淨的水和藥品。五人當中就有一人說他們面臨經常性短缺。
在政府投注基礎建設資金緩慢的地方,人們更為貧困,這份研究發現。
「這份資料指出,社區獲取電力網、自來水與其他基本通訊服務,和降低生活貧困水平之間,有顯著的關聯性。」
低教育程度也對貧窮造成重大影響。
(法新社╱翻譯:陳伃軒)
Publication Notes
TODAY'S WORDS今日單字
1. landmark n.
地標;重大事件;里程碑 (di4 biao1; zhong4 da4 shi4 jian4; li3 cheng2 bei1)
例: The building is a well-known landmark in the city.
(這棟大樓是該城市的著名地標。)
2. occasionally adv.
偶爾 (ou2 er3)
例: I visit them occasionally.
(我偶爾會拜訪他們。)
3. infrastructure n.
基礎建設 (ji1 chu3 jian4 she4)
例: Strengthening infrastructure is very important.
(加強基礎建設很重要。)
Comments will be moderated. Keep comments relevant to the article. Remarks containing abusive and obscene language, personal attacks of any kind or promotion will be removed and the user banned. Final decision will be at the discretion of the Taipei Times.