US bishop dresses as homeless man to teach lesson 美國主教裝扮成遊民 給教友上了一課
Members of a Mormon congregation in the US encountered someone they thought was a homeless man at church on Nov. 24.
What they did not know was that the man was a bishop for the Church of Jesus Christ of Latter-day Saints.
At least five people asked David Musselman to leave the church property in the Salt Lake City suburb, while some gave him money and most were indifferent.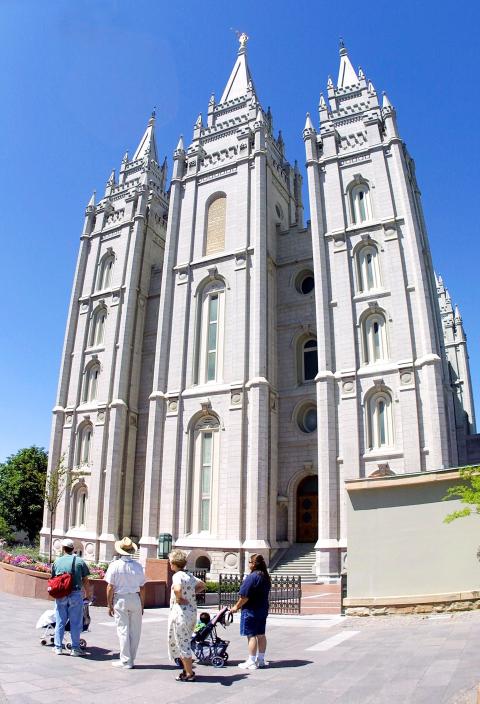 Visitors look at the Mormon Temple in downtown Salt Lake City, Utah on July 19, 2001. 民眾二0一一年七月十九日在猶他州鹽湖城市中心,觀賞摩門教堂。
Photo: AFP
照片:法新社
He said he disguised himself as a homeless man to teach his congregation a lesson about compassion.
He even asked a makeup expert to transform his face to that of a stranger not even his family recognized.
"I'd approach them and say, 'Happy Thanksgiving,' he says." Musselman walked to the pulpit during the service and revealed his identity, taking off his wig, fake beard and glasses.
"The main thing I was trying to get across was, we don't need to be so quick to judge," Musselman told a local TV station.
(Liberty Times)
美國摩門教會成員十一月二十四日在教堂遇到一個他們以為是流浪漢的男子。
他們不知道的是那個人是耶穌基督後期聖徒教會的一位主教。
至少有五個人要求大衛.瑪索門離開這座(位於)鹽湖城郊區的教會財產,有些人拿錢給他,大多數人則漠不關心。
他說他把自己假扮成一名流浪漢,給他的信眾上一堂有關同情心的課。
他甚至曾要求一個化妝達人幫他易容成一個陌生人,連家人都認不出來。
「我靠近他們並且說『感恩節快樂』。」瑪索門在禮拜時走上講壇,並揭露他的身分,拿掉他的假髮、假山羊鬍及眼鏡。
「我嘗試傳達的要事是,我們不必急著下判斷,」瑪索門告訴一家當地電視台。
(自由時報/翻譯:詹立群)
Publication Notes
TODAY'S WORDS 今日單字
1. indifferent adj.
漠不關心的;不在乎的 (mo4 bu4 guan1 xin1 de5; bu2 zai4 hu1 de5)
例: He was coldly indifferent to other people.
(他對別人冷若冰霜。)
2. pulpit n.
教堂講壇;神職人員 (jiao4 tang2 jiang3 tan2; shen2 zhi2 ren2 yuan2)
例: He vituperated from the pulpit the vices of the court.
(他在教堂講壇上痛斥法庭的罪惡。)
3. get across v. phr.
傳遞;理解 (chuan2 di4; li2 jie3)
例: Did your speech get across to the crowd?
(你的演講聽眾理解了嗎?)
Comments will be moderated. Keep comments relevant to the article. Remarks containing abusive and obscene language, personal attacks of any kind or promotion will be removed and the user banned. Final decision will be at the discretion of the Taipei Times.