15 more smoke-free parks to be added in Taoyuan County on New Year's Day 桃園縣無菸公園 明年元旦起再添十五座
Smokers beware. The Taoyuan County Government will be designating 15 more public parks as smoke-free environments on New Year's Day, eventually making for a total of 68 smoke-free parks in the county. In accordance with the Tobacco Hazards Prevention Act, violators caught smoking in these parks could receive fines of between NT$2,000 and NT$10,000. The Taiwan Smokers' Helpline (0800-636363) is available for people who would like to quit smoking, or you can contact smoking cessation clinics at any hospital.
The 15 public parks that will be designated smoke-free environments starting on New Year's Day are primarily located around schools and residential areas, including Taoyuan City's Renai Amusement Park for Kids, Jhongli City's Guangming and Lyuguang parks, Pingjhen City's Guangren Park, Bade City's Guangfong Park, the park next to the Indigenous Culture Center in Dasi Township, Yangmei City's Shuangrong Culture Park for Kids, Lujhu Township's Jilin Park, Dayuan Township's Pusin Pond Park, Gueishan Township's Fongshu Park No.2 and Ciansi Riverside Park, Longtan Township's City Government Park, Sinwu Township's No. 7 Amusement Park for Children, Guanyin Township's Caolei Children's Park and the plaza next to Fusing Township's Jiaoban Mountain Park.
According to statistics from the Taoyuan County Government Public Health Bureau, approximately 300,000 people in Taoyuan County are smokers, or around 10 percent of the county's total population. The bureau has set up 53 smoke-free public parks since it started promoting them two years ago. During this time, more than 5,000 people have been issued warnings not to smoke at the parks and more than 200,000 cigarette butts have been picked up. There is no record of anyone being fined, however, so people are generally under the impression that smoke-free parks are only for show and would rather see the government increase patrol staff to better enforce fines against violators.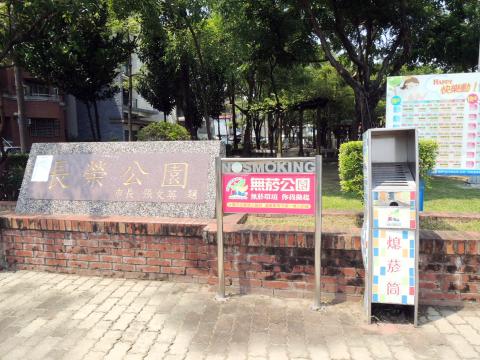 A smoke-free park is pictured in Chiayi County on Sept. 10. 這張九月十日攝於嘉義縣是無菸公園。
Photo: Yu Hsueh-lan, Liberty Times
照片:自由時報記者余雪蘭
Chiang Yu-chin, chief of the bureau's health promotion section, says that parks are supposed to be recreational areas providing people with a place to get some fresh air. People go to parks for leisure and children play there, Chiang says, adding that promoting smoke-free parks can help people avoid secondhand smoke and reduce the amount of cigarette butts polluting the environment. Volunteers patrol the parks every day and issue warnings to people who are caught smoking in the parks. Police also periodically patrol the parks. If you see someone violating the smoking ban at the parks, you can report them to the bureau, Chiang says.
(Liberty Times, Translated by Kyle Jeffcoat)
癮君子得注意了!桃園縣明年元旦起無菸公園將再增加十五座,無菸公園總數將達六十八座,民眾若在這些公園內吸菸,依菸害防制法可處二千至一萬元罰款。有戒菸需求者可撥打戒菸專線:0800-636363,或洽各醫療院所戒菸門診。
明年元旦起新增的十五座無菸公園多位於學校或住宅社區旁,分別為桃園市仁愛兒童遊樂場;中壢市光明、莒光公園;平鎮市廣仁公園;八德市廣豐公園;大溪鎮原住民會館旁公園;楊梅市雙榮民族兒童公園;蘆竹鄉吉林公園;大園鄉埔心池公園;龜山鄉楓樹二號、千禧河岸公園;龍潭鄉縣府公園;新屋鄉兒童第七遊樂場;觀音鄉草漯兒童公園及復興鄉角板山公園旁廣場。
縣府衛生局統計,桃園縣吸菸人口約有卅萬人,佔人口的一成多,衛生局自兩年前推動無菸公園,目前達到五十三座,這段期間,在無菸公園被勸導不吸菸人次逾五千人,撿拾的菸蒂總計超過廿萬支,但尚無開罰紀錄。民眾普遍認為無菸公園只有宣示意義,建議不如增加巡查人力實施開罰處分。
衛生局健康促進科長江玉琴表示,公園是提供民眾清新空氣與休憩的場所,不僅是民眾休閒去處,也常有兒童玩耍,推動無菸公園可讓民眾避免二手菸害,也可減少菸蒂造成的環境污染,無菸公園每天都有志工定時巡查,會勸導民眾不要吸菸,稽查人員也會不定時巡查,民眾若有發現違規吸菸行為,也都可以向衛生局檢舉。
(自由時報記者邱奕統)
Publication Notes
TODAY'S WORDS 今日單字
1. violator n.
違背者;褻瀆者;侵犯者 (wei2 bei4 zhe3; xie4 du2 zhe3; qin1 fan4 zhe3)
例: Some view North Korea as one of the world's worst violators of human rights.
(有些人認為北韓是全世界最壞的人權侵犯者之一。)
2. leisure n.
閒暇;空暇時間;悠閒 (xian2 xia2; kong1 xia2 shi2 jian1; you1 xian2)
例: Sally doesn't have much time for leisure these days.
(莎莉最近完全沒有空暇時間。)
3. periodically adv.
週期性地;定期地;偶爾 (zhou1 qi2 xing4 de5; ding4 qi2 de5; ou2 er3)
例: All legislation should be reviewed periodically.
(所有立法應該定期的審查。)
Comments will be moderated. Keep comments relevant to the article. Remarks containing abusive and obscene language, personal attacks of any kind or promotion will be removed and the user banned. Final decision will be at the discretion of the Taipei Times.