62 percent of HIV-positive people forced to leave jobs due to discrimination 六成愛滋患者 受不了歧視離職
According to a survey conducted by doctors, 62 percent of HIV-positive people left their jobs because they have HIV, which included being forced to quit after it was discovered that they had the virus, being talked about by colleagues, or even because their superiors demanded it.
Cheng Shu-hsing, head of infectious diseases at Taoyuan General Hospital under the Ministry of Health and Welfare, says that according to data from the Centers for Disease Control, around 78 percent of HIV-positive people in Taiwan are between the ages of 25 and 64 — the overwhelming majority being within the working-age population. According to the results of a survey given to HIV patients at the hospital, 77 percent were able to continue working at their jobs while regularly taking medication, and 36 percent of them were able to regularly work overtime like typical office workers, while 16 percent chose to work the night shift and 12 percent worked more than one job.
Howard (alias) appeared at the hospital's event on Nov. 25 wearing an Iron Man costume. He said that after testing positive for HIV, he was unable to get out of bed when he was at his worst, and even lost control of his bladder in front of the doctor. Howard eventually told his boss about being HIV positive because he anticipated that he would need to take some time for treatment.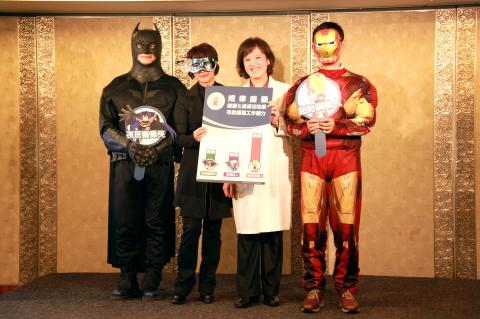 HIV patients wear comic hero costumes and pose with Cheng Shu-hsing, head of infectious diseases at Taoyuan General Hospital under the Ministry of Health and Welfare, after receiving awards for bravery during a media event at the hospital in this undated photo. 衛生福利部桃園醫院感染科主任鄭舒倖在媒體活動頒發勇敢獎狀時與化身為漫畫英雄的HIV感染者合影。
Photo courtesy of Cheng Shu-hsing
照片由鄭舒倖提供
After regularly taking medication, his bodily functions gradually returned to normal, but instead of being on field assignment like before, he only worked in the office.
"It was strange because it was like everyone knew about it, when actually the only person I told about my illness was my boss," Howard says. One time when he was eating in the company cafeteria, everyone unexpectedly got up and left the table as soon as he sat down at the table, and one coworker used rubbing alcohol to clean the glass he had used to drink water.
Howard says that at the time it was difficult, but for the sake of his job and to have a source of income, he had no alternative but to put up with it. During this time, he covered for two coworkers who were initially unwilling to sit at the same table as him and missed work after one was in a car accident and the other had a baby. After returning to work, they became his biggest supporters in the office.
Cheng says that, according to data from her hospital, HIV is not a terminal illness — around 86 percent of HIV patient who take highly effective antiviral drugs can continue living normal lives by regularly taking the drugs. The amount of viruses can also be controlled to the point where they are virtually undetectable and cells in the immune system are able to remain stable.
(Liberty Times, Translated by Kyle Jeffcoat)
醫師調查發現,百分之六十二愛滋感染者離開職場的原因與感染HIV(愛滋病毒)有關,包括被發現罹病、被同事指指點點,甚至是在上司要求下,不得已離開職場。
衛生福利部桃園醫院感染科主任鄭舒倖指出,根據疾病管制署資料顯示,我國HIV感染者中,大約百分之七十八是二十五至六十四歲的職場中堅份子。根據該院HIV感染者問卷調查結果顯示,在規律用藥之下,有百分之七十七可以繼續在職場上衝鋒陷陣,其中有百分之三十六跟現在職場上多數上班族一樣,普遍超時工作,另外百分之十六則選擇做個夜班族,另外百分之十二甚至一人身兼數職。
愛滋感染者豪爾(化名)十一月二十五日也以鋼鐵人打扮現身說法,他表示,感染HIV後,發病最嚴重時,幾乎無法下床,甚至就在醫師面前尿失禁;他估計自己需要一段時間治療,因此將罹病的情況告知主管。
後來,他規律服藥,身體也漸漸恢復正常功能,回到了原來的職場工作,只是從外勤調任內勤。
「明明只跟主管一個人說生病的事,奇怪的是,彷彿不少人知道。」有一次他到公司餐廳吃飯,當他坐入餐桌後、其他人竟然紛紛離席,甚至他拿過的水杯,還有同事用酒精消毒。
他說,當時覺得深受打擊,但為了工作也為了收入,只好隱忍,期間還陸續幫車禍同事、產假同事代班,結果這兩名原來不願與他同桌的同仁恢復上班後,反而變成他工作上的最大支持。
鄭舒倖表示,以桃園醫院資料顯示,愛滋病並非絕症,在服用高效能抗病毒藥物的情況下,百分之八十六的病患可以規律用藥。病毒數量能控制到幾乎測不到,免疫細胞也可以維持正常。
(自由時報記者洪素卿)
Publication Notes
TODAY'S WORDS 今日單字
1. overwhelming adj.
壓倒的;勢不可擋的 (ya1 dao3 de5; shi4 bu4 ke2 dang3 de5)
例: An overwhelming percentage of Iranians support the new policy.
(伊朗人壓倒性多數支持這個新的政策。)
2. anticipate v.
預期;期望;預料 (yu4 qi2; qi2 wang4; yu4 liao4)
例: It's always hard to anticipate what Brian will say or do. He's so unpredictable.
(難以預料布萊恩的言行。他是不能預料的。)
3. terminal adj.
末期的;晚期的 (mo4 qi2 de5; wan3 qi2 de5)
例: Ariel has terminal cancer.
(阿里埃勒是癌症末期病人。)
Comments will be moderated. Keep comments relevant to the article. Remarks containing abusive and obscene language, personal attacks of any kind or promotion will be removed and the user banned. Final decision will be at the discretion of the Taipei Times.