Afternoon naps aid children's learning 午睡幫助孩子學習
Getting young children to take an hour-long nap after lunch could help them with their learning by boosting brain power, a small study suggests.
A nap appeared to help three-to-five-year-olds better remember pre-school lessons, US researchers said.
University of Massachusetts Amherst researchers studied 40 youngsters and reported their findings in Proceedings of the National Academy of Sciences. The benefit persisted in the afternoon after a nap and into the next day.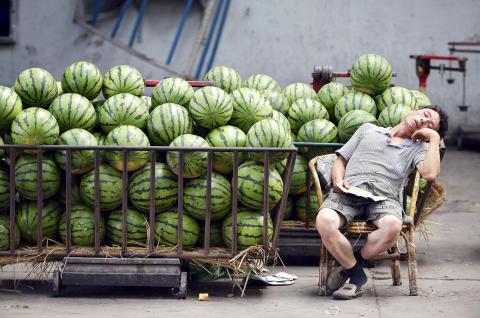 A vendor selling watermelons naps as he waits for customers at a market in Taiyuan, in China's Shanxi Province on July 17. 一位小販七月十七日在中國山西省太原市一處市場等待顧客上門時,小歇片刻。
Photo: Reuters
照片:路透
The study authors say their results suggest naps are critical for memory consolidation and early learning. When the children were allowed a siesta after lunch they performed significantly better on a visual-spatial tasks in the afternoon and the next day than when they were denied a midday snooze.
(Liberty Times)
一項小型研究顯示,讓小孩子在午餐後打盹一小時,可能有助他們增強腦力,幫助學習。
美國研究人員說,小睡一番似乎能幫助三到五歲的小孩更能記住學齡前的功課。
麻薩諸塞大學阿默斯特分校的研究人員觀察四十名小孩,並在美國國家科學院院刊報告他們的發現。午睡的好處持續整個下午到隔天。
研究作者說,他們的研究結果顯示,午睡對鞏固記憶力與早期學習至關重要。小孩子要是可以在午餐後睡個午覺,他們在下午與隔天的視覺-空間工作表現,會比不能午睡時明顯較好。
(自由時報/翻譯:自由時報國際新聞中心)
Publication Notes
TODAY'S WORDS 今日單字
1. nap n.
午睡 (wu3 shui4)
例: Grandpa usually takes a nap after lunch.
(阿公吃過午飯後通常會睡個午覺。)
2. persist v.
持續 (chi2 xu4)
例: The cold weather is set to persist throughout the week.
(這一週都將是寒冷的天氣。)
3. deny n.
拒絕 (ju4 jue2)
例: I was denied the opportunity of learning French at school.
(我在學校沒機會學法文。)
Comments will be moderated. Keep comments relevant to the article. Remarks containing abusive and obscene language, personal attacks of any kind or promotion will be removed and the user banned. Final decision will be at the discretion of the Taipei Times.