Ballerina brain holds secret to balance 女芭蕾舞者的大腦掌握平衡的秘密
Years of training cause structural changes in a ballerina's brain that help her stay balanced in the pirouette, said a report on Sept. 27 that may aid the treatment of chronic dizziness.
Brain scans of professional ballerinas revealed differences from other people in two parts of the brain, one that processes input from the balancing organs in the inner ear, and another responsible for the perception of dizziness.
Most people, after turning around rapidly, feel dizzy for a period thereafter.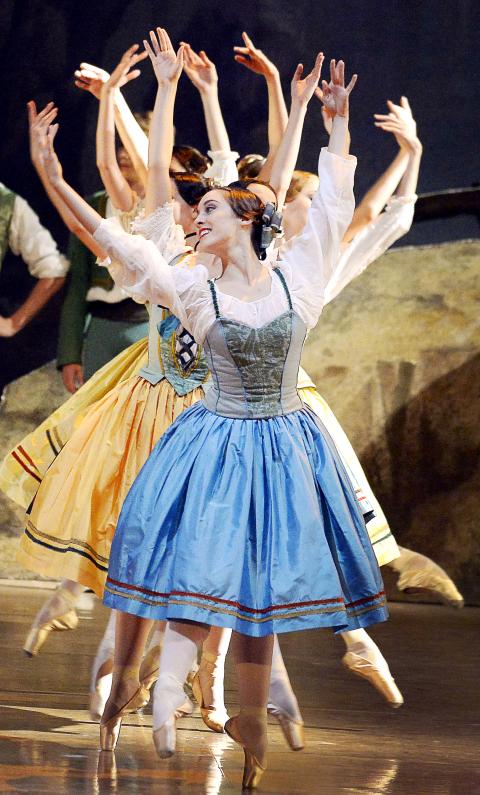 Dancers perform during a dress rehearsal at the Bolshoi Theater in Moscow, Russia on Sept. 20. 舞者們九月二十日在俄羅斯波修瓦劇院著裝彩排。
Photo: AFP
照片:法新社
This is because of the fluid-filled chambers of the ear's balance organs, which sense the rotation of the head through tiny hairs that perceive the fluid swishing about. The fluid continues to move for a while after the spin — which creates the perception that one is moving when still — hence the dizziness.
Ballet dancers can perform multiple pirouettes with little or no feeling of dizziness — a feat that has long puzzled researchers.
The pirouette sees a dancer execute one or more full-body turns on the toe or ball of one foot.
"Ballet dancers seem to be able to train themselves not to get dizzy, so we wondered whether we could use the same principles to help our patients," Barry Seemungal from Imperial College London's medicine department said in a statement on the study published in the journal Cerebral Cortex.
(AFP)
一份九月二十七日的報告指出,女芭蕾舞者的大腦因多年的訓練產生結構性改變,幫助她在急速旋轉時可以保持平衡,並稱這可以幫助慢性頭昏的治療。
專業女芭蕾舞者的大腦掃描顯示,大腦有兩處與其他人不同:一處是處理來自內耳中平衡器官的輸入指令,另一處則是負責頭暈覺知。
大多數人,在迅速轉圈之後,會有一段時間感到頭暈。
這是因為耳朵平衡器官中充滿液體的腔室,透過細毛感知液體流動進而感覺到頭部旋轉。在旋轉過後液體會繼續流動一陣子—在人靜止時創造出持續移動的感覺—因此感到頭暈。
芭蕾舞者可以表演多次豎趾旋轉且鮮少或根本不會覺得頭暈—這是個讓研究者一直困惑的技藝。
豎趾旋轉是指舞者用腳趾或踮腳進行一至多個全身旋轉。
「芭蕾舞者看似可以控制自己不感到頭暈,所以我們想知道是否可以運用同樣的道理來幫助我們的病患」,倫敦大學帝國學院醫學系的貝瑞.希姆葛在刊載於《大腦皮層》期刊的研究聲明中說。
(法新社/翻譯:陳伃軒)
Publication Notes
TODAY'S WORDS今日單字
1. dizzy adj.
頭暈目眩的 (tou2 yun1 mu4 xuan4 de5)
例: She was dizzy and close to fainting.
(她頭暈還差點昏倒。)
2. rotation n.
旋轉 (xuan2 zhuan3)
例: Rotation of the hips is a key element in classical ballet.
(骨盤向外旋轉是古典芭蕾的一個重要元素。)
3. puzzle v.
困惑 (kun4 huo4)
例: The students were puzzled by the teacher's odd explanation.
(老師奇怪的解釋讓同學們感到困惑。)
Comments will be moderated. Keep comments relevant to the article. Remarks containing abusive and obscene language, personal attacks of any kind or promotion will be removed and the user banned. Final decision will be at the discretion of the Taipei Times.