UK lawmaker loses party support over slut remark 英國議員罵人蕩婦失去黨的支持
A British member of the European Parliament has been temporarily disowned by his right-wing party after referring to a room of party delegates on Sept. 20 as "sluts."
Godfrey Bloom found himself in hot water on Sept. 20 at the conference of the UK Independence Party (UKIP) when he said "this place is full of sluts'' in response to a delegate who joked that she did not clean behind her fridge.
Bloom insisted he was joking, that "slut" was a way of referring not to promiscuity but untidiness. He later asked a BBC reporter if her mother had ever called her a slut. That reporter laughed, but the comments set off a firestorm.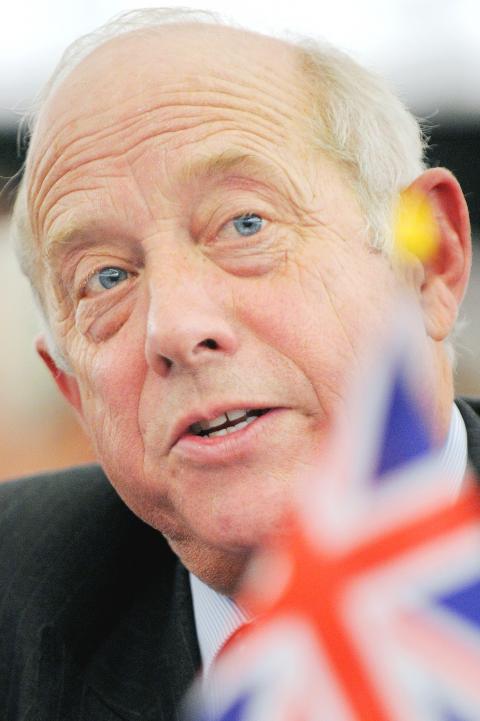 Britain's UK Independence Party and member of the European Parliament Godfrey Bloom is pictured at the European Parliament in Strasbourg, eastern France on Nov. 24, 2010. 二0一0年十一月二十四日攝於法國東部史特拉斯堡歐洲議會上是英國獨立黨員與歐洲議會成員高德弗列‧布魯的照片。
Photo: AFP
照片:法新社
Party leader Nigel Farage said Bloom had "gone beyond the pale with his slut comment." "What he ought to have learnt is that time and time again he says things that overshadow the whole agenda that UKIP is fighting for."
(Liberty Times)
歐洲議會一名英國成員九月二十日在將一屋子的黨代表稱為「蕩婦」後,他所屬的右翼政黨宣布暫時停止他的黨職。
高德弗列‧布魯九月二十日發現他在英國獨立黨的會議上惹上麻煩,當時一名代表開玩笑說她不打掃冰箱後面的積塵,布魯回應道「這個地方充滿蕩婦」。
布魯堅稱他是開玩笑,說「蕩婦」不是指性關係複雜,而是說邋遢。他後來詢問一名英國廣播公司的記者,她媽媽是不是曾叫她蕩婦。該名記者笑了,但這番言論引發風暴。
獨立黨黨魁法拉吉說,布魯的蕩婦言論「太超過」。「他必須要了解,他一再發表的言論,模糊了獨立黨爭取的整個議程。」
(自由時報/翻譯:自由時報國際新聞中心)
Publication Notes
TODAY'S WORDS 今日單字
1. disown v.
斷絕關係 (duan4 jue2 guan1 xi1)
例: It's a story set in the last century about a girl whose parents disowned her when she married a foreigner.
(這是以上世紀為背景的故事,有關一名女孩的父母在她嫁給外國人後,與她斷絕關係。)
2. in hot water idiom
身處麻煩 (shen1 chu3 ma2 fan1)
例: He found himself in hot water over his comments about immigration.
(他發現自己因為有關移民的言論惹上麻煩。)
3. beyond the pale idiom
讓人無法接受 (rang4 ren2 wu2 fa3 jie1 shou4)
例: Her recent conduct is beyond the pale.
(她最近的作為讓人無法接受。)
Comments will be moderated. Keep comments relevant to the article. Remarks containing abusive and obscene language, personal attacks of any kind or promotion will be removed and the user banned. Final decision will be at the discretion of the Taipei Times.