Hsinchu seniors take to the stage to tell their stories 新竹阿公阿嬤初登台 演自己的故事
Hsinchu City's first care station for seniors — Jinshan Community Care Station — is celebrating its 10th anniversary this year. Around 80 seniors and volunteers have been working together over the past decade at the station, courting excellent national reviews every year. The average age of seniors at the station is 80. Two weeks ago they took to the stage for their "Life Stories Theater," in which each of them play a lead role while acting out personal stories.
Among them, 94-year-old Chin Ting-hua is considered to be the "eldest brother" of the group. Last year he had coronary surgery and suddenly lost 39kg, but now he plays drums, does magic tricks, goes around on tour giving volunteer performances with the group, and even volunteers to take care of his peers at nursing centers. Chin's sprightly and active demeanor serves as affirmation of the station's benefits.
The Jinshan community is a place where Hoklo, Hakka, residents from military dependents' villages and people from other areas that work in the tech field all converge, making it a unique community. The event vehicle for the city government's "Military Dependents Village Art Season" arrived here two weeks ago, serving to highlight the stellar achievements of the community care station that have allowed it to win national accolades every year.
94-year-old Chin Ting-hua, right, holds a beaded necklace out in front of him along with fellow seniors at the Jinshan Community Care Station in Hsinchu City on Oct. 29. 九十四歲的秦廷華(右)月二十九日在新竹市金山社區關懷據點與阿公阿嬤們在面前拿著串珠項鍊。
Photo: Chen Wei-jen, Liberty Times
照片:自由時報記者陳維仁
Science City Community University president Lee Shih-ying led the seniors from the station during a rehearsal for the long-awaited "Life Stories Theater" show, which is a play full of anecdotes about the decade since founding of the station, and whether it be buying groceries, performing magic tricks, doing calisthenics or drumming and singing, they all gave vivid, natural performances and filled the venue with laughter. After all, these are the tidbits of their life at the care station.
The Jinshan Community Care Station was established 10 years ago by Duan Hsiao-fang, former president of the Jinshan Community Development Association, and is currently run by her husband Lee Shao-tang. The couple shelled out money and energy, and served as instructors for magic and percussion classes, but they are most grateful for contributions from volunteers. The care station also offers workout classes, takes people's blood-pressure, and gives sign language and singing lessons, as well as complimentary lunches during class twice a week.
(Liberty Times, Translated by Kyle Jeffcoat)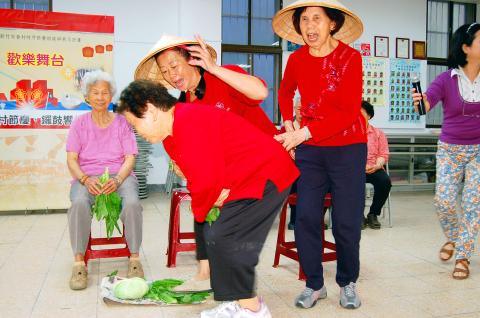 Seniors act out a skit about buying groceries at a traditional market at the Jinshan Community Care Station in Hsinchu City on Oct. 29. 阿公阿嬤們十月二十九日在新竹市金山社區關懷據點演出一段劇碼。
Photo: Chen Wei-jen, Liberty Times
照片:自由時報記者陳維仁
新竹市第一個老人關懷站「金山社區照顧關懷據點」十歲了,近八十名長者、志工十年來同舟共濟,讓據點年年獲評全國優等,平均年齡八十歲的阿公、阿嬤們,兩週前登上「生命故事劇場」舞台,個個化身主角開懷演起自己的故事。
其中九十四歲的秦廷華是據點的「老大哥」,去年他因心臟病開刀一度暴瘦三十九公斤,現在不但能打鼓、變魔術,還跟著到處義演,甚至前往安養院服務其他小老弟,生龍活虎模樣,是老人關懷站展現效益的最好見證。
金山社區是一處匯集閩客族群、眷村移民、外來科技人口的特殊社區,市府「眷村藝術季」活動列車兩週前特別開抵這裡,表彰社區關懷據點年年獲得全國評鑑優等的亮麗成績。
在科學城社大校長李世英指導下,金山社區照顧關懷據點的阿公、阿嬤們,上週現場排演了籌劃多時的「生命故事劇場」,這齣話劇的故事內容,說的正是金山據點成立十年來的過程,吆喝買菜、表演魔術、練操健身、打鼓唱歌…,他們演起來生動自然、笑聲滿場,因為這就是他們在關懷站的生活點滴。
「金山社區照顧關懷據點」十年前由金山社區發展協會前理事長段孝芳創辦,目前由她的丈夫李紹唐接棒,夫妻倆出錢又出力,還分別在關懷站擔任魔術課、打擊樂老師,最感謝志工群的奉獻;此外,關懷站也規劃了健身操、量血壓、手語課、唱歌等課程,每週兩次的上課午餐,也都「呷免錢」。
(自由時報記者陳維仁)
Publication Notes
TODAY'S WORDS 今日單字
1. sprightly adj.
生氣勃勃的;活潑的 (sheng1 qi4 bo2 bo2 de5; huo2 po1 de5)
例: She is remarkably sprightly for being 90 years old.
(對九十歲的人來說她非常生氣勃勃。)
2. anecdote n.
軼事;趣聞 (yi4 shi4; qu4 wen2)
例: Bobby shared with us all sorts of interesting anecdotes about living in Tanzania as a child.
(巴比跟我們分享了許多他小時候住坦尚尼亞有趣的軼事。)
3. shell out v. phr.
付款 (fu4 kuan3)
例: Although they had initially agreed to share the cost, he later refused to shell out the money.
(雖然他們原本同意分擔支出,但他後來拒絕付款。)
Comments will be moderated. Keep comments relevant to the article. Remarks containing abusive and obscene language, personal attacks of any kind or promotion will be removed and the user banned. Final decision will be at the discretion of the Taipei Times.